The Renaissance Rifle
THE HENRY BIG BOY ALL-WEATHER OFFERS UP TRUE VERSATILITY LIKE NO OTHER RIFLE.
I once knew a man who wore many hats. He was an entrepreneur, running a nice pay-to-fish lake behind his house. He had all the tackle you needed, and cold drinks were always stocked in the cooler. Cokes were a nickel, and he always had Kit Kats on hand.
He ran a restaurant, was a scrap metal wheeler-dealer, owned a construction company for more than 40 years and became a Freewill Baptist preacher.
He was my grandfather. His name was Ira, and he never met a stranger. He called himself a "jack-of-all-trades and master of none." Others might have called him a Renaissance man.
The lessons instilled in me by my grandfather included:
Never start work until you know what you're getting paid. Always be ready to adapt. Be the best at what you do. Being versatile is the spice of life.
As a prepper, I employ those lessons almost every day, and they give me a unique perspective on how to approach acquisitions, whether for the field or for stocking up at home.
That was probably the reason I took a liking to the new Henry Repeating Arms' All-Weather Big Boy that was recently introduced to the market.
When I acquire survival gear, one of the most important aspects I consider is whether or not the tool or item serves more than one purpose. This often saves money by precluding the need to purchase something else, and it cuts down on the space required to store multiple items when just one will do.
Firearms also have to pass this litmus test, although it's been awhile since I've found one that checks as many boxes as the new Henry Big Boy All-Weather. Henry makes some of the finest lever-action rifles on the market; yet, the Big Boy All-Weather falls into its "working gun" category. It's built to be a rough and tough tool that holds up to the elements but still retains that bit of class that pervades the lineage of Henry rifles to this day.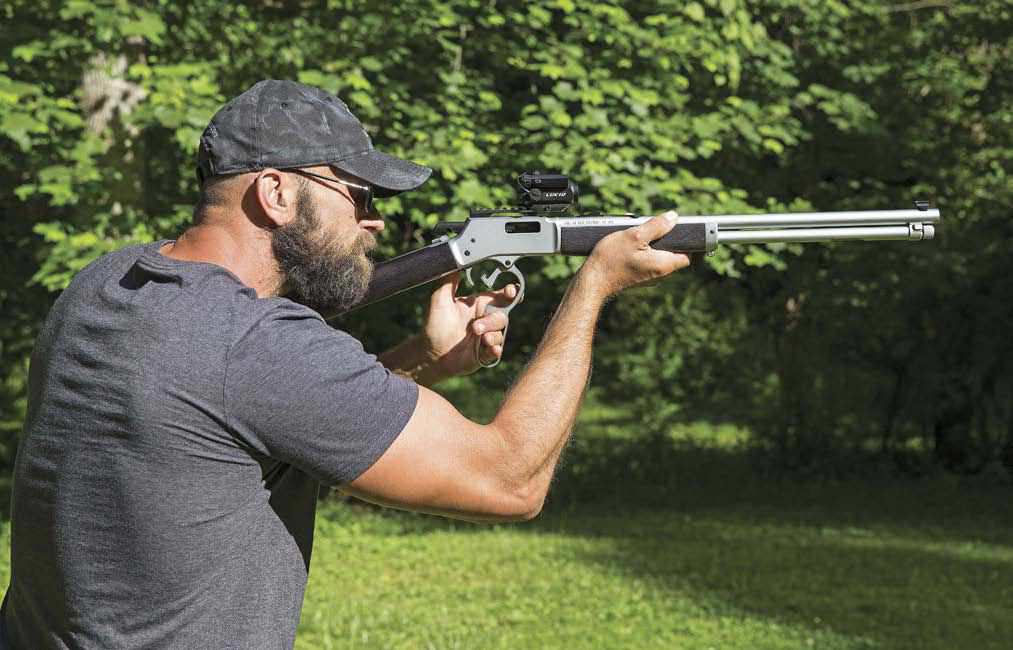 THE ALL-WEATHER BIG BOY
After building its All-Weather series of full-power rifles, including one in 45/70 and one in .30/.30, Henry thought there was a market for such a model in the pistol-caliber realm of rifles. Henry was right: The Big Boy All-Weather, like its brethren, is finished with a hard-chrome plating that Henry claims moves its lever-action rifles into "next-gen" status.
It's tough to consider a lever action as a next-gen firearm, but there's no questioning the build quality of Henry's latest offering. In addition to the finish on the metal parts, Henry also imbues the wood with a tough, moisture-resistant industrial finish. With these applications, the All-Weather series of rifles can stand up to inclement weather and take a little neglect if set in a corner or thrown into the back of a truck cab.
Unlike the Big Boys that sport the brass and alloy silver receivers, the All-Weather model's receiver is made of steel. It has a 20-inch barrel, yet it only tips the scale at 7 pounds.
This is a welcome attribute. The Big Boy Silver I reviewed in the past weighed 8.68 pounds. While it is a great rifle, the octagonal barrel helps make it heavier than it needs to be. The All-Weather Big Boy has a round barrel and is much easier to tote around.
You can read up to 3 premium stories before you subscribe to Magzter GOLD
Log in, if you are already a subscriber
Get unlimited access to thousands of curated premium stories, newspapers and 5,000+ magazines
READ THE ENTIRE ISSUE
September 2017