Arsenal RPK - 3R
The Soviet/Combloc Light Machine Gun Comes To America—as A Civilian-legal Semiauto.

The affinity of many shooters for AK platforms started with the affordable AKs arriving in the 1980s—before the 1994 Assault Weapons Ban went into effect. The AK's association as the "enemy's weapon" has not deterred its popularity in the United States. This stems from many factors: ruggedness, reliability, price point, plentiful surplus ammunition, appreciation of 7.62x39 and 5.45x39 terminal ballistics, and the ever-increasing quality and quantity of aftermarket parts.
A sub-section of AK rifles I have always been drawn to comprises the RPK clone semiauto variants. Even more rare in this genre is the 5.45x39 RPK74 variant.
The RPK74 appeared in the Soviet armory in 1974 in conjunction with the AK74 assault rifle. Its role is to assist a squad or platoon in advancing toward an objective or defending from an attack using increased firepower.
To make the RPK-3R, Arsenal uses a U.S.-made, milled receiver mated to a Bulgarian RPK74 parts kit to create the civilian-legal RPK74 clone. These are limited-run production items that are quickly snatched up by AK aficionados. I was fortunate to get the first right-of-refusal for an unfired Arsenal RPK74 via a friend who knew I had always coveted it.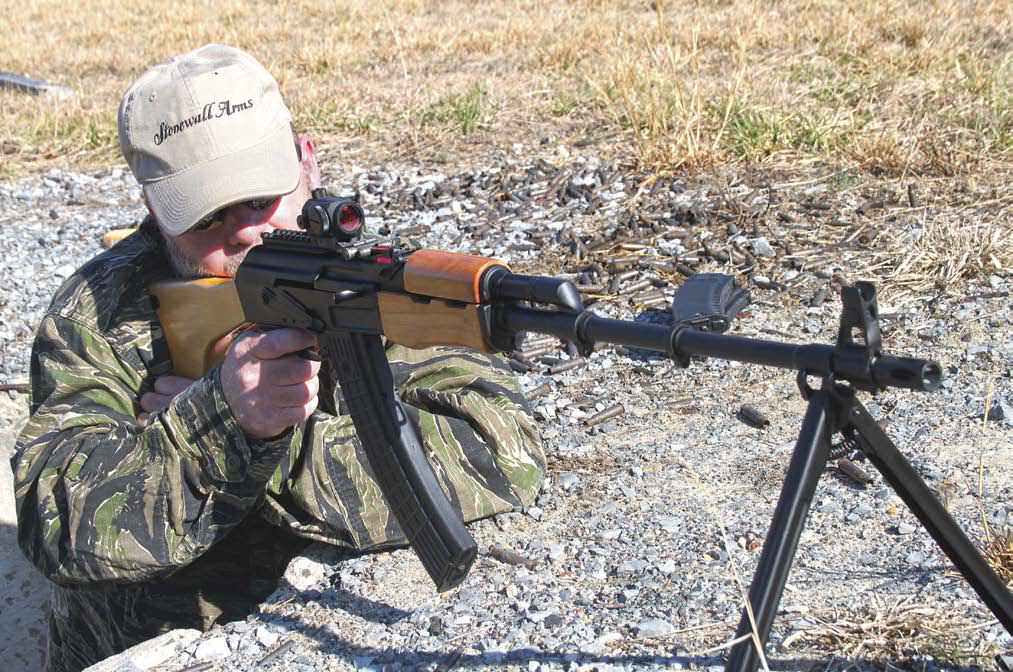 In my opinion, these types of rifles offer the civilian a level of firepower superior to most other available options. The RPK, originally chambered in 7.62x39, utilizes the same gas-operated, long-stroke rotating bolt operating mechanism made famous in the AK47. The RPK74 derives from the AK74 rifle, with modifications that mirror those made to the AKM to create the RPK.
The RPK differs from the typical AK/AKM as a result of a number of design tweaks intended to facilitate its role as a light machine gun. The RPK74 uses a longer and heavier 23.2-inch chrome-plated barrel, along with a different style of gas block with a channel at a 90-degree angle to the bore axis. The enhanced barrel improves heat tolerance during extended fire sessions. Another benefit of this barrel is a longer sight radius for improved downrange accuracy, as well as an increase in velocity, compared to 14.5- or 16-inch barrels.
The barrel is mated to a reinforced receiver housing—reflective of its sustained-fire role and the punishment this entails for a weapon. The muzzle is 14mmx1-threaded for a flash suppressor.
The RPK74 is also equipped with a different front sight tower. The rear sight is outfitted with a sliding windage mechanism to improve fire accuracy and ease of adjustability. The RPK74 also comes with an integral bipod that folds underneath the barrel until deployed to offer increased stability when firing from the prone position.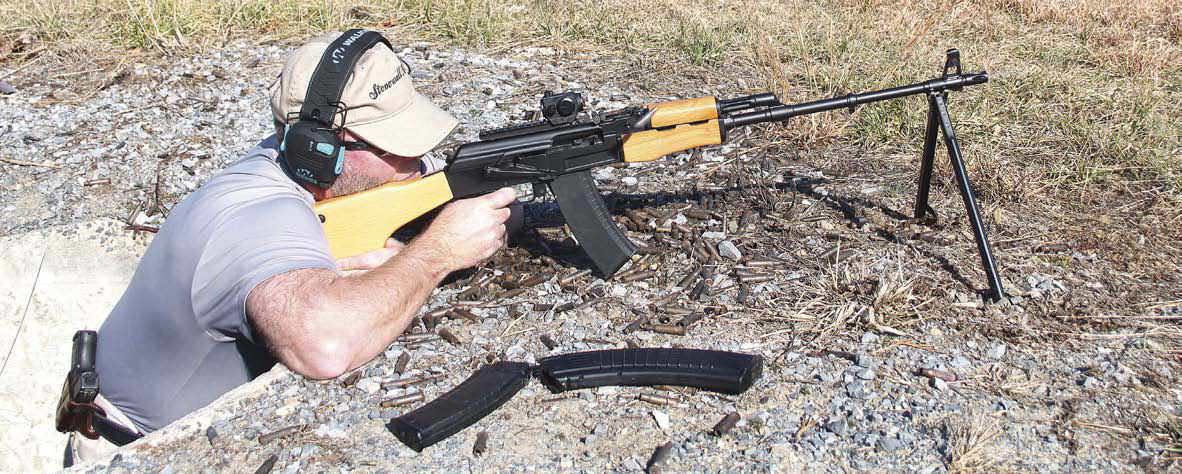 You can read up to 3 premium stories before you subscribe to Magzter GOLD
Log in, if you are already a subscriber
Get unlimited access to thousands of curated premium stories, newspapers and 5,000+ magazines
READ THE ENTIRE ISSUE
August 2017