Are You Ready for a Wilderness Hunt?
When morning broke over the mountains of southern New Mexico, we could see elk, but we couldn't tell if they were bulls or cows.
I was already exhausted from the climb, an ascent of 900 feet from our base camp below, and I had downed one bottle of water.
We watched the elk—then, just light-colored figures moving through the scattered trees in the violet light—crest the ridge and drop into the opposite canyon. That meant a lot more climbing and rapid hiking if we were going to get a clear look at the small herd to determine if there were any good bulls among them.
I was down two bottles of water already, and by the time we stopped to glass, I was already on the third bottle. I had a major problem: It was just after dawn, I had depleted my hydration reserves, and we were two hours from camp in the arid high plains desert. Normally, three bottles would have been plenty for a morning of glassing, but all that extra hiking, jogging, climbing and crawling took a toll. Now, we needed to move even more, and I had nothing to drink. It's the kind of minor problem that can quickly cause major issues when you're far from civilization.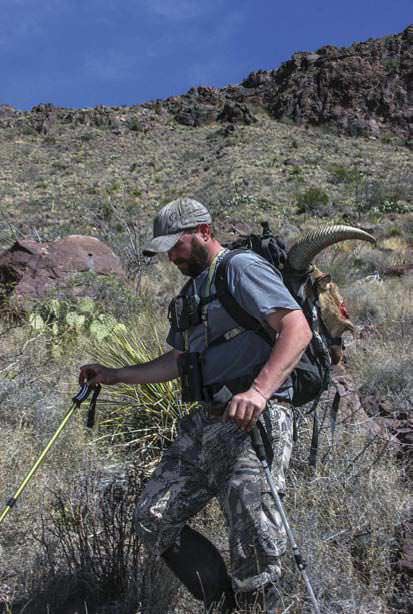 Things turned out all right. I bummed enough water from my guide to get through midday, and we hiked out. Although I didn't get my elk that day, I had better luck the next.
I learned a valuable lesson that morning, and since then, I have been prone to removing extra clothes and electronic gadgetry to carry more water in dry climates. It's just one of the lessons I've learned hunting in wilderness areas of Texas, Idaho, Montana and Wyoming—places where sometimes you won't see another soul for days. Even minor problems here can turn into major disasters.
I grew up in the eastern United States and, like so many of the hunters I grew up with, I dreamed of hunting the Rockies. Wilderness hunting has its own allure, and the experience, itself, is as important as the kill.
You can read up to 3 premium stories before you subscribe to Magzter GOLD
Log in, if you are already a subscriber
Get unlimited access to thousands of curated premium stories, newspapers and 5,000+ magazines
READ THE ENTIRE ISSUE
April 2017