"We're His Family"
This woman opens her home and heart to foster veterans, but there was one she feared she'd never reach
I SAT BESIDE THE ELDERLY VETERAN'S bed in the hospice unit. Watching him struggle to draw breath, I felt an ache in my own chest. Lord, am I really helping? I'd been so sure I was on the right path, a path the Lord had set me on, but now I wondered.
Until he'd moved into hospice, this Vietnam veteran—I'll call him Robert— had been living with my family as part of the U.S. Department of Veterans Affairs medical foster home program. Taking care of these men—cooking for them, helping them with daily activities, providing a safe and stable home—was my job. Although we'd welcomed Robert into our house more than two years earlier, I'd always felt some friction between us. He and I had never really been able to see eye to eye.
Maybe I'd tried to get too involved. "Don't you think you've had enough sugar?" I'd ask, watching him guzzle his third soda. He'd been homeless for many years, and his health was precarious. He didn't eat well or take his medications on time. I hovered, worried he might slip away, dabble in alcohol and other harmful substances. I wanted so badly to support him, to help him live his best life.
Robert would bristle. "I'm 75 years old. I know when I've had enough."
That stung.
Caring for veterans felt like my second calling, but the work wasn't cut-and-dried. Each veteran needed a different type of care and sought different levels of integration with our family. Some loved being a part of the life my husband and I had built with our daughters. Others kept more to themselves.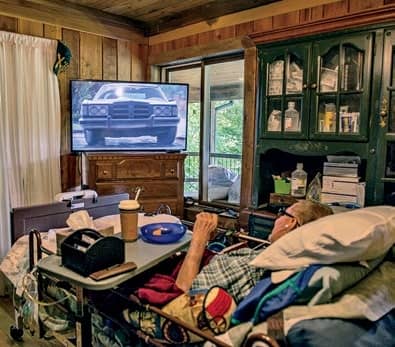 I started running a medical foster home in 2014, believing I could save every veteran who came to us—treat whatever ailed them and heal them of their pain, both physical and emotional. I was a nurse, after all—I'd spent 24 years working at an Indianapolis hospital's bone-marrow transplant unit. And nurses are fixers.
My husband, Todd, and I had adopted three sisters from the foster care system in 2011. We'd met the girls while our friends were fostering them. My friend called me one day and said, "I don't think God wants us to adopt these girls into our family. I think we're being led on a different path."
I was heartbroken for the girls. They were so sweet and funny. I was 46 and had never had children of my own. It just hadn't happened. But maybe being a mom wasn't out of the question.
"Todd, what if we adopted those girls?" I said.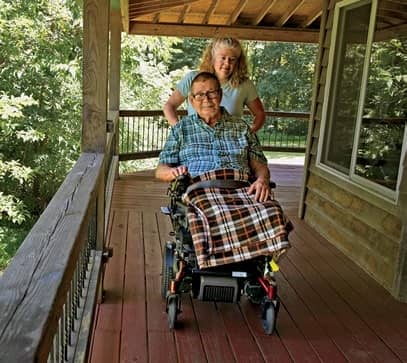 You can read up to 3 premium stories before you subscribe to Magzter GOLD
Log in, if you are already a subscriber
Get unlimited access to thousands of curated premium stories, newspapers and 5,000+ magazines
READ THE ENTIRE ISSUE
November 2020