REDEPLOYED
The hardest assignment for this military wife— starting over
TIME TO MOVE. AGAIN.
My husband's next set of military orders arrived. Cody is in the Army. He was being assigned to Fort Hood, Texas—1,500 miles from our home in Alexandria, Virginia.
This would be our sixth move since our oldest daughter, Morgan, was born. In those 11 years, we'd moved about every two years. The moves were hard on Morgan, though eventually she managed to make friends. Her younger sisters, Brynn and Hadley, mostly seemed fine.
The one who dreaded these moves most of all? Me.
I'm an introvert. Some people get energized by a room of strangers. Social situations drain me. My comfort zone is my job—I'm a licensed clinical social worker who works on military family programs—my family and my home.
My idea of a good day? A productive time at work, home at a reasonable hour, dinner with Cody and the kids, a cozy evening reading a book or looking at something online.
Over the years, I've developed a small network of close friends, but making friends is hard for me. Meeting new people always feels forced. I have no idea what to say that doesn't sound fake. I'd rather stay home.
Every two years, I went through the ritual known to most military families. Pack the house. Say goodbye. Drive thousands of miles. Find a place to live (usually off-post). Enroll the kids in school. Find a babysitter, a dentist and a hairdresser (the true trifecta of a military move). A church.
Last and hardest item on that list— for me anyway: make friends.
"At least it's Fort Hood," I said to Cody. Fort Hood is one of the largest military installations in the world, with more than 36,000 soldiers and some 12,000 civilian employees. Surely we knew someone.
Cody scanned his mental Rolodex. "Is Ann still there?" he ventured, naming someone we'd known a few years earlier.
"She just retired and moved," I said. "What about Brad?"
"He and his family are in North Carolina now," Cody said.
We went back and forth.
"There has to be someone!" I said. There wasn't.
Packing the house, I felt a creeping sense of dread. You'd think by this time I'd have mastered this process. Instead it just seemed to be getting harder. Especially the friend part. The thought of yet another round of meet-and-greets, stilted conversations and trial-and-error coffee runs sapped my spirit.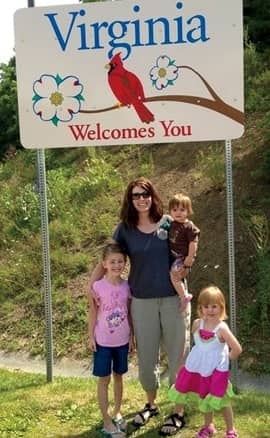 "Anyone know someone at Fort Hood?" I asked my social media network. No one did. In the military, all your friends move too.
You can read up to 3 premium stories before you subscribe to Magzter GOLD
Log in, if you are already a subscriber
Get unlimited access to thousands of curated premium stories, newspapers and 5,000+ magazines
READ THE ENTIRE ISSUE
February 2020