A Question of Love
My relationship with my mom was complicated. Would caregiving make it more difficult?
"MOM, WE NEED TO TAKE YOU TO THE emergency room."
I'd rushed to my mother's apartment at the assisted living facility with my husband, Kevin, after one of the nursing assistants had found Mom on the floor beside her bed, dazed.
My 92-year-old mother pressed her lips together in a thin line—an expression of defiance I knew all too well. "I don't need to go to the hospital," she said. "I just lost my balance."
I tamped down my frustration. I wanted so badly to be a good daughter. Patient. Kind. Full of grace. But oh my goodness! Could anything be easy with her? Mom behaved like a stubborn middle child even as an adult. Sandwiched between a favored older sister and an adorable baby brother, she'd learned to push back and act out to get attention. But couldn't she see the huge bruises that were forming on her arms like watercolor splotches? How could I convince her she needed help?
"She keeps tapping on the side of the bed or the bathroom counter," said the nursing assistant. "As if she's typing words she can't think of."
Mom had worked as an accounting clerk for many years. Her mind must have wandered back to those days. Did she have a urinary tract infection? Sometimes infections caused delirium in the elderly, especially those with Alzheimer's. Mom had been diagnosed six years earlier, in 2014, not long after she'd moved from the pine forests of northern California to the facility near us in the prairies of Illinois. She had lived on her own until she'd lost everything to a house fire. She was a widow, and my brother had died. I needed to step up and take care of her.
In the beginning, Kevin and I were relieved that she lived so close by. I'll be the perfect daughter, I thought. I felt guilty that she couldn't live with us. Our cats might trip her. Kevin and I worked long hours and traveled often. But I promised I would be her advocate and her supporter. I would take care of her the way an aging parent deserves to be taken care of.
Day by day, the reality of having Mom so near sank in. She would call us all the time with some small chore or errand that needed to be done.
"Jeanette, do you have any pink thread?"
"No, Mom. Do you need Kevin to go out and get some?"
"Oh, there's no rush." When Kevin arrived at the facility with pink thread, Mom looked up at him. "Oh," she said, holding up a needle, "I found some."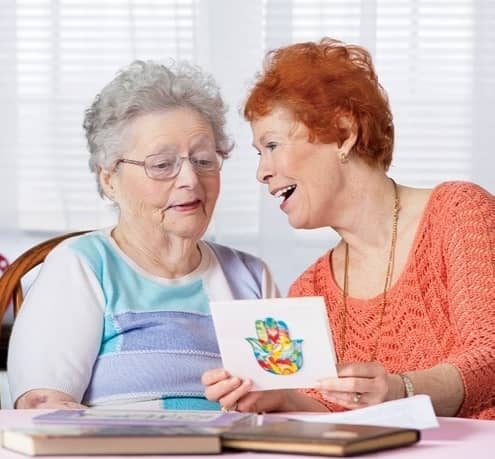 You can read upto 3 premium stories before you subscribe to Magzter GOLD
Log-in, if you are already a subscriber
Get unlimited access to thousands of curated premium stories and 5,000+ magazines
READ THE ENTIRE ISSUE
May 2020