Rachel Kolisi a champion in her own right
Good Housekeeping South Africa|March - April 2020
Rachel Kolisi is bold, authentic – and extremely likable. At 30, she is a mother of four, has her own business and is committed to making South Africa a better place. GH editor SALLY EMERY sat down with her to find out more about the real Rachel – the woman who often finds herself at the centre of social-media storms for being outspoken, and the wife of one of SA's most-loved sportsmen, Siya Kolisi
IT SAYS A LOT ABOUT RACHEL that she spent her 30th birthday plotting her goals for the year ahead. As a woman whose world has changed dramatically since Siya raised the Webb Ellis Cup in Japan in November – igniting joy and unity throughout SA – it is important that she remains focused on the things that matter to her. Like ensuring she is able to bring meaningful change to South Africans in need.
When she was a teenager, Rachel spent two weeks volunteering at an orphanage in Cape Town, laying the foundation for her love of trying to help those less fortunate than herself. Her goal is to complete six community projects this year, starting with rounding up donations for a school outside Cape Town.
I met with Rachel three days after her 30th birthday – and the day before her planned birthday bash the next night. And how was she going to celebrate? If you're thinking a glam celebrity-style affair, you'd be very wrong. First, she was starting with an hour's jumping session with friends at a trampoline park, followed by a games evening. And with 24 hours to go before her party, she still didn't know what she was going to wear. But then this is someone who, being cash-strapped, got her sister to sew her a matric-dance dress out of black rubbish bags. 'And it was really beautiful,' she assures me.
As a mom of four – to Siya's half brother Liyema, 18, and half-sister Liphelo, 12, as well as her and Siya's kids, Nicholas, 5, and Keziah, 2 – Rachel simply doesn't have time for pretences. And although her life might seem golden now, as half of Brand Kolisi, Rachel has known her own struggles, which have shaped her into the self-assured, outspoken woman she is today. She talks about her past, her relationship and the importance of keeping it real.
SO, WHO WAS RACHEL BEFORE SHE WAS 'RACHEL KOLISI'?
'She was Rachel Smith! I was a smalltown girl; I grew up in Grahamstown [Makhanda] and I went to Victoria Girls' High School. I loved horses. After school, I grew up really quickly. I moved to Somerset West and worked five jobs, bartending, handing out flyers … anything I could do to earn money. I was never afraid of hard, hands-on practical work. I then got a job as a receptionist at a marketing company in Cape Town, and within a year I was managing the office. That's what I was doing when Siya and I met.'
YOUR CHILDHOOD WASN'T EASY, THOUGH...
'I wasn't breathing when I was born, and I always struggled with health issues when I was growing up. And then, when I was nine years old and in Grade 3, we went on a school outing to Addo Elephant National Park, and on the way back the bus overturned and one of my friends died and my best friend was seriously injured. As a nine-year-old child it's a traumatic thing to deal with because you don't understand the full concept of death.
'When I was about 14 or 15 my parents got divorced – and I really struggled with that. My mom left me and my two younger sisters and brother with my dad and went to live in Port Elizabeth. My older sister left with my mom as well, which sort of left me in charge of the other three. My father, who was a lecturer at Rhodes University, would often have to travel for lengthy periods and we would have virtual strangers staying with us. It was really tough for my dad too. He went from having a whole family to raising four kids by himself. He was busy and he didn't have time to be 100% on top of what everyone was going through – and he had to support all of us financially. For me, it was a very emotionally confusing time – especially for a teenager.'
HOW DID THAT AFFECT YOU?
'I found myself in a dump – and I didn't know how to get out of it. I had a bad group of friends and I just felt there was no way forward – and I started self-harming by cutting myself. I remember feeling so alone, like no-one cared, that no-one wanted me. And that's when I tried to commit suicide and woke up the next day in hospital….
'Shortly after that my aunt organised for me to volunteer at an orphanage in Cape Town. There was a girl there who was the same age as me – 15. She had been gang-raped by 15 men, she had watched her mother get burnt alive and her father was never around. But she still managed to smile. That really opened my eyes and put everything into perspective for me. I took a step back from everything and thought, "I need to get out of this hole – this dump I am in." Being offered that perspective was my ladder out. I think that experience was the foundation of my love for helping the less fortunate. And I've never let that go. Anytime I feel sorrowful I just think about somebody else who has it worse and I just remind myself how blessed I am and how lucky I am to have all the things that I do.'
YOU MET SIYA AT A DINNER PARTY WHEN YOU WERE 21 AND WERE FRIENDS FOR A LONG TIME BEFORE YOU STARTED DATING. WHAT WAS THE CONNECTION? WHAT DID YOU SEE IN HIM THAT TOOK HIM FROM FRIEND TO LIFE PARTNER?
'Anyone who spends a moment in Siya's presence will gain something. He's such an influential person in the way that he thinks and the way that he speaks – he sees things differently. Sometimes I'll just be having a general conversation with him and I think, "I can't believe I get to spend all my time in the presence of this human being!" Every time I was out with Siya when we were just friends, if someone on the street asked him for help he would go out of his way to help them, to go and find them something to eat or give them money. He would never just ignore them. Some of the guys I'd been out with before were often so rude to the people who would, for example, come to their car window to ask for money or food. That was a total turn-off for me; a dealbreaker. With Siya it was different, and I was, like, "Hmm … this is very attractive…."
'And also learning more about where Siya came from and the way he approached life and took his opportunities – all of that attracted me so much to him. So it really just grew into a deeper friendship and then a relationship. I remember a few months into our relationship I got almost nervous. It took me a long time to allow myself to love someone. When I realised "I really care about him – I mean really, really, really care about him" – I thought, "I need to ensure I have him in my life, always." Whether that was as a friend, or a kind of brother – I just thought I have to know him my whole life. I'm so glad God had it in His plan that he was my husband, because I couldn't do without him.'
YOUR FAITH IS OBVIOUSLY IMPORTANT TO YOU AND SIYA. HAVE YOU BOTH ALWAYS BEEN COMMITTED CHRISTIANS?
'I was raised a Christian, but I was very hurt by other Christians and the church during my parents' divorce and I stepped away from my faith for a long time. You know, Siya and I weren't married when we conceived our son. I was young and at the peak of my career and he was just starting out his professional rugby career. It was a difficult situation that we were trying to navigate. We decided we needed to find a foundation for our relationship and sought out good people who could hold us accountable for our actions. We really just dived into the church and through that our relationship with the Lord and everything that came from that has just been so blessed – it's been an absolute game-changer.
'But I'm still human. I have my moments … I maybe don't say the right thing or do the right thing, or I don't act in the right way. But you know we all make mistakes and thank goodness God makes room for that.'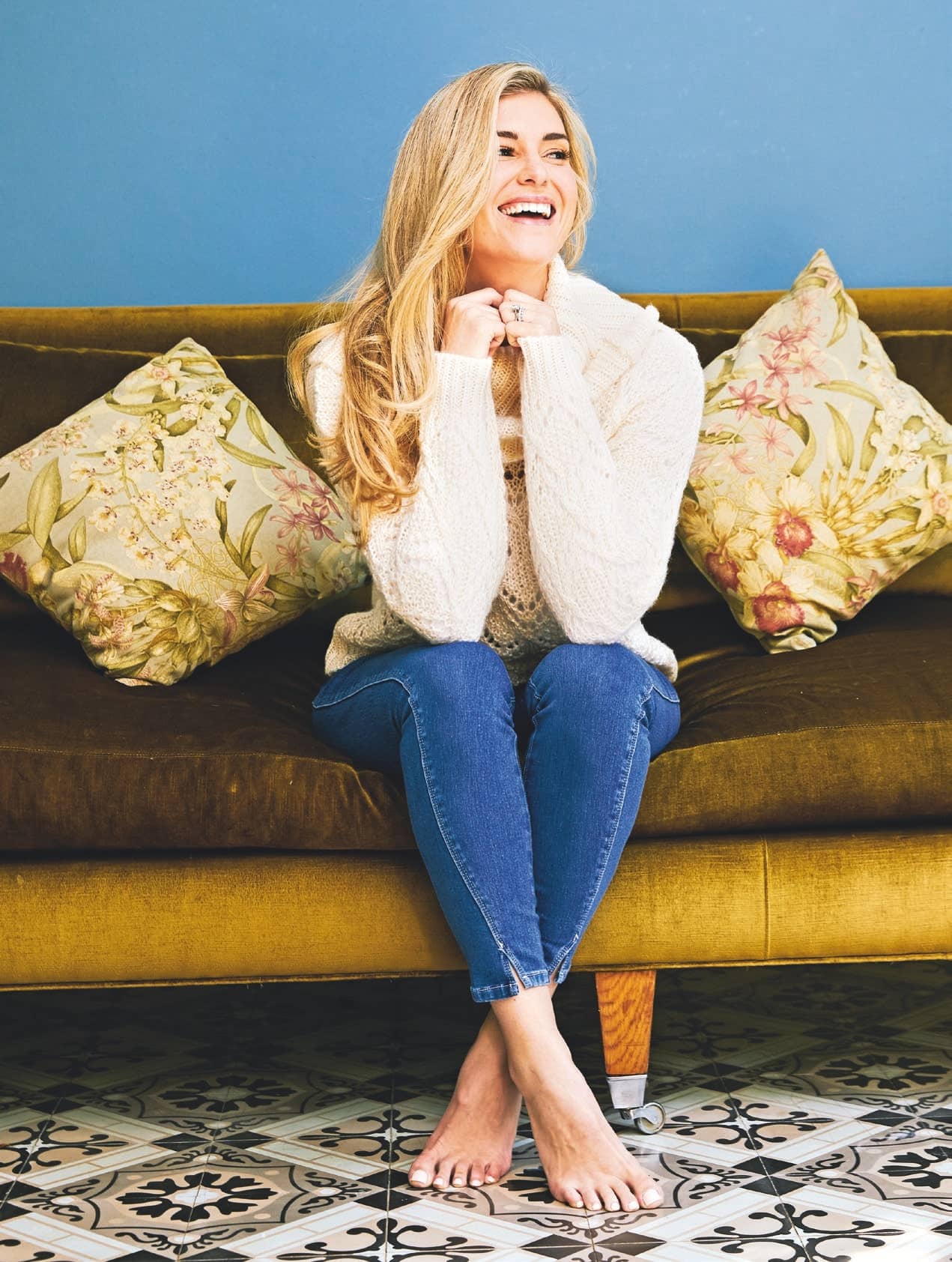 WHAT IS YOUR FAVOURITE BIBLE VERSE?
You can read up to 3 premium stories before you subscribe to Magzter GOLD
Log in, if you are already a subscriber
Get unlimited access to thousands of curated premium stories and 5,000+ magazines
READ THE ENTIRE ISSUE
March - April 2020