I've Never Felt So Powerful & So Calm
Good Housekeeping South Africa
|
December 2018
We love EMMA THOMPSON for breaking our hearts (that crying scene in Love Actually) just as much as we love her for her passion for good causes. And when Britain's newest Dame invited Good Housekeeping for a cup of tea, we discovered she's just as we'd hoped she would be...
It's grounding having a temperamental boiler,' says Emma Thompson, who is perched on a kitchen worktop, twiddling knobs and searching for any sign of a pilot light. We're in her office on the same street in north London where she lives, having an afternoon cuppa. She's made the tea and organised sticky patisserie tarts and chocolate biscuits. As far as hosts go, she's impeccable. And thoroughly down to earth.
When it was announced she was being made a Dame in the 2018 Birthday Honours list, she reacted with her signature brand of self-deprecating humour, saying, 'It's a huge honour. I've always wanted to be able to refer to myself as a dame. Small D. Dame with a capital D is even more thrilling. I was, however, disappointed it didn't come with a castle! I plan to go on being very difficult, just in case anyone was wondering if it might shut me up.'
Emma, 59, comes from a thespian background. She's the daughter of actor Phyllida Law and Eric Thompson, who created The Magic Roundabout. Her first husband was Sir Kenneth Branagh, and she's now married to actor Greg Wise. Their daughter, Gaia, is 18 and they also informally adopted a son, Tindy, 31, a former Rwandan refugee.
Her stellar career includes two Oscar wins (Best Actress for Howards End and Best Adapted Screenplay for Sense And Sensibility) as well as standout roles in The Remains Of The Day and Nanny McPhee. She's just been on the big screen in The Children Act, an adaptation of Ian McEwan's bestselling novel about a judge ruling on difficult family cases while dealing with the breakdown of her own marriage. There is already talk of an Oscar nomination.
Across the kitchen table, Dame (with a capital D) Emma talks about staying grounded, her guilty pleasures and not taking her happy marriage for granted.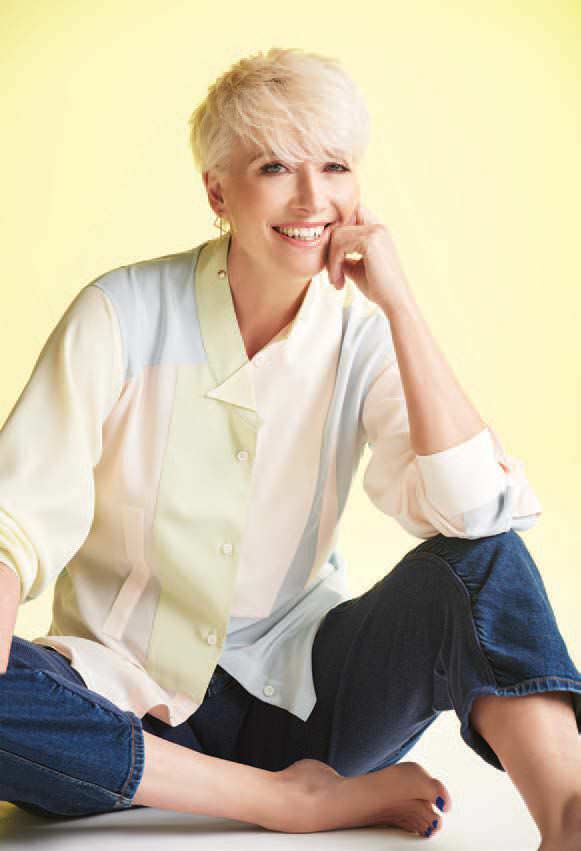 You're an Oscar winner and hugely popular. What do you think is key to your appeal?
You'd probably know more than me! I've always lived here [in the UK] and I've always lived in the same street. I'm very close to my roots, so I suppose I haven't been allowed to become too much of a plonker. I think it's very easy to become one if you're successful, rich or lauded in any profession, actually, but in ours, definitely.
What helps to keep you grounded?
I've got Mr Carmelli, the local car mechanic up the street, who's been yelling at me for years since I was a child. 'What are you wearing that for?' 'Why haven't you got any children?' 'What are you trying to stop the war for? You're so stupid!' But I'm sure I've gone through phases of being perfectly frightful.
And being close to your family is clearly part of it too…
You can read up to 3 premium stories before you subscribe to Magzter GOLD
Log in, if you are already a subscriber
Get unlimited access to thousands of curated premium stories, newspapers and 5,000+ magazines
READ THE ENTIRE ISSUE
December 2018