Artist Katherine Bernhardt
Meet Katherine Bernhardt, the so-called "female bad-boy" of contemporary art.
WHEN I STARTED, I wanted to pain things that had nothing to do with each other, that made no sense," says Katherine Bernhardt. "That was the goal: nothingness. And what were the brightest, craziest color combinations I could come up with, that would clash?"
Bernhardt—44 years old, sporting a Daisy Duck T-shirt, enormous earrings from a local fabric store, and flashy neon-pink-laced Nike Air Zoom Pegasus 35s with a floral print— is holding court in her studio, a converted auto-repair shop in the Flatbush neighborhood of Brooklyn. She pegs her personal style as "tropical, futuristic hippie," and that's not far off from some of the paintings she makes; space is brimming with huge works that exude an eye-popping swagger. In one, a spray-painted Pink Panther hangs out with two high-speed bullet trains modeled on the Shinkansen that Bernhardt rode with her son during a recent trip to Japan. A wobbly painting of the infamous oversized Triple S sneaker by Balenciaga outs her as a sneakerhead. (She's also enough of a Nike fanatic that she has her own hand-drawn swoosh tattoo.) There's a massive pile of soft sculpture gummy worms stacked up in one corner, leftovers from Concrete Jungle Jungle Love, a 2017 takeover of New York's Lever House, for which Bernhardt created a sprawling environment. "Now that I look back at it, it was kind of too much," she reflects. "Too much color, too much of everything.…"
Bernhardt's slight regret is amusing, given that these days she's always putting too much of everything into her work. A typical Bernhardt might measure up to 10 feet long, its surface swimming with spray-painted oddities: hammerhead sharks, hamburgers, Windex bottles, cigarettes, watermelons, Garfields, stormtroopers, bananas. A lot of what draws her to things is simply their color: the bright bright pink of the Pink Panther; Garfield's orange tone; the chemical blue of that Windex bottle. They're unabashedly fun and proudly illogical, fast and silly yet executed with thoughtful, painterly chops. And in 2019, Bernhardt is at the top of her game, beloved by her fellow artists and coveted by private collectors and museums alike. Meanwhile, she's got countless creative side hustles—selling imported Moroccan rugs, as well as a series of hand-painted, tie-dyed T-shirts ornamented with bootleg logos—all while juggling the demands of single motherhood. (A typical weekend could include a trip to a Manhattan Lego store and a birthday party down at Coney Island.)
"I'm satisfied and yet never satisfied," she says. "I don't like to waste time. Life is short, so I always try to do as much as possible'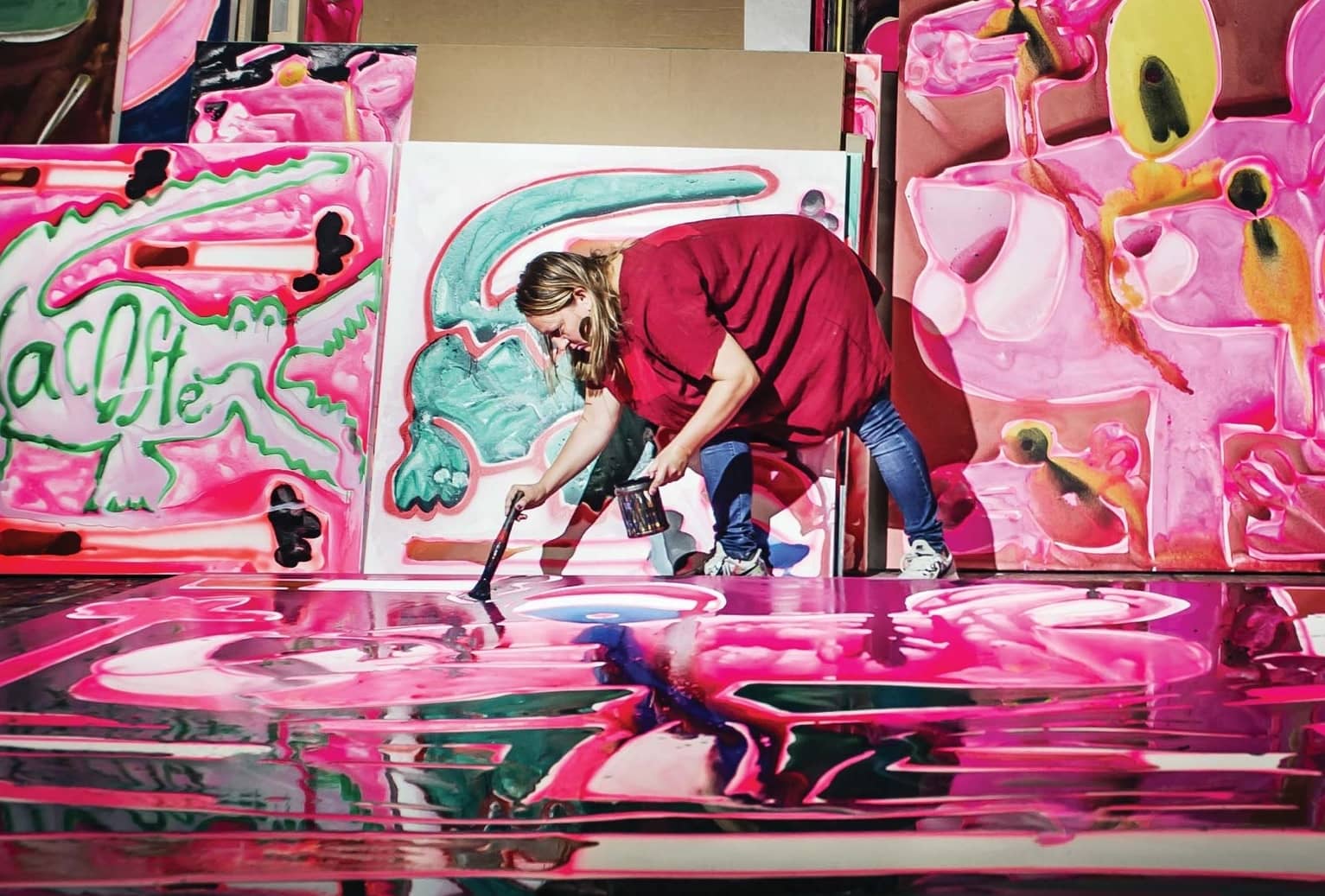 BERNHARDT GREW UP on the outskirts of St. Louis, in a house that was filled to the brim, thanks to her mother's hoarding tendencies, with what might be considered Bernhardt's signature excess stuff."Newspapers, ice cream molds, Scottish terrier paraphernalia," she says, as though rattling off an inventory of one of her own paintings. "All the furniture from people's estates that died. Just everything. I remember we had a playroom that was really full of stuff—my dad got mad, he came and raked it out."
She left home to study at the School of the Art Institute of Chicago, accepted with a portfolio of watercolors she'd made based on photos she took as a high school exchange student in Portugal. From there she moved to New York for the master's program at the School of Visual Arts (SVA). Her knowledge of contemporary art, until that point, basically ended with Georgia O'Keefe, although she had been turned on to the work of Laura Owens and Mary Heilmann in Chicago. Their impact on her own future paintings makes sense: Owens is known for the irreverent appropriation of pop-culture imagery, and Heilmann's abstract paintings are explosions of bright color, rendered with a loose hand.
In New York, Bernhardt hit the Chelsea gallery scene hard and found her stride as an artist. She was a sensation before she'd even finished her degree, in 2000. Her early output included messy still lifes of common objects, as well as riffs on pop-culture touchstones like E.T. and the McDonald's arches. Shortly after graduation, she landed a solo show at Team Gallery, home at the time to a dude heavy roster of artists like Slater Bradley and Steven Parrino. "There was a rampant disrespect for painting going on that I really responded to," says Team co-founder José Freire, who visited Bernhardt's SVA studio along with his then gallery partner, Francis Ruyter. "It's taken time for people to see that the work has this romantic, abiding respect for the traditions of painting—that the lowbrow subject matter is not the be-all and end-all of what she's doing."
Bernhardt's star was lifted further by a glowing Village Voice review from future Pulitzer Prize-winning critic Jerry Saltz. ("She's a natural, even if I can't say exactly what kind of natural that is," he proclaimed in 2001.) At the time, Bernhardt was making drippy, purposefully inelegant images of fashion models, all based directly on photos from magazines. She painted them as if she were a fan who simultaneously wanted to destroy her icons. Hair transformed into a tangled nest of angry brushstrokes; clothing dissolved into colorful smears and blotches. Some may have read it as a vicious attack on a superficial industry, though that was never Bernhardt's intent. She'd cross paths with supermodels at parties or openings and excitedly ask them to take pictures with her.
"I was painting them because I loved them—I was obsessed with them," she tells me now. "Gisele! Kate Moss!" she exclaims, with true fangirl enthusiasm, while flipping through a 2008 book on the series, The Magnificent Excess of Snoop Dogg (which, somewhat confusingly, does not actually contain any paintings of Snoop Dogg).
"What's amazing about her is that she defies so many rules," says longtime friend and fellow artist Brian Belott. Her insistence on working from photographs, for instance, was a flippant transgression. Belott was impressed by how Bernhardt turned slick fashion images into portraits akin to those of David Park or Egon Schiele. Spindly bodies, oversized heads, a sense of the human form as something strange and uncomfortable.
Continue Reading with Magzter GOLD
Log-in, if you are already a subscriber
Get unlimited access to thousands of curated premium stories and 5,000+ magazines
READ THE ENTIRE ISSUE
September 2019