MALUMA WORLD
GQ South Africa
|
April 2020
Colombian-born Latin-music sensation Maluma is leaning into being the biggest pop star imaginable. And wow, is it working
SURE, IN THE DIGITAL AGE, there're ways to quantify the fame of pop singer Maluma: he has 49.3 million followers on Instagram, for example. (Harry Styles has 26.3 million; John Legend has 11.8 million.) And on YouTube, his videos have been viewed 13 billion times. But his stardom – the pure global reach of it – still has a way of beguiling him.
The 26-year-old's telling me this while perched in a makeup chair in Toronto, where he's in town for yet another sold-out show. A few days before, he was playing at Madison Square Garden in New York. He stepped out of his hotel and found a throng waiting for him. That part didn't shock him; he's gotten used to the crowds. But this particular group told him they'd flown in from China – a place Maluma didn't even realise his music had reached. They'd come just to see him.
'They were like, "We're huge fans!"' Maluma recalls, 'and I was like, "What the fuck?" And they said, "Yeah, you have a huge fan base in China." They were telling me, "You have to come. It's a big deal. We came to New York for your show because you never come,"' Maluma remembers, seeming genuinely thankful for the heads-up about his rockstar status in the world's most populous country. 'I said, "Oh, fuck – sorry! I'm coming soon."'
That night, Maluma hinted at another grand new ambition when he brought out a secret guest: Jennifer Lopez, with whom he'll star in his film debut, Marry Me, due out this year. He talks about Lopez breathlessly and says that 'at the musical level, there's been a big connection' between the two of them. And he says he's thankful to her, of course, for handpicking him for his first shot at movies. In plenty of ways, the Hollywood role is a fitting brand extension for a star who's built his reputation on suave charisma – and who's sent three albums skyrocketing to the top of the Billboard Latin charts.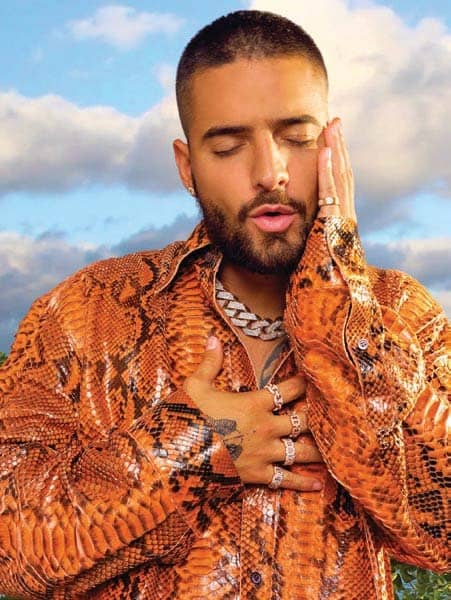 You can read up to 3 premium stories before you subscribe to Magzter GOLD
Log in, if you are already a subscriber
Get unlimited access to thousands of curated premium stories, newspapers and 5,000+ magazines
READ THE ENTIRE ISSUE
April 2020