MOTO RAZR - A THROWBACK DONE RIGHT
MOTO RAZR - A THROWBACK DONE RIGHT
THEN
Technology's deep impact in human lives means we are very dependent on technology for our day to day lives. As much as humans, technology is rapidly evolving and taking the best shape around us humans.
The biggest part of technology in our lives is perhaps our smartphone, which enables us to a lot more and provides access to all sorts of information and data right at the fingertips. Smartphones have been catching up on all the technology trends and the latest is, of course, folding screens. Flexible folding screens have received a lot of interest both among technology enthusiasts and consumers alike. However, the implementation of folding screens is challenging in itself. Smartphone manufacturers have been using different mechanisms, form factors and materials to reach the destination fold.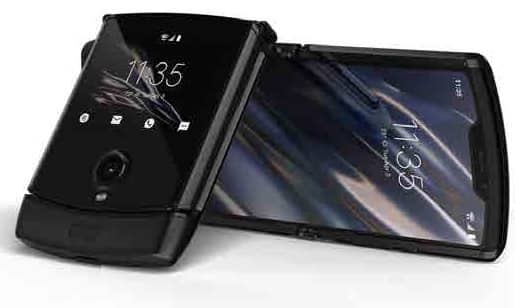 NOW
Early 2020 the Motorola Razr was already on sale in the international markets and in India, we had to wait a bit longer to have our hands on the device. Amidst the COVID-19 pandemic that has shaken the world to its core, Motorola finally made an official announcement of the Razr in India. As the case would be, we got out hands on the retail unit of the Razr and here is what we think about it.
Build and Design
The design inspiration comes from the original Moto Razr which featured a folding clamshell-like design and was pretty slim in its form, even when folded down. The folding design was so much on point that one could flip out and flip-close the phone with just one hand. The thin cross-section of the phone led its name to being 'Razr' comparing its razor-thin body. The Razr was a particular hit of the time. Motorola did launch other folding handsets but out new devices coming in folding phones lost their charm.
Design-wise, it's a success. The hinge mechanism works perfectly. When folding/unfolding the phone a tiny gap can be seen but it is interesting to see the display sink inside for a complete fold. You can still feel the middle crease on the display which slightly dips exactly where the folding happens. However, it is to be mentioned that flipping the phone open and close with one hand is a bit of a tricky job, especially if you have smaller hands. The chin portion of the Razr is fat but designed neatly. You will find an USB-C type port at the bottom along with the speakers. Motorola says that they have used the chin area as a resonance chamber for the speaker. However, you cannot differentiate that from the sound. The chin also has the fingerprint scanner and does a good job of unlocking the phone very swiftly. Sadly, the tight fitted design means you have no memory card slot, not even a physical sim which means you have to configure an e-sim to use on the Razr. Motorola has packed 128GB of onboard storage on the Razr.
You can read up to 3 premium stories before you subscribe to Magzter GOLD
Log in, if you are already a subscriber
Get unlimited access to thousands of curated premium stories, newspapers and 5,000+ magazines
READ THE ENTIRE ISSUE
April 2020