When The Sun Comes Up
Esquire Singapore
|
March 2020
Dong Young-bae, or Taeyang to his legions of fans, has been in the music business since the tender age of 12. Now, at age 31 and after taking an enforced break to complete his two-year military service, the BigBang member tells Esquire all about his new-found understanding of himself and his desire to forge closer relationships.
ESQ: Your first move after being discharged from military service was to hold a charity flea market and an auction to raise funds for Snail of Love, which helps people who suffer from hearing loss.
TAEYANG: I thought a lot about how to meet my fans for the first time after my discharge. When you're in the military, all you wear is your uniform. That made me realise that I have way too many things. I thought about how to deal with my many belongings, which led me to decide on a flea market and donate the profits. The initial intention was how to meet fans, but the idea answered different thoughts.
ESQ: Why did you pick Snail of Love?
TAEYANG: I looked into many charities and I found myself moved by them [Snail of Love] the most. As a singer and a musician, I value the very act of hearing beyond music. Seeing is important too, however, I think a word or some beautiful sound changes people the most. In that sense, I wanted to give special presents to hearing-impaired kids.
ESQ: You said you thought a lot about life while in the service. How was your life in there? As you enjoy and cherish your job as a singer so much, it must have felt strange to not officially perform on a stage for two years.
TAEYANG: I actually had a lot of fun. I think I really needed that time. Of course I had some tough times there too, but overall, I needed that time so much and I think I would've been a less mature person without that time. I said it was fun and enjoyable because I had worked without a break since I started my career, hence I used to suffer from mental fatigue all the time. Before entering the service, I had an endless chain of decisions to make, but in the military I just needed to follow the given daily tasks. I found that kind of time so relaxing. It gave me great mental peace.
ESQ: It sounds like you took a break and cleared your head from your previous extremely busy life.
TAEYANG: Right. I got along with my colleagues, too. I wouldn't have experienced staying with those who are at least 10 years younger than me and from all different places if it wasn't for the military service. I think I learnt so much because I saw things from different perspectives. I felt and learnt a lot.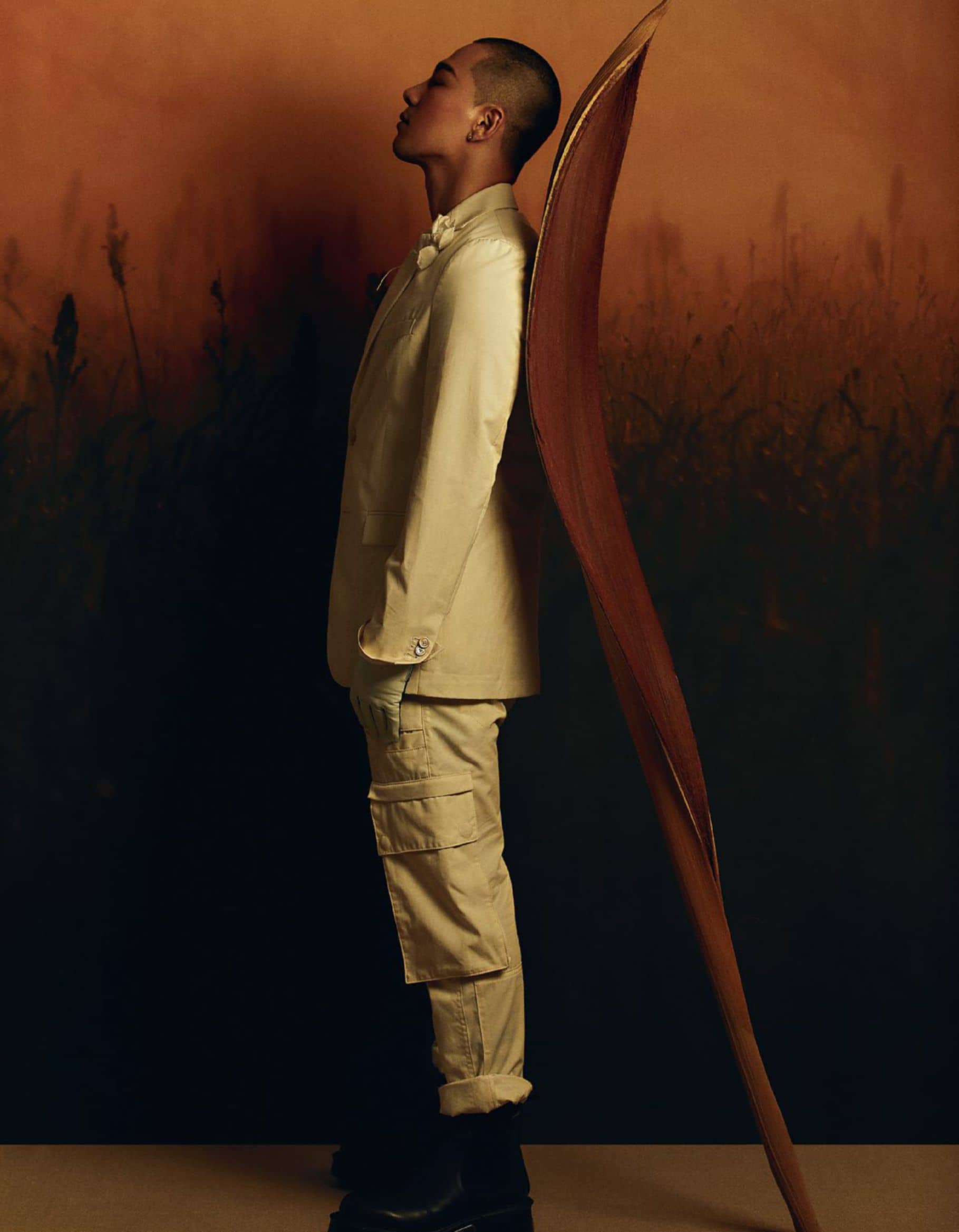 ESQ: What did you learn from your younger colleagues?
TAEYANG: They are mostly in their early or mid 20s and they use totally different platforms for cultural experiences. For instance, I use YouTube only for watching something I like. But as I watched them enjoy huge amounts of content on different platforms, I realised for the first time that there are so many platforms where people feel, experience and get influenced by. I became more open-minded.
ESQ: It was like you had seen only a part of life so far.
You can read up to 3 premium stories before you subscribe to Magzter GOLD
Log in, if you are already a subscriber
Get unlimited access to thousands of curated premium stories, newspapers and 5,000+ magazines
READ THE ENTIRE ISSUE
March 2020