Defenders Of The Planet
Eclectic Northeast
|
November 2018
We meet some green heroes in the Northeast who have dedicated their lives to conservation of nature and wildlife.
Manjum Mahanta and Meeta Borah
Northeast has always been home to some of the rarest species of plants and wildlife, but the ever-growing human habitation across the region has started to endanger both over the years. With the emergence of issues like global warming, it has become pertinent to retain the green cover that the region is most known for. We look at some passionate conservationists who are leading the way with regards to conservation in the region.
Purnima Devi Barman
A wildlife biologist, Purnima Devi has been working for the last 10 years for conservation of the highly endangered greater adjutant stork. Popularly known as 'Hargila Baidow' in Assam, she has been awarded the President's Award for her conservation work. She also received UNDP India Biodiversity Award 2016 from the United Nations, Royal Bank of Scotland RBS 'Earth Hero Award' under Save the Species category, Whitley Award also known as Green Oscar. Apart from this, she was also a nominee of 2018 Indianapolis Prize, out of 32 highly devoted conservationists.
As a young girl, Purnima once saw a tree owner ruthlessly cutting down a tree with a greater adjutant stork still nestling in its nest. The incident greatly saddened her and also ignited a spark within to save these gentle giants. After completing her masters, she decided to pursue a PhD in 'breeding biology of the greater adjutant storks.'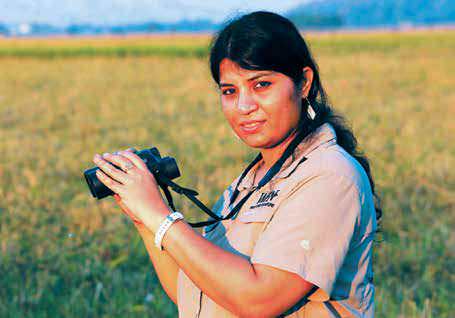 She has been working to protect the breeding colony of the greater adjutant (Leptoptilosdubius) since 2008. 'Due to habitat loss and poaching, it is today an endangered species. Globally only 1200 greater adjutants are left, and the population is declining.' Her efforts have helped increase nests from 30 in 2008 to 171 in 2014. At present, the average nest number is 150, making this the largest breeding colony in the world.
Land expansion, construction and felling trees posed a serious threat to the greater adjutant. But even more so, it was disliked by the locals as it was a scavenger bird and considered 'dirty'. As they live in trees amidst human habitation and drop bits and pieces of rotten food and excreta below, they were unpopular with village folk. She started a movement in three villages of Kamrup District of Assam to change their opinion of the bird, and soon enough, amidst all challenges, she was successful in building the feeling of ownership for the Hargila among local communities.
Purnima's work is not without challenges. She regularly climbs an 80 feet bamboo platform (machan) to observe the storks from close quarters and study their behaviour. 'It was challenging to integrate the birds into the lives of villagers and create an emotional connect between both. Each year, I conduct baby shower ceremonies for the incubating greater adjutant stork just like it is done traditionally for pregnant Assamese women. I initiated a feeling of ownership, and made them understand that saving these birds was their responsibility.'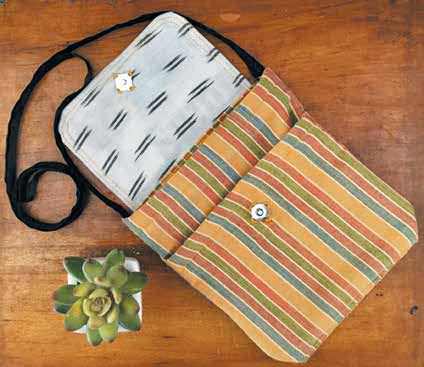 She has even managed to create an artificial breeding platform for the first time and a pair of birds successfully nested at the platform and incubated. 'Initially the movement was to conserve the species. But now, we are also starting a breeding plant for the species to increase.
We are also taking up projects to ensure the conservation message is widespread across the State.'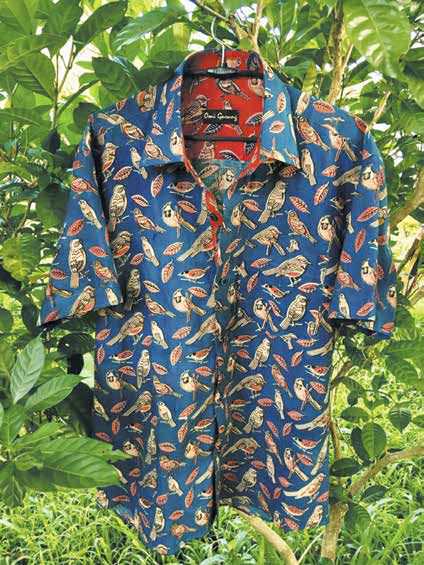 Omi refers to himself as a 'reformed shopaholic and ardent upcycler'. This multitalented green hero is a fashion designer, design consultant, social entrepreneur, motivational speaker and a life coach. Popularly known as 'The Green Man' of Sikkim, his brand OMI creates awareness to reduce, reuse and recycle. He was conferred with Balipara Foundation Young Naturalist Award 2016 for his contribution to sustainable fashion in the Eastern Himalayas.
He started his brand in 2013. 'Fashion industry is the second most polluting industry in the world. As a fashion professional, I visited different sectors or verticals of the fashion industry and discovered how fast fashion is slowly killing us. The Rana Plaza incident that occurred on 24 April 2013 in Bangladesh really shattered me. No one should be killed for fashion. In the same year, I started my brand and made a promise that the brand will educate and create awareness about the environmental, social and economical impact of fashion to the world. Today, OMI is known to be a conscious brand. We work tirelessly towards sustainable fashion out of textile waste.'
The brand reuses old textile materials or discarded clothing items along with deadstock fabric. 'We buy deadstock fabric from different apparel stores in Siliguri, Kolkata, Delhi and Bangalore. We also often use handloom fabric in our designs. We have a few weavers from different parts of India who directly supply handloom fabric to us.' With people becoming more environmentally conscious, Omi's brand is really flourishing. 'We mostly create handcrafted products in a limited quantity. And that's the USP of our products, be it clothing, accessories or home decor items. When you buy something from us, you are not just buying an item but you are empowering us and taking home a work of art.'
This green hero feels that everyone can do their bit for the environment by buying less and wearing more. 'Nearly 95% of all textile material are recyclable but nowadays, we are buying up to four times more than what we did a few years ago. We are exploiting resources and manpower. Online shopping is the devil and discounts are a regular affair. We only wear 20% of our clothes 80% of the time. Do you know it takes 2720 litres of water to make a simple t-shirt. That's normally how much a person drinks within a three year period. Buy less, wear more. Choose quality over quantity. And most importantly, learn to care and repair your clothes. Be a conscious consumer of fashion.'
Omi feels motivated to continue on his path when he sees how it affects the people around him. 'It is a good feeling to be acknowledged for the work you do. And the very fact that your work inspires many to do their bit for the environment is a great catalyst to your confidence and self-esteem.'
You can read up to 3 premium stories before you subscribe to Magzter GOLD
Log in, if you are already a subscriber
Get unlimited access to thousands of curated premium stories, newspapers and 5,000+ magazines
READ THE ENTIRE ISSUE
November 2018