Wind Beneath Our Wings
EL Singapore
|
November 2018
We love catching up on the remarkable adventures of Singapore-based non-profit organisation Women on a Mission (WOAM). Here, Christine Amour-levar recounts the group's recent trip to Mongolia.
Across the wide-open steppe, a lone Kazakh rider galloped towards us on an ebony-coloured Mongolian stallion, a seven-kilogram golden eagle perched on his arm. We watched transfixed as he approached, dressed in his traditional fox-fur cloak and hat with embroidered trousers, just as his ancestors must have looked some 2,000 years ago. Finally, he halted in front of us; then, smiling proudly, he greeted us warmly in the Kazakh language.
It had taken our all-female team two full days to reach this extreme western part of Mongolia from the capital Ulan Bator (or "UB" as it is also known to locals). The Altai Mountains, home of the famed eagle hunters of Mongolia, is a UNESCO World Heritage Site located close to the border of Russia and Kazakhstan. Altai means "gold mountain" and the range is the largest and highest in the country, with towering mountains, glaciers, deep lush valleys and beautiful lakes.
Heavy snow and strong winds had resulted in significant delays to our itinerary, so when we finally arrived – after many hours driving off-road, speeding across rocky trails and snow – and saw such an extraordinary rider appear before us, it only contributed to the feeling that this was one of the most remote places on earth.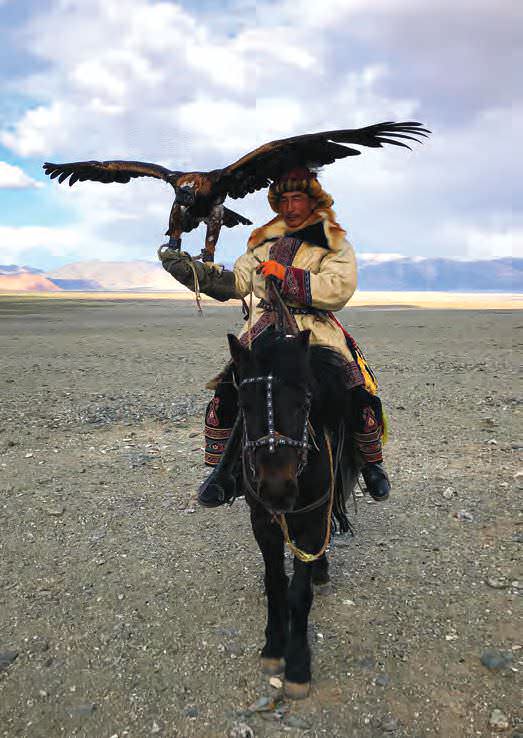 Local insights
The Kazakh eagle hunters of this region are a nomadic people spread throughout not just Kazakhstan but patches of Central Asia. For thousands of years, they've lived a life based around herding five types of animals: goats, yaks, sheep, Bactrian camels and horses; and they have hunted with golden eagles. Still untouched by mass tourism and deeply steeped in their cultural roots and traditions, the locals have trained their eagles to hunt for food and fur – essential elements in their survival. The birds live until 25 years or so; when they're around 12, they are repatriated to the wild, in order to breed and provide another generation of hunting birds.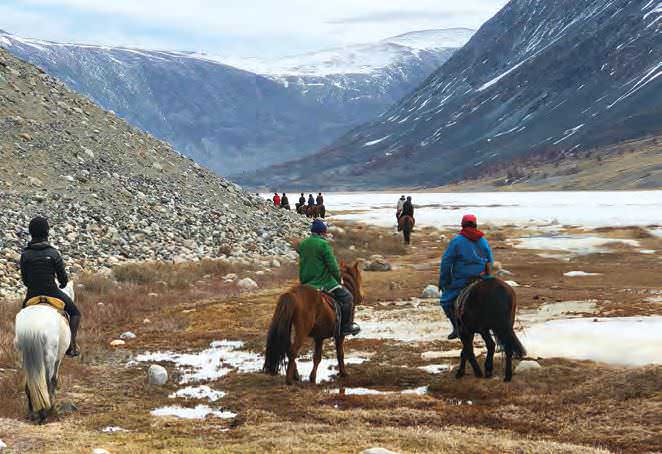 The first few nights of our journey, we were privileged to be hosted in our eagle hunter's own family home. Bekhbolat, as he is called, lives with his parents, his wife Mariya, and their three children. Upon entering the nomads' home, we felt immediately welcome as they shared their way of life and their provisions. During our stay, our team slept in traditional ger houses – incredibly comfortable round-shaped tents covered with skins or felt that have a structure comprising an assembly of wooden lattices for walls, a door frame and a crown of compressed rings for the roof.
You can read up to 3 premium stories before you subscribe to Magzter GOLD
Log in, if you are already a subscriber
Get unlimited access to thousands of curated premium stories, newspapers and 5,000+ magazines
READ THE ENTIRE ISSUE
November 2018