IT'S A QUESTIONABLE GAME
Dolce Magazine
|
Summer 2020
Canadian-born Alex Trebek, the long-standing and much loved host of Jeopardy!, is thoroughly committed to the champion of both the environment and the vulnerable at-risk members of society
Answer: What is Jeopardy!
Question: What is the name of the popular quiz show that has featured long-time host Alex Trebek?
Welcome to Jeopardy!, America's favourite quiz game show, hosted by Alex Trebek. A challenge with a twist, Jeopardy! is a game where contestants are provided with clues in an answer-type format and they are then required to come up with the correct question to that answer. While it may sound easy — as a contestant, you already have the answer — there is a catch: the contender needs to have a robust and diverse depth of knowledge in at least six categories (played in a three-round format), to formulate the question that delineates the answer. Got it? In the third round, which is called "Final Jeopardy!" contestants can name their own jackpot within the parameters of their accrued earnings. The show, which won a 2019 Emmy for Outstanding Game Show, plays to a weekly audience of 23 million viewers. A winner of seven Daytime Emmy Awards for Outstanding Game Show Host — Trebek recently won Outstanding Game Show Host at the June 26, 2020, Daytime Emmy Awards, with Jeopardy! winning the Daytime Emmy for Outstanding Game Show — Trebek holds a Guinness World Record™ for Most Game Show Episodes Hosted by the Same Presenter. To date, he has hosted nearly 8,000 episodes of Jeopardy! (and is committed to host the show through the 2021–22 season). With more than 400,000 questions asked to date, Trebek has become one of television's most enduring and well-recognized figures.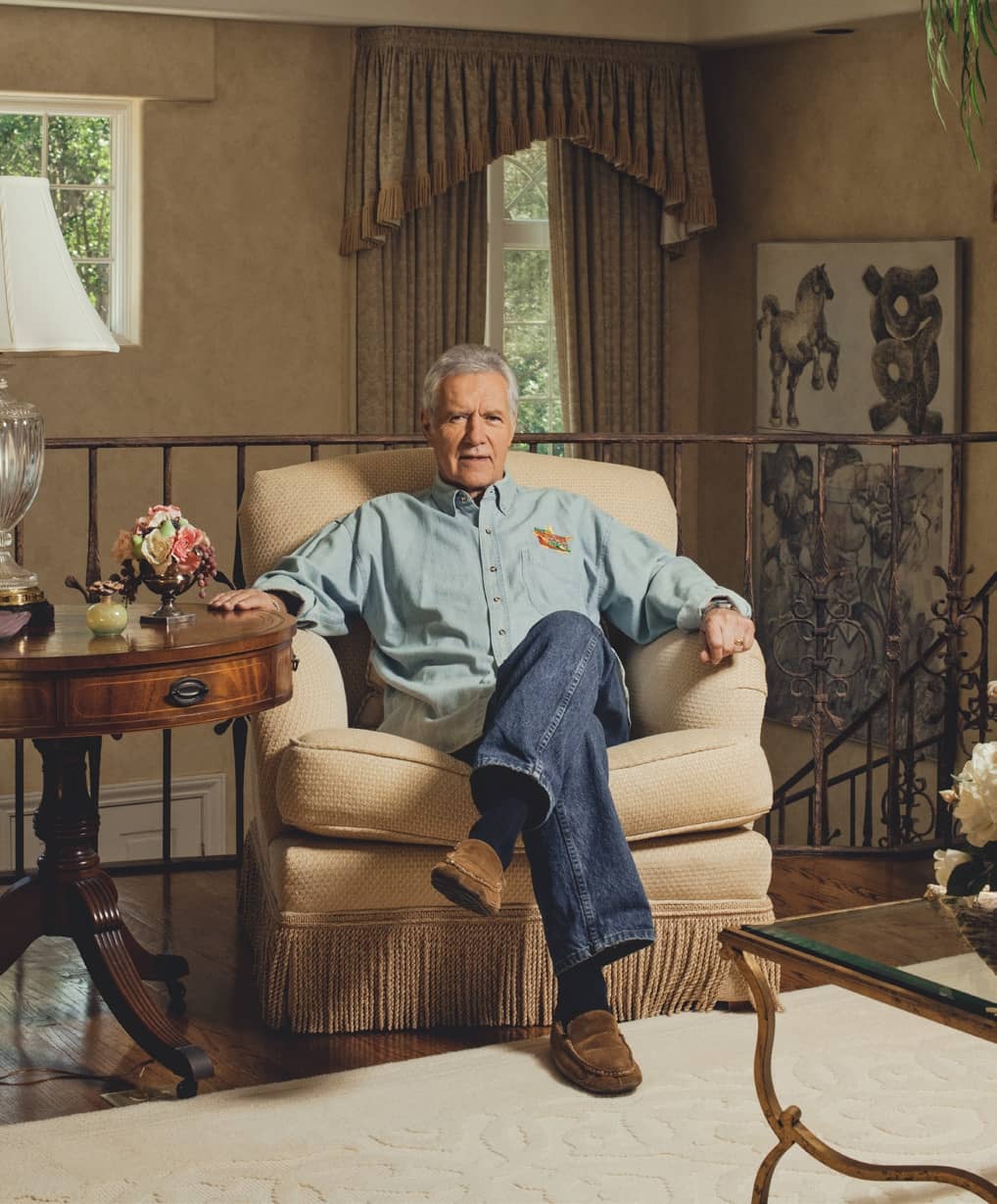 Without a doubt, even people who are unfamiliar with the popular game show have heard of it. And most, even if they have only seen it as they channel-surf, know who the loud and proud born-in-Canada host is. Always nattily dressed, Trebek, whose suits are bespoke and tailored with cutting-edge creases that are elegant, stylish and crisp, has a lion's head of thick white hair that is always spectacularly groomed — the quintessential silver fox. By every account, Trebek, who is turning 80 on July 22 and has a book coming out on July 21 titled The Answer Is . . . Reflections on My Life (Simon & Schuster), is a gentleman and a scholar, a philanthropist and a champion of both the environment and the vulnerable at-risk members of society.
"I have met other celebrities and television personalities, and Alex is special," states John Geiger, CEO of The Royal Canadian Geographical Society (RCGS). "Alex embodies the spirit of what the society is about. He is our inspirational leader and an impressive person on so many levels. We are so lucky to have him in the role of honorary president."
Born in Sudbury, Ont., in 1941, Trebek attended the University of Ottawa, where he earned a philosophy degree. He went on to work at the CBC, where he covered both the national news and special events for radio and television. In 1973, Trebek made his American television debut as the host of NBC's game show The Wizard of Odds. He also appeared in High Rollers, Battlestars and To Tell the Truth, before landing the job hosting Jeopardy!. A deadpan sense of humour and a propensity for playing pranks on his friends, Trebek is also known for his wit and his "Trebekisms," which include: "Being Pope. That'd be OK, because I look great in white"; "It's far easier to be nice to people than to be mean, with far greater results"; "I am an analog man in a digital world"; and, "If you can't be in awe of Mother Nature, there is something wrong with you."
Along with his seven Daytime Emmy Awards for Outstanding Game Show Host, Trebek holds a Lifetime Achievement Award from the National Academy of Television Arts & Sciences, and is an inductee of the Broadcasting & Cable Hall of Fame (2013), as well as the National Association of Broadcasters (NAB) Broadcasting Hall of Fame (2018). In 2011, Trebek received a Peabody Award for "encouraging, celebrating and rewarding knowledge." He is one of a handful of celebrities to have a coveted star on both the Hollywood Walk of Fame and Canada's Walk of Fame. And to put a feather in the cap of this ultra-proud Canadian, one who has a deep-seated abiding love for Canada, Trebek was named an Officer of the Order of Canada, the country's second-highest civilian honour (2017).
"Alex is someone who is elegant, courtly and highly intelligent," says Geiger. "He touches people's lives in incredibly positive ways. He is one of those people who is always prepared to help other people become at ease. He has none of that haughtiness, none of the celebrity airs or entitlement that one often sees. He has a wonderful deadpan sense of humour and he personifies so many of the attributes that represent the best in people."
A deep commitment to the environment and a genuine appreciation for cultural diversity fuel Trebek's ubiquitous love for geography. It is his unfailing belief that in order for people to be informed and proactive to current events in a positive and intelligent manner, it is necessary for them to have a strong grasp of both their country's geography and a salient grasp of overall world events. Trebek actualizes his personal commitment to the importance of geography through his support for the RCGS, of which he was named honorary president in 2016.
Considered RCGS's highest honour, former presidents include Vincent Massey, who was also Canada's governor general from 1952–59. The importance of the RCGS's role as a national educational organization, with a network of 25,000 classroom educators, is integral to Trebek's championship of the organization. The society published the impactful Indigenous Peoples Atlas of Canada in collaboration with Canada's major national Indigenous organizations, one of many influential programs it undertakes. The society's student geography competition, the Canadian Geographic Challenge, was held in 2019 for the first time in the theatre at RCGS's new Ottawa headquarters, named the Alex Trebek Theatre, in honour of Trebek's deep and tangible commitment to RCGS' mission and objectives. In further appreciation, the Alex Trebek Medal for Geographic Literacy was announced in 2019.
Ben Woodward, a high-school student at London Central Secondary School, won the Canadian Geographic Challenge in 2017. The challenge, formerly known as the Great Canadian Geography Challenge, began in 1995 as a way to get students interested in geography. Since then, the challenge, which has grown to more than 500 schools from 20 participating schools, reaches more than two million students across Canada. The summer that Woodward won the challenge, he and the other contestants met Trebek for a boat cruise that went out of Sydney, N.S., and along the eastern coast of Canada. "Mr. Trebek is my hero," Woodward says. "He is altruistic, passionate, energetic and very kind to be around. He is very committed to big issues, like increasing geographic literacy," says Woodward. "The thing that really impressed me, that was memorable, was when Mr. Trebek sat down for two hours with my fellow contestants and myself, and helped us put together a trivia contest for one of our evening events after the geography challenge.
He even took the time to host part of our trivia challenge that night," he says. "It was amazing to see that Mr. Trebek put as much effort into our trivia challenge as he puts into Jeopardy!, and we were just high schoolers."
One of Woodward's favourite quotes from Trebek is, "Find something that you are good at, and the world is yours." Trebek's generosity and his influence as a role model are such that he inspired Woodward's decision to seek out a career in academia, with a focus in geography.
Deb Chapman, communications manager at the RCGS, also shares her experience with Trebek at the 25th anniversary of the Canadian Geographic Challenge. "Mr. Trebek mingled and cracked jokes with the champions, as if he was at a family reunion," Chapman says. "He praised the students for doing well in life and went out of his way to make these young men feel special. While Alex may be a Hollywood star to most of us, he's a hero to the champions for supporting the challenge — a milestone event in their lives. He was absolutely amazing."
A generous alumnae supporter to his old alma mater, the University of Ottawa (uOttawa), Trebek has established scholarships, sponsored the Alex Trebek Distinguished Lecture Series in 2015 and supported the construction of Alumni Hall, which was named in his honour in May 2015. In 2017, Trebek increased his commitment to the university, with a $5-million endowment to inaugurate the Alex Trebek Forum for Dialogue, whose mission it is to initiate, enrich and nurture public debate in Canada. Opinion leaders, CEOs, government officials, foreign dignitaries and heads of state are all change-makers who provide a diverse breadth of perspectives and ideas through workshops, conferences, lectures and speeches. By fall 2019, Trebek's total commitment to uOttawa reached $9.5 million.
Up until spring 2019, life was good for Trebek; it was a life that was rich with purpose and commitment. It was a life as full of answers as there were questions. However, in March 2019, when Trebek announced that he has Stage 4 pancreatic cancer (the approximate five-year survival rate for pancreatic cancer is 10 per cent), his legions of fans, the many foundations that he has supported — partnerships that have evolved from strictly business to ones of friendship and affection — were crushed under the devastating news. Trebek's wife, Jean (Currivan), to whom he has been married for 29 years; daughter, Emily, a real estate developer in Los Angeles; and son, Matthew, the owner of OSO, a Mexican restaurant, and Lucille's, a restaurant-bar, both in Harlem, N.Y., were all in shock.
Trying valiantly to stay positive, Trebek nevertheless felt he owed viewers an honest and candid look at the struggles he was experiencing while battling cancer. In a March 4, 2020, video that he posted on Twitter (https://twitter.com/ Jeopardy/status/1235233566193152000), Trebek stated that "there were moments of great pain, days when certain bodily functions no longer functioned, and sudden, massive attacks of great depression that made me wonder if it really was worth fighting on."
Jean faced her own challenges while watching her husband struggle through both the ongoing pain and the depression. "It's when I see him in pain and I can't help him," Jean said in a goodhousekeeping.com article, referring to the challenges of watching her husband suffer. "And when he doesn't eat right. When he has too much diet soda." In turn, Trebek credits Jean "for teaching him the value of looking outside of himself in a charitable way, one that involves helping others financially or personally — and never expecting anything in return," Trebek said in an interview with uottawa.ca.
You can read up to 3 premium stories before you subscribe to Magzter GOLD
Log in, if you are already a subscriber
Get unlimited access to thousands of curated premium stories, newspapers and 5,000+ magazines
READ THE ENTIRE ISSUE
Summer 2020