Where the living is easy
Country Life UK
|
August 05, 2020
Dead flies and cobwebs, mouse droppings and damp beds, brown water and faded furnishings: what is it about our long-cherished holiday houses that makes them such heaven? With glamorous foreign villas out of bounds this summer, we asked seven devotees to describe the perfect setting for a traditional British holiday
Hut on the south Devon coast
Helena Drysdale is the author of six books of travel/memoir, including Mother Tongues: Travels through Tribal Europe and Looking for George: Love and Death in Romania
I first saw the Hut when I was two. As we ran down through the pinewoods and out onto the cliff, I picked up on my parents' joy, which never left me. 'Tighter,' my father urged until I gripped the beach handrail so tightly I could hardly move. Waterfall, hot rocks for sunbathing, shingle patched with softer sand that biscuits in the sun: this is where I spent every blissful summer.
Holidays began with a five-hour drive from London, me and my two sisters and three cats in the back, my father smoking at the wheel. Window down, mouth-filling with saliva, I agonized over when to announce I was going to be sick: too early meant keeping them waiting on the roadside; too late was—too late.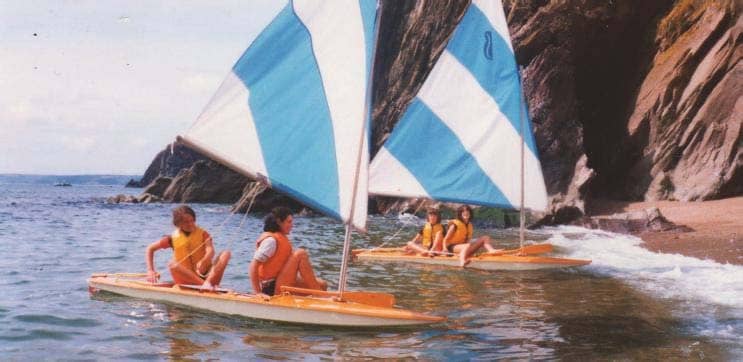 Then, the Hut worked its magic. You bump along an increasingly rutted track—don't lose your nerve—and park by the gate. As you walk down the path, a vista unfurls of the sea and craggy headlands. A green clapboard bungalow is tucked into the bowl-shaped cliff face, like a stage with an audience of the sea.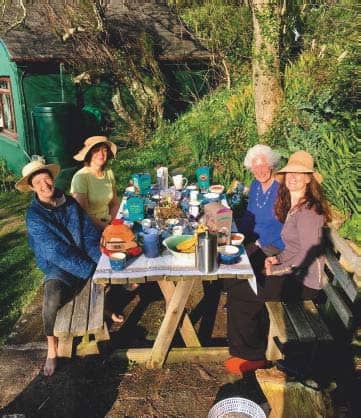 Built from a kit in 1923, it was run as a campsite for socialists: no running water or electricity and nudity encouraged. Waving angrily at a yacht approaching to moor, the owner fell over the cliff and died and, in 1950, my grandmother bought it. Although now equipped with 'facilities', it retains its slightly spartan simplicity and there's still some nudity. It is the essence of privacy.
Stone hot-water bottles called 'pigs' were shoved into damp beds. In the mornings, my father produced flamboyant holiday breakfasts involving toast catching fire and acres of grease. My mother disappeared into fuchsia banks to haul out bracken and nettles, as she still does in her eighties. My sisters and I bounced around on space hoppers and built camps, and there were picnics on the beach with homemade pasties and water from a spring. Toe holes chiseled into the cliff accessed a windswept platform (destroyed by rockfalls), from where boats were winched down. My father tugged the cord on the Seagull engine and off we set, hooks on lines, often catching seaweed, but also mackerel that slithered in the bilges. Now, I'd rather leave fish in the sea, but salt taut on my skin at the end of a beach day remains a favorite sensation. Evenings were spent around the fire, reading, drawing, playing Racing Demon. I still cherish the absence of TV.
Family paintings, blue-and-white-spotted pottery, 1950s furniture, remains of giant lobster claws: every object is treasured and any change minutely discussed. Some tenants have been coming for three generations and feel equally possessive. A toolshed was converted into a bunkhouse so we could bring friends, then boyfriends, their responses to the Hut a sign of their worth. One became a husband and our daughters, now in their twenties, love it as much as we do.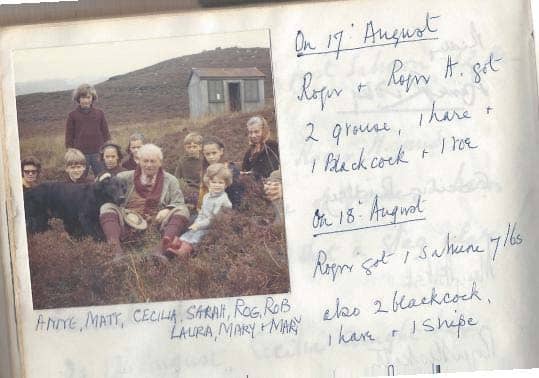 Findynate, Perthshire
Mary James is co-owner of the Aldeburgh Bookshop, Suffolk, and co-founder of the Aldeburgh Literary Festival
Memories of summers spent in Perthshire are ingrained in my soul. Every August, we packed several cars with dogs, Hamish the pet dove, rods, and much other sporting equipment and set off for Scotland. It wasn't a particularly long journey, but I still remember the arguments about which lay-by to choose for our picnic—just as everything seems bigger to a child, so the journeys seem longer.
Oh, the excitement as we arrived at the dark drive overshadowed by rhododendrons! It was my grandmother's house, a glorious, mad Victorian Scottish Baronial folly with turrets and balustrades. At the pinnacle of every tower was a granite stone ball, but these had to go as they got wobbly and started to fall off, one narrowly missing my uncle.
My grandmother had inherited the house from her aunt, who had bought it at the turn of the century so she could devote her time to salmon fishing on the Tay, and there were grainy photographs of a dumpy, determined figure dressed in full black bombazine balanced on the end of a croy. The great-great-aunt must have made one trunk telephone call to Jenners of Edinburgh in about 1911, as the whole house was furnished at the same period. Subsequent generations changed a curtain here or a sofa cover there, but the essence remained. My sister now has the magnificent linen curtains from the drawing-room, which depicted full-size palm trees, all tattered, with the green lining showing through. The beds had ancient horsehair mattresses of unbelievable comfort. By the time I knew the house, all the carpets were threadbare and the linoleum peeling, but this was a large part of the charm. There was always a jigsaw puzzle on the go in the bay window.
As a child, I loved exploring the maze of cellars. There were bathrooms with wooden baths and a mystifying mangle in the old laundry room. The attics were equally enticing and I spent years looking for treasure —to no avail. The largest box held tiny diaries in the old aunt's handwriting, detailing the state of the weather as it pertained to fishing.
The smells of the house are what remains with me. Damp conifer or smoldering peat bricks can take me back in an instant. My parents installed a mercifully efficient woodburning stove in the two-storey hall and my father used to burn juniper branches to scent the house, sometimes so acrid that we had to beg him to put the smoldering branch out as the smoke made our eyes sting. Wiberg's Pine Essence in an enormous cast-iron bath of steaming peaty brown water after a day walking through the heather is another Proustian madeleine for me. One summer, I missed going to Scotland as I was traveling in India. Arriving in the hill station of Simla, I had an overwhelming feeling of homesickness—the rain, the pines, the architecture.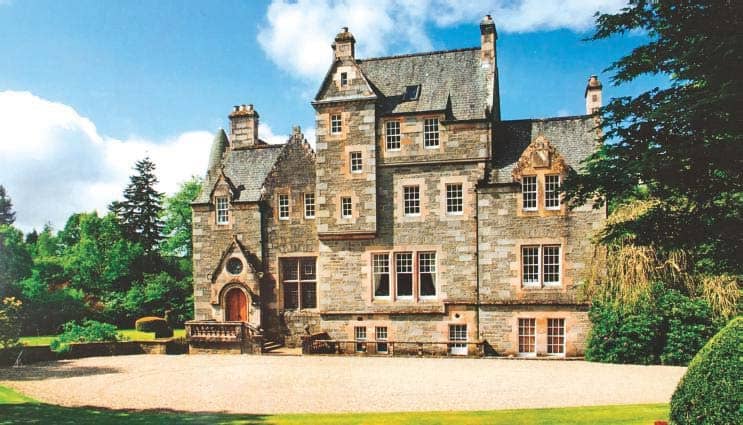 Pembrokeshire cottage, Wales
Harry Mount is editor of The Oldie and author of several books, including How England Made the English and Amo, Amas, Amat and All That
I'm hefted to Pembrokeshire like a Cumbrian sheep is hefted to a Cumberland fell.
Although I was born and brought up in London, I've spent every summer in Pembrokeshire since I was born.
You can read up to 3 premium stories before you subscribe to Magzter GOLD
Log in, if you are already a subscriber
Get unlimited access to thousands of curated premium stories, newspapers and 5,000+ magazines
READ THE ENTIRE ISSUE
August 05, 2020