To the lighthouse
Country Life UK
|
July 29, 2020
The Rubh'A'Mhail Lighthouse garden, Islay Undaunted by all that the sea and the storms throw at this barren headland, Suzanne Cobb has worked miracles to create a floriferous garden–much admired by The Princess Royal–that's literally between a rock and a hard place, finds Tiffany Daneff
THERE are two ways to reach the lighthouse at Rubh'A'Mhail, or Ruvaal, on the north-east point of Islay: by boat or by walking for more than two hours across The Hill, a windswept wilderness of cotton-grass bogs and heather moorland riddled with gullies, waterfalls and burns. Those that make the journey to Howard and Suzanne Cobb's one-acre garden, where salt-laden storms can sometimes topple a grown man, will be amazed at what has been coaxed into growing in this barren landscape of exposed rock and topsoil that is, in places, only 1in deep. They will be even more surprised that this horticultural miracle is the work of a slender, 5ft 1in-tall, 75-year-old woman—yet the indomitable Mrs Cobb, who made and maintains this garden pretty much singlehandedly, is a gale force to be reckoned with.
Golden eagles soar above, sea eagles fly past and smaller birds congregate in the shadow of the lighthouse
Rugosa roses cock a snook at the wind and mounds of improbably delicate Rosa Alba Semiplena and soft-pink R. Celeste have braved the odds to become 5ft-plus-high bushes. In the shelter created by the shrubs and trees, bistort and buddleia, astrantias, nepeta and hardy geranium are a few that have made this rugged ground their home.
Tucked into precious pockets of soil are masses of small bulbs that light up the garden in spring. On the upside, the Gulf Stream holds off all but a couple of frosts a year and old-fashioned favourites, such as lupins, sweet williams and pinks, generally thrive in this fully organic garden. Everything is generously enriched with homemade compost —enhanced by the secret ingredient of seaweed that's washed up on to the beach by the winter storms, gathered into rich trailer loads and transported home behind a quad bike.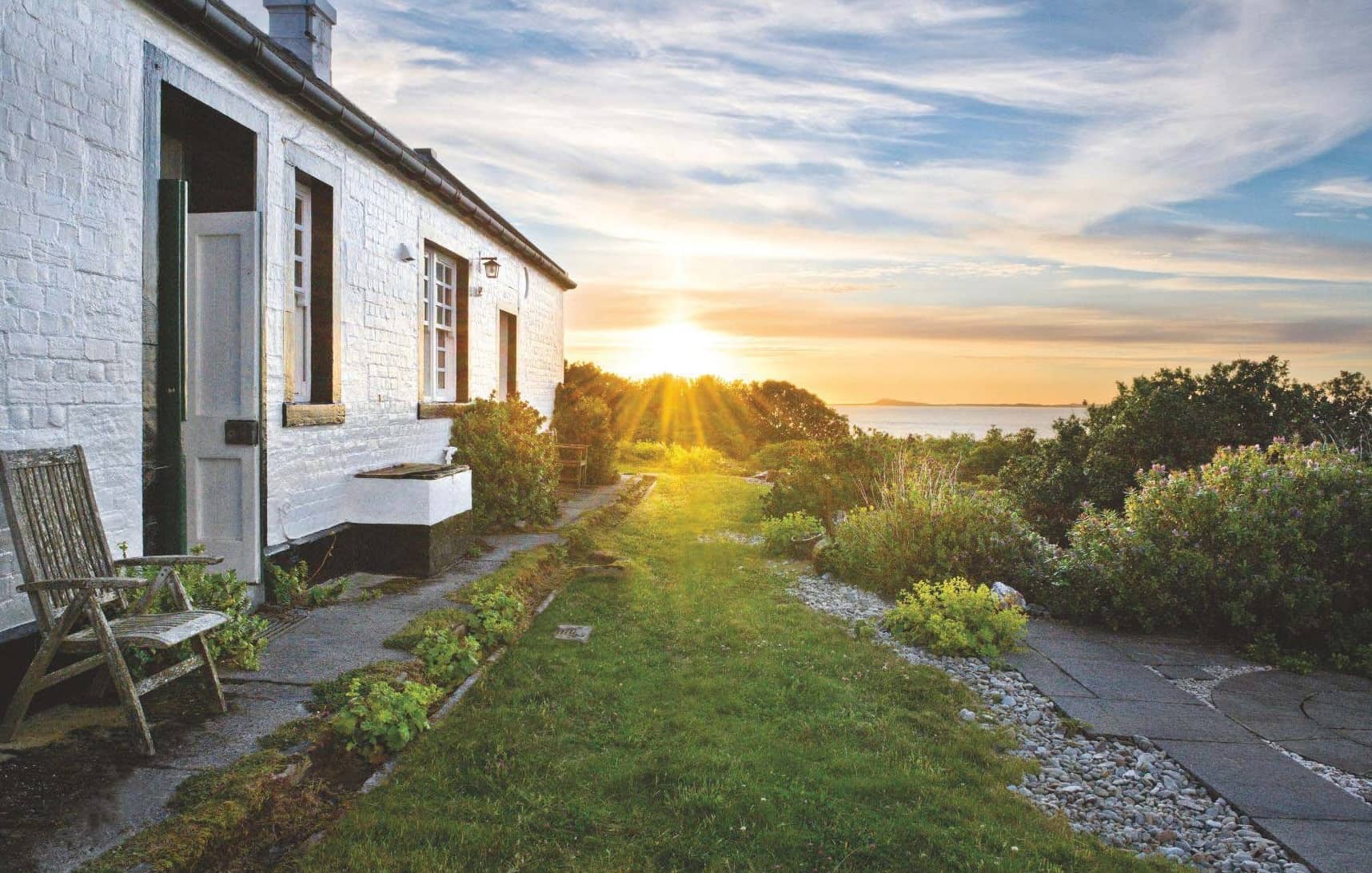 Due to the secluded and modest nature of the garden at Ruvaal, Mrs Cobb was astonished when she learned The Princess Royal had singled it out as one of her favourites. 'Princess Anne must go to so many wonderful places and yet she's picked my humble garden,' exclaimed Mrs Cobb, before explaining
A beacon of light: there are only two ways to reach the garden surrounding the Ruvaal lighthouse on Islay, by boat or a two-hour walk across moorland that The Princess first visited 25 years ago, as part of her role as patron of the Northern Lighthouse Board (NLB). 'The garden was still in its infancy then, although she did admire my cabbages. When she next came, she noted how everything had grown and the third time, she seemed quite impressed— I think because it's in such an exposed and unlikely location. Or perhaps it was the chocolate cake I served on that occasion!'
Even the insect life is undeterred by the remoteness. Butterflies adore this garden. Last year, Mrs Cobb counted 57 painted ladies on one privet. Regulars include the marsh and dark green fritillaries, small copper, small blue, peacock, small tortoiseshell and red admiral. The hummingbird hawk-moth feeds on the red valerian and bumblebees love the cotoneasters, which do well here.
A kind old seafarer said: "Ye'll nae grow roses out there, lassie"
You can read up to 3 premium stories before you subscribe to Magzter GOLD
Log in, if you are already a subscriber
Get unlimited access to thousands of curated premium stories, newspapers and 5,000+ magazines
READ THE ENTIRE ISSUE
July 29, 2020