The show must go on
Country Life UK
|
September 23, 2020
Beef, beer and books–Catherine Austen talks to five people who have worked to bring local cheer, comfort and fun to the Cotswolds during testing times
The circus producer
WHEN we put this year's show, The Hooley, on hold, we were under the impression that we'd open again, that we might lose only a month of the tour,' says Lil Rice, producer of Giffords Circus. 'As it became clear that it was more serious than that, we started thinking.'
The creative brains that give flight to the visual and aural delight that is Giffords's annual show came up with The Feast. Branded 'a scrumptious circus and dining experience under the big top', it inverts the traditional idea of the travelling circus coming to you— instead, you come to the circus at its winter headquarters, Fennells Farm, Stroud.
'It was the idea of our head chef, Ols [Halas]. He said: "Everybody's doing takeaways— why don't we?". We got really good feedback, and the next thing was to try to put on some sort of show as well, but with social distancing and a cap on numbers. Cal [McCrystal, show director] and I talked about it for a month. He's worked on dinner shows all over the world and was convinced we could do it.'
The majority of performers had fled home, like swallows, at the beginning of lockdown. 'We were on day two of rehearsals when it was clear borders were going to close. In general, circus people tough it out—we just get on with it—but this time we couldn't do that.'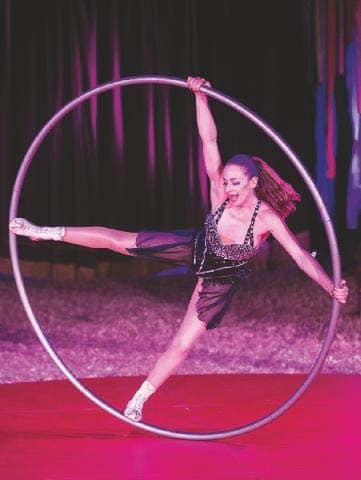 Lil and Cal found new acts: Lil, the daughter of artist Matthew Rice and pottery supremo Emma Bridgewater, co-hosts the show with Michael Fletcher, performs on the Cyr wheel and sings. They galloped through five days of rehearsals and a sparkling new show, complete with Tweedy, Giffords's legendary clown, arose, phoenix-like.
The Feast opened last month with 80 covers: 'About 17 tables with two-meter social distancing. Now we have a maximum capacity of 100 for three shows a day. It's very odd for the performers. They're used to 600 people applauding and cheering, but we've had amazing feedback. For many people, it's the first fun thing they've done since March.'
It was always going to be a strange year. Nell Gifford, Lil's aunt and the circus's driving force, died of cancer last December, aged 46.
'This is just another incarnation of Nelly. I learnt how to keep going from her. Even if it feels impossible, keep going. This comes from her, and I feel her with me all the time.' www.giffordscircus.com/thefeast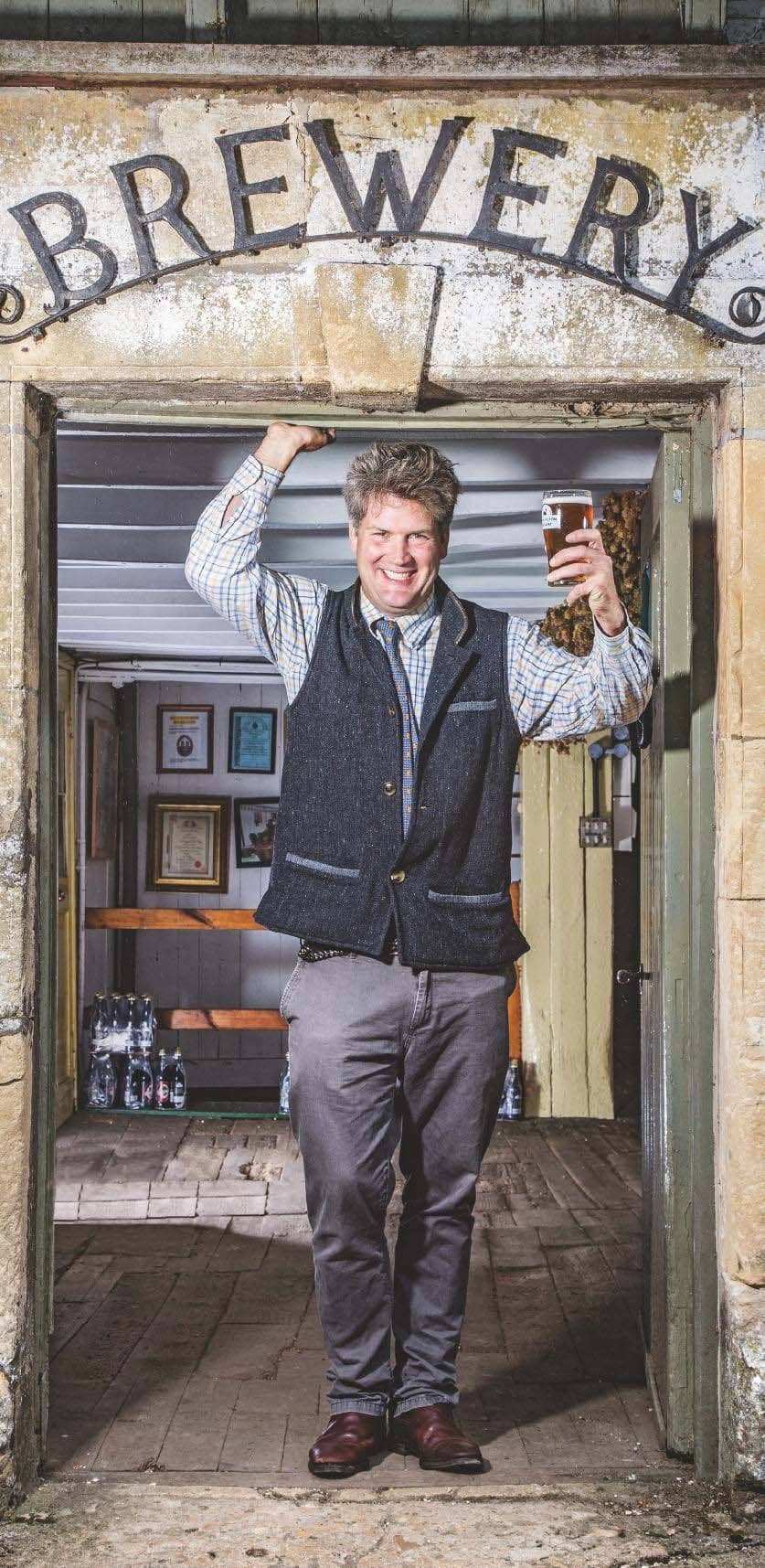 The brewer
DONNINGTON BREWERY'S 18 Cotswold pubs are the core of its business, so, when they were forced to close, owner Johnny Arkell had a crisis on his hands. 'The people running those pubs are the most important thing for us; their livelihoods are absolutely vital and, had they not been in those pubs, we'd have been in big trouble when we were allowed to open again,' observes Johnny, who took over the running of the 150-year-old family business when he left the Light Dragoons 10 years ago.
'Our cornerstone to success was to nurture the pubs through this incredibly difficult period, so we cancelled the rent.' That represented a huge loss in income on top of the lack of sales of 'the delicious nectar'—the beer brewed at the beautiful, traditional brewery outside Stow-on-the-Wold, using water from the natural spring that leaps up next to the cattle grid.
Johnny furloughed his staff and set about selling beer directly to customers, driving miles each day making home deliveries. 'We have an online shop and orders went through the roof, but we were still down to about 5% of what we would normally brew and sell,' he points out. 'It was great to be out and about, however, hurtling around and showing people we were still open.'
You can read up to 3 premium stories before you subscribe to Magzter GOLD
Log in, if you are already a subscriber
Get unlimited access to thousands of curated premium stories, newspapers and 5,000+ magazines
READ THE ENTIRE ISSUE
September 23, 2020