Stairway to Heaven
Country Life UK
|
August 05, 2020
Nithurst Farm, West Sussex The home of Adam and Jessica Richards. A striking new house designed by architect Adam Richards for himself and his family draws on remarkably eclectic sources, from Vanbrugh to Art House cinema. Jeremy Musson reports Photographs by Will Pryce.
HOUSES designed by architects for themselves and their families occupy a special place in the history of domestic architecture. They represent a particular canvas onto which an architect projects their ideas and personal dreams—Vanbrugh's Goose-Pie House in Whitehall and his miniature castle at Greenwich are cases in point, or Sir John Soane's Museum in Lincoln's Inn Fields and Pitzhanger Manor in Ealing, west London. We may assume that such buildings are a full demonstration of their values, unrestrained by a client's controlling hand: dream houses of a special and instructive kind.
Nithurst Farm, designed by Adam Richards and completed in February 2019, is, on one level, a beguilingly simple buff-brick structure sculpted into a deeply verdant setting between Blackdown and Petworth in West Sussex. At first, it seems almost an illusion, set down in a sloping, wedge-shaped field amid dense oak and beech woodland. On closer inspection, it reveals itself as a complex artistic endeavor, entirely contemporary and yet also subtly layered with forms that echo with ancient Rome, like a great gate or small fort; there is also a hint of a simple Tuscan villa. The architect himself cites the work of Vanbrugh—especially the hill-top castellar brick garden belvedere he designed from 1715 for the Duke of Newcastle's house at Claremont House in Surrey (Fig 2).
Mr. Richards has established an interesting and individual reputation as a designer. He studied architecture at Cambridge and worked for Niall McLaughlin, MacCormac Jamieson Prichard, and O'Donnell & Tuomey before establishing his own practice, Adam Richards Architects, in 2000. He has taught at Cambridge and Kingston and among his recent work is the award-winning extension to Ditchling Museum of Art + Craft in 2009–13, devoted to the Arts-and-Crafts associations of that East Sussex village and the circle around Eric Gill.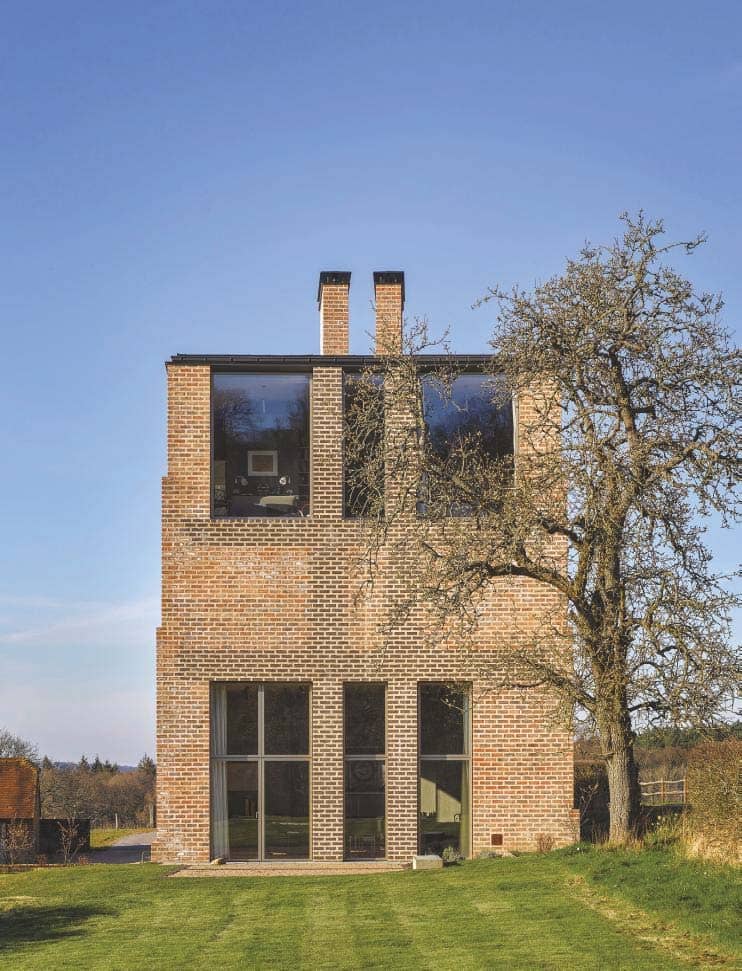 Nithurst Farm's site was purchased from the Leconfield Estate; Adam's wife, Jessica, is a daughter of Lord and Lady Egremont of Petworth House. The couple had looked at a number of possible sites before selecting this one: the small farmstead in its hidden valley had a small and much-altered late- Victorian farmworker's cottage that they were given permission to replace, retaining the traditional timber-framed barn and cowsheds. It is set within the South Downs National Park and constructive negotiation with the park authority ensued.
The result combines a humane contemporary outlook, with an extraordinary sensitivity to the landscape and the field system into which it has been grafted. Nithurst Farm is also rich in architectural points of reference, both of notable local constructions—including estate cottages and park buildings, the Tower at nearby Pitshill and The Monument on the hill above, which is an outlying feature of Petworth Park—as well as a much broader range of national and international architecture.
You can read up to 3 premium stories before you subscribe to Magzter GOLD
Log in, if you are already a subscriber
Get unlimited access to thousands of curated premium stories, newspapers and 5,000+ magazines
READ THE ENTIRE ISSUE
August 05, 2020