Sporting chances
Country Life UK
|
July 29, 2020
Two estates come to the market that provide an embarrassment of sporting, historical and cultural riches
FOR sale for the first time in 25 years at a guide price of £9.5 million through Savills Country Department (020–7016 3780)—handsome, early-Georgian Blissamore Hall at Clanville, near Andover, sits comfortably at the centre of its 150 acres of well-tended gardens, rolling parkland, rich pasture and ancient woodland on the edge of the North Wessex Downs AONB.
Although ownership of the former manorial land on which the hall stands can be traced to the mid 10th century, when it was held by Edith, consort queen of Edward the Confessor, and after the Conquest by Wilmington Priory, the present Blissamore Hall has at its core an early to mid-17th-century house, altered in the 18th, early and late 19th centuries and, apparently, 'to a great extent rebuilt' at some point.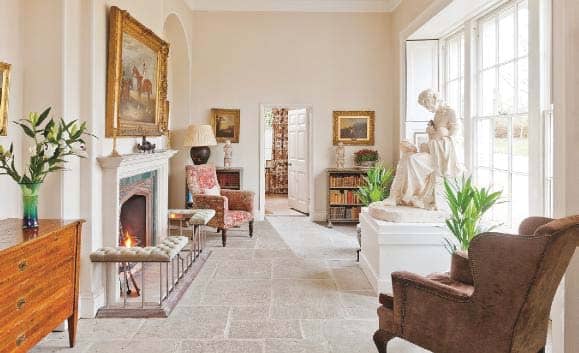 In the 18th century, Blissamore was run as a farm, until it was acquired in 1794 by John Bellenden Sawlor, a prosperous London lawyer, whose work in the notoriously long-winded Court of Chancery assured him of rich pickings for life. For whatever reason, he changed the name of the house to Clanville Lodge, although he rarely occupied it for any length of time.
This pleasant part of north Hampshire probably boasts more high-ranking army officers to the acre than anywhere else in England and, from 1799 to 1805, Sawlor rented Clanville Lodge to Gen Edward Mathew, a veteran of the American War of Independence. Following his death in December 1805, his son took over the tenancy until, in 1812, Sawlor sold the property to Henry Bosanquet, a local magistrate and High Sheriff of Hampshire.
On Bosanquet's death in 1817, Clanville Lodge passed to his son, also Henry, who lived there until 1823. Lacking both the will and the wherewithal to live there permanently, he sold the estate in 1833 to Lt-Col Hugh Stacpoole, an officer in Her Majesty's 45th Regiment of Foot, who served under Wellington in Portugal, and later saw action in South America, Ceylon and Burma. At home, hunting with the Tedworth was a welcome respite from the stresses of active service. After his death in January 1840, his widow, Jane, and her unmarried sister, Mary, lived on at the house, attended by a 'downstairs' staff of seven live-in servants.
You can read up to 3 premium stories before you subscribe to Magzter GOLD
Log in, if you are already a subscriber
Get unlimited access to thousands of curated premium stories, newspapers and 5,000+ magazines
READ THE ENTIRE ISSUE
July 29, 2020