Shine bright like a diamond
Country Life UK
|
September 16, 2020
If Nerine sarniensis is the diamond or jewel lily, then Nicholas de Rothschild's purpose-built glasshouse is the best place to see it in all its shimmering glory
Exbury Gardens, Southampton, Hampshire
ONE of the main qualities I look for,' says Nicholas de Rothschild, 'is sparkle.' He certainly finds it. Never before have I seen blooms shimmer and scintillate like the thousands of flowers that surround us. They are cultivars and hybrids of Nerine sarniensis. Many have been bred, selected and named by Mr de Rothschild and all are lovingly tended by him and his colleague Theo Herselman in a vast, purpose-built glasshouse at Exbury Gardens in Hampshire. 'You can see why some people prefer to call N. sarniensis the diamond or jewel lily,' he continues, 'although, of course, it's far better known as the Guernsey lily.'
Frost-tender, but tough and long-lived, this autumn-flowering bulb is native to South Africa, where it's confined to rocky mountainsides in the Western Cape. In wild plants, the blooms are usually scarlet, vermilion or orange and, rarely, pale pink or white.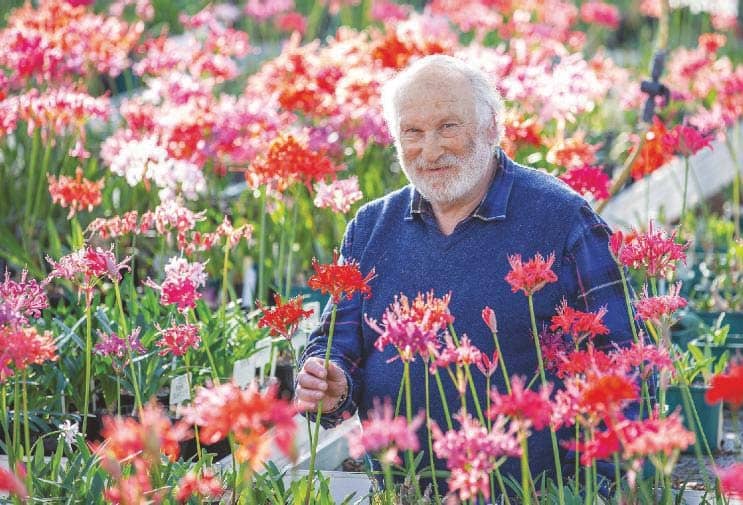 Countless shades of these colours are to be seen in Exbury's glasshouse, but the staging also throngs with flowers in hues that one would never have thought possible in a nerine: ruby and amethyst, deep violet striped with cerise, pale lavender, peaches and cream, burgundy, copper and bronze.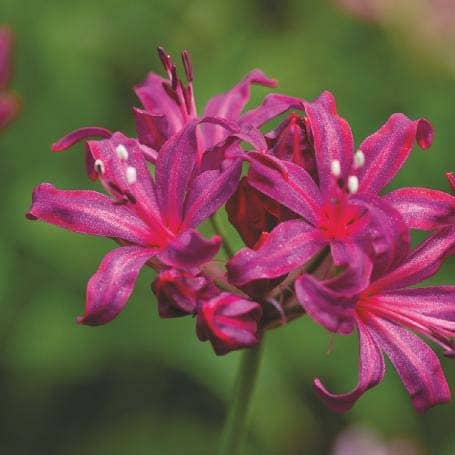 Mr de Rothschild explains: 'My grandfather Lionel de Rothschild began experimenting with N. sarniensis here in the 1920s, soon after he moved to Exbury and started creating the gardens. He had some remarkable successes, producing, for example, the first Guernsey lily cultivars that were tetraploid, so had extra-large blooms, and others in previously unimaginable colours, such as bluish-mauve. The collection ran to about 30,000 plants by 1974, when the decision was taken to let it go. The pick went to Sir Peter Smithers, who did some brilliant breeding work with them at Vico Morcote, his house on Lake Lugano. In 1994, when Sir Peter was about 80, he decided to call it a day and we arranged for me to bring the bulbs back to Exbury from Switzerland. Immediately, I found that they were becoming my baby.'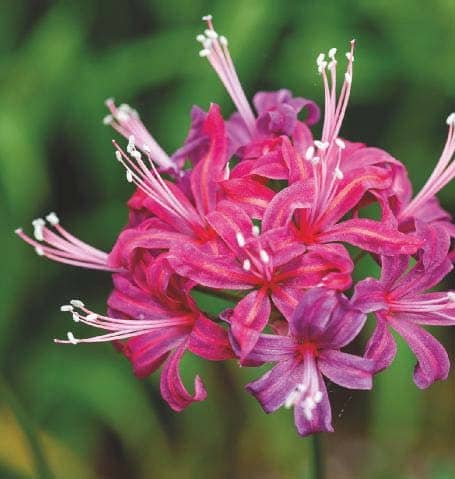 That new parent of 25 years ago is now a patriarch, president of the UK Nerine and Amaryllid Society, custodian of thousands of vintage plants bred at Exbury and Vico Morcote and begetter of at least 200 new cultivars, which, in their colour range and reliability, are putting a sparkle in the eyes of ever more discerning gardeners. The glasshouse is not open to visitors, but, each autumn, the best plants are displayed in the Five Arrows Gallery, a charming exhibition space within the gardens. As we head there, our conversation turns to the Guernsey lily's history of myths, mysteries and misconceptions.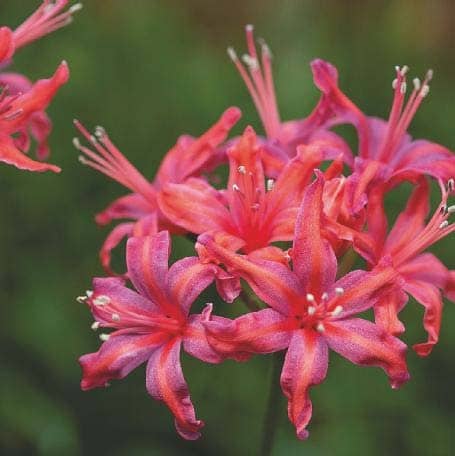 'When Nerine sarniensis first arrived in European cultivation, it was named Narcissus japonicus rutilo flore ['vermilion-flowered Japanese Narcissus']. That was in France in 1635, but the English were soon calling it the same or The Narcissus of Japan,' explains Mr de Rothschild. 'For an embarrassingly long time, everyone thought this South African endemic came from the Far East. Why? Well, merchant vessels put in at the Cape on their return from Japan. When there, they must have taken on board locally collected bulbs. However, it seems nobody explained that to their ultimate recipients. They assumed the bulbs came from Japan and, wrongly, they thought their assumption confirmed by accurate field reports of Lycoris radiata, a genuinely Japanese species that resembles N. sarniensis and which, to them, seemed identical to it.'
You can read up to 3 premium stories before you subscribe to Magzter GOLD
Log in, if you are already a subscriber
Get unlimited access to thousands of curated premium stories, newspapers and 5,000+ magazines
READ THE ENTIRE ISSUE
September 16, 2020