Poet of the beach
Country Life UK
|
September 09, 2020
In this 80th anniversary year of the retreat from Dunkirk, Peyton Skipwith considers the work of Richard Eurich (1903–92), War Artist, draughtsman and visionary painter of people, landscape and the sea
ON August 15, a service was held at the National Memorial Arboretum to commemorate the 75th anniversary of VJ Day. Several other notable Second World War anniversaries have occurred in the past few months: August 19 was the 78th anniversary of the disastrous landing at Dieppe; two months earlier, services of thanksgiving, muted due to lockdown, marked the 80th anniversary of the evacuation of Dunkirk. This remarkable feat took place over eight days, between May 26 and June 4, 1940, when 338,226 British, Belgian and French troops, abandoning everything—tanks, vehicles and equipment—were evacuated from mainland Europe in a flotilla of some 800 little ships of all descriptions. It inspired Churchill's 'We will fight them on the beaches' speech and entered into folklore. For many, it will come as a surprise to realise that the most popular image of this event, Withdrawal from Dunkirk, June 1940, was painted by a Quaker pacifist artist of Anglo-German descent, who wasn't even present.
Richard Ernst Eurich was born in Bradford, Yorkshire, the son of a distinguished bacteriologist, himself a second or third generation Bradfordian. A cultured city with two theatres, two music halls, its own orchestra and an art gallery, Bradford was the heart of the international wool trade, attracting merchants from across the world, especially Germany. J. B. Priestley described the city as 'grim but not mean' and Eurich later recalled that 'it was the look of Bradford that made me want to paint. The mills and steep streets were so beautiful'. As a somewhat solitary child, Eurich loved observing this world from an upstairs window, appreciating the fact that he had a grandstand view of all that went on in the streets below.
As a teenager, his precocity gained him an introduction to the Horton-Fawkes family, descendants of Turner's patron Walter Fawkes, and he used to bicycle north to their home, Farnley Hall, to look at their collection of the master's work. Eurich recorded some years later that 'Turner has always been my very own particular god'.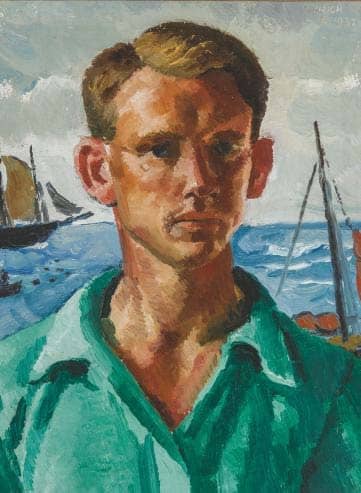 Another early influence was the impact made on him by the 1916 exhibition at the City Art Gallery, Cartwright Hall, of work by the avant-garde Yugoslav sculptor Ivan Mestrovic. Eurich attended Bradford College of Arts and Crafts from 1920 to 1924, before winning an exhibition to the Slade. By this time, he had added Cézanne to his pantheon of heroes, provoking Prof Tonks to comment in one of his reports: 'This student is being influenced by painters who have not been dead long enough to be respectable.'
You can read up to 3 premium stories before you subscribe to Magzter GOLD
Log in, if you are already a subscriber
Get unlimited access to thousands of curated premium stories, newspapers and 5,000+ magazines
READ THE ENTIRE ISSUE
September 09, 2020