Old wine into new skins
Country Life UK
|
August 12, 2020
In its 150th year, the Metropolitan Museum in New York has unveiled a new display of 10 galleries devoted to British furniture and decorative arts, with 700 objects on show. Clive Aslet is impressed
THEY used to be called the English galleries. Now, after a closure of four years and a $22 million refit, they have been reimagined as the British galleries. This is not the only shift in the display and interpretation of the Metropolitan Museum's splendid collection of decorative art from this country (largely, it has to be said, English ). The principle remains the same, however: a narrative walk-through, celebrating the quiddity of British furniture, ceramics, glass, silver, textiles and objets d'art, from 1600 to 1900. This is serious stuff, object-focused and without a hint of dumbing down. We should be flattered by the undertaking. France is the only other foreign country whose decorative arts are so honoured; there are no Spanish galleries, for example. When one hears that a reason for the redisplay of the British collection is that the previous presentation, dating only from 1995 (COUNTRY LIFE, August 17, 1995), was not well visited, one is doubly grateful for the Met's courage in doing it. Brown furniture is out of fashion. Time to realise not all Georgian furniture was brown.
Indeed, despite the gloom in which fugitive textiles must be displayed, one of the first things to leap out of the show is its colour. The tapestry Don Quixote Tilting at Windmills, from a series that shows Quixote's adventures in grotesque, is in a remarkable state of preservation; made in 1674, under the direction of Charles II's arras-maker Francis Poyntz, it is a lively and humorous composition of reds, blues and greens. This is one of several new acquisitions on display.
This is a journey through British taste, all the richer for being undertaken abroad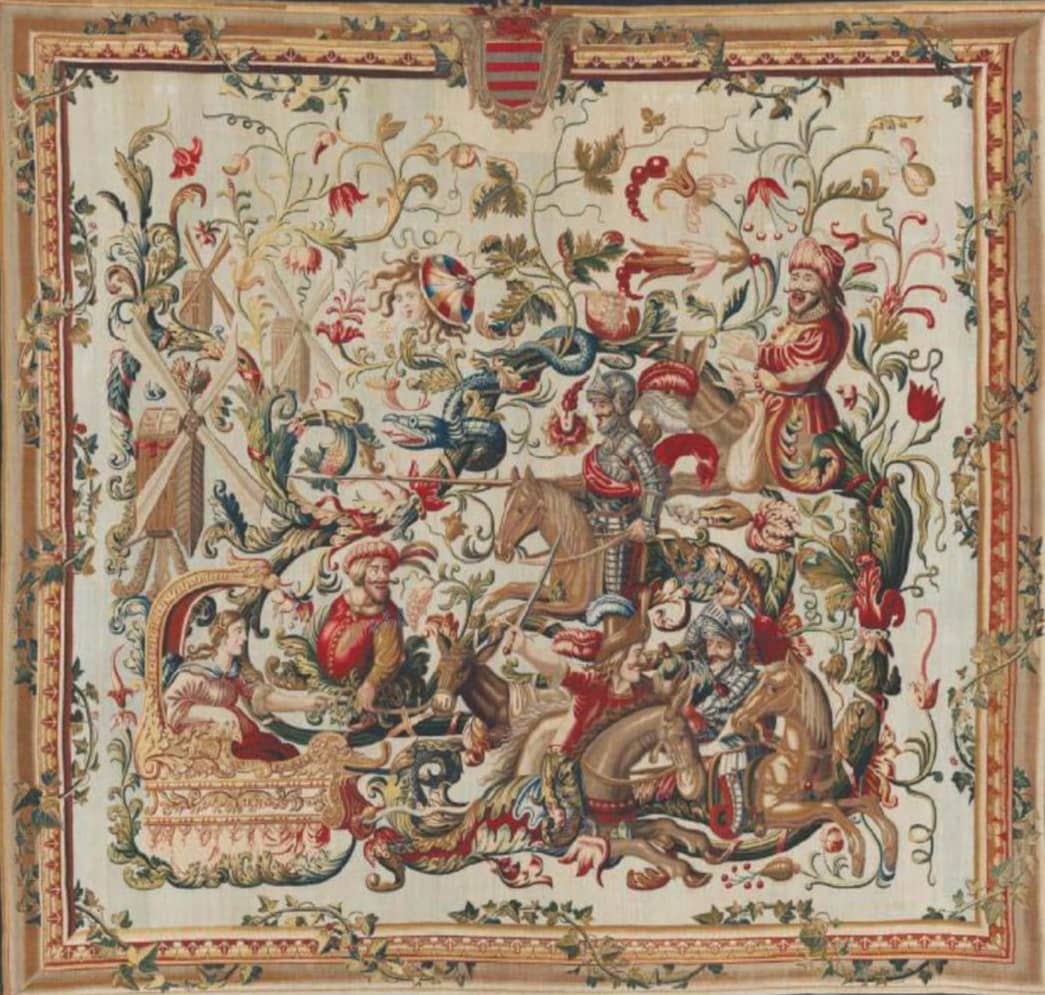 Near it is Chinese porcelain, ewers and bowls in blue and white; nothing so remarkable, you might think, until you realise that these are some of the earliest examples of porcelain imported from China. Presumably, they arrived in about 1585, which is the date of their silver-gilt mounts; they originally lived at Burghley House in Lincolnshire. Contrasted to these works of high taste are earthenware jugs, splashed and speckled with green glaze. The old galleries were aristocratic in tone; now, fine craftsmanship is juxtaposed with everyday wares, making a social, as well as an art-historical point. A Staffordshire slipware charger of about 1680 by Thomas Toft, showing Charles II's face in an oak tree, supported by a lion and a unicorn, makes several points at once.
Toft's palette is, in this piece, ochre and brown, but colour returns con brio with the blue silk-damask hangings of the State bed from Hampton Court Castle in Herefordshire. The bed was restored in the 1990s to make a highlight of the old galleries (the curtains and counterpane are copies of the originals, which are too delicate to display). As it is the largest object, the rest of the exhibition had literally to be arranged around it.
Another piece from the 1995 iteration is the staircase from Cassiobury Park, Hertfordshire, carved in the late 1670s. Formerly, it was shown as it had been reconfigured in the 19th century; now, it has been returned to its original form. Above it hang portraits by Lely of the Capel family, for whom it was made, and a Mijtens of Charles I in a red suit.
You can read up to 3 premium stories before you subscribe to Magzter GOLD
Log in, if you are already a subscriber
Get unlimited access to thousands of curated premium stories, newspapers and 5,000+ magazines
READ THE ENTIRE ISSUE
August 12, 2020