Meet the countryside crusaders
Country Life UK
|
July 29, 2020
From a retired gamekeeper and a fish warden to a TV presenter and an acclaimed author, The Princess Royal's chosen rural champions reveal to Julie Harding why they love the countryside and their professions so much
The fishermen's friend
Fred Stroyan, 55 Champion credentials Warden of The Fishmongers' Company (www.fishmongers.org.uk) and New England Seafood founder
I suppose you could say that the sea is my countryside. What gets me out of bed every morning is the world of fishing, plus I'm passionate about sustainability.
New England Seafood, the company that I founded in 1991, began with me supplying lobsters to Billingsgate from a shed in Wandsworth. It now supplies seafood to British supermarkets and restaurants and employs 800 people, including a team to drive sustainability forward. We operate in 40 countries and, rather than beating industries with a proverbial stick, we offer them a prize— a commercial outlet for their fish if they come on the sustainable journey with us. We have seen fisheries transformed as a result.
I was proud to become a member of The Fishmongers' Company 18 years ago. The company makes a significant contribution to the UK fishing sector and other non-fishery areas through its Philanthropy and Grants schemes. We have given grants to a diverse range of projects, from the planting of a Clink Charity vegetable garden at HMP Styal and the development of the Rivers Trust network (delivering more than £20 million of catchment conservation and management projects) to one of my favourites, the groundbreaking Missing Salmon Project. Run in conjunction with the Atlantic Salmon Trust, the project has tracked 850 salmon smolts in an attempt to discover where so many of them go 'missing'.
The Princess Royal, who followed in her father's footsteps when she become prime warden in 2012, has taken a great interest in this project and numerous others. Her commitment to us is extraordinary; she attends many meetings and holds the soon-to-be 750-year-old company in great affection.
I was due to be prime warden this year, but Covid-19 has scuppered all that and my turn will come in 2023. It will be the culmination of decades spent in an industry I love, an affection sparked when, as a small boy living in remote north-west Scotland, with no electricity or telephone in the house, I would spend every waking moment with a fishing rod in my hand.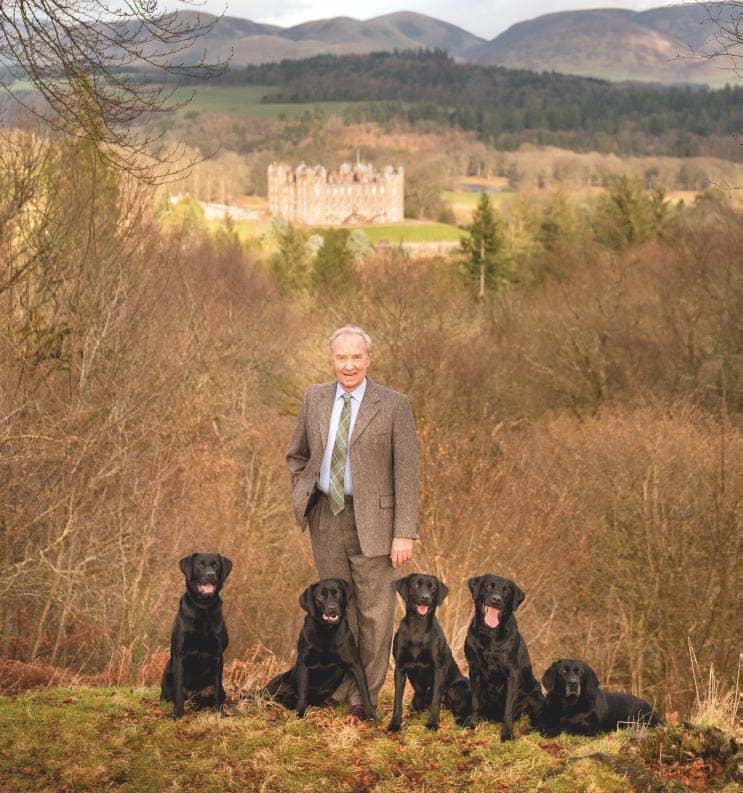 The forward-thinking landowner
The Duke of Buccleuch, 66 Champion credentials Owner of the Buccleuch estates (www.buccleuch.com)
Back in the 1970s, when my father inherited the title, we began a nomadic lifestyle, moving between three great houses and landed estates (Bowhill, Drumlanrig and Boughton). I love them equally for their different sweeps of countryside and cast of characters, but I sense that, ultimately, I'm hefted to the Border hills like an old sheep.
My attachment to these surroundings is a powerful, emotional one, yet I know that for them to flourish that isn't enough. One of the virtues of a large estate is to enable balanced use of the land—the right farming for the right terrain, care of the wildlife corridors, subtly integrated woodlands. Managing across the generations for the long term is at its heart.
Such an inheritance brings responsibility, but opportunities, too. It's a platform for working with schools and local communities or land artists, such as Andy Goldsworthy, who bring new dimensions to the way we see the land.
Owners of large tracts of land have often led when it comes to linking with science. Given the challenges facing Britain's countryside in the 21st century, we must be open to fresh ideas. Today, we are working with Prof Dieter Helm to measure the natural capital of the estate—carbon capture, water catchment management, biodiversity and landscape—and how to enhance it. One hundred years ago, my family joined the farmerled movement that set up the pioneering Animal Diseases Research Association, now the Moredun Foundation (see page 102). Together with farmers around the world, we benefit from its vital discoveries.
I have witnessed The Princess Royal talking to the scientists at Moredun; talking, too, to enterprising farmers at the sharp end. Her encouragement and enthusiasm boost morale. As we say in Scotland, she's a 'kent' (known) face and that continuity of knowledgeable and practical interest means so much.
Like The Princess, I cherish other essential elements of country life. Our labradors came from Newfoundland in the 1830s. We are still breeding from the original bloodline —it's what we call living heritage.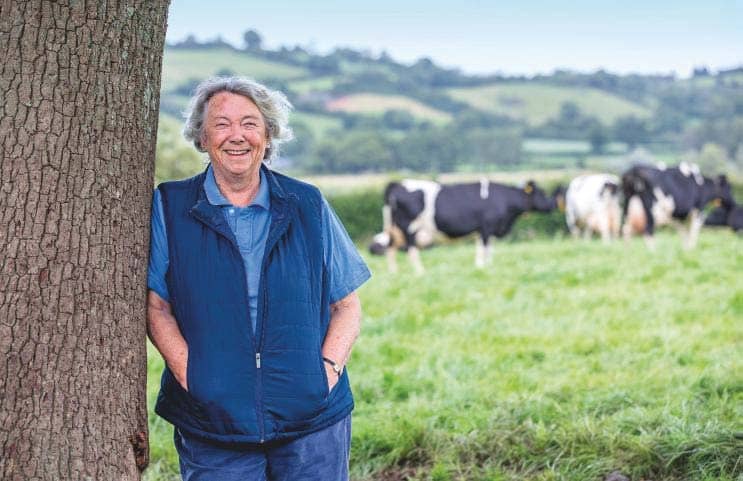 The organic farmer
Mary Mead, 82 Champion credentials Farmer, co-founder of Yeo Valley (www.yeovalley.co.uk), former winner of the Royal Association of British Dairy Farmers' Princess Royal Award and OBE
Becoming a farmer's wife opened up a whole new world to me. I gave up my nursing career and moved with my husband, Roger, to a 150- acre mixed farm at Blagdon in the foothills of the Mendips. We started with 35 cows and there followed many years of hard work as we added more acreage, another farm, and ever more cows for our growing yogurt business.
Roger was always at the forefront of innovation, but his untimely death in 1990 meant he sadly didn't live to see our organic certification. It was then that I took over the farm, with our son, Tim. Now, our business runs 400 pedigree British Friesians across 2,000 acres and employs more than 1,700 people. We're proud to be the UK's largest organic brand.
Looking back, I can see things in perspective—the need to increase food production after the Second World War, increasing use of artificial fertilisers and chemical sprays and the move away from rotational farming that has been so detrimental to UK soils. But the wonderful natural carbon cycle of grazing animals, photosynthesis and carbon lock-up in the soil has existed for millennia and is a story everyone should learn. In everything we do, from the one acre of solar panels on the roof of Holt Farm Dairy to the 100% recycled and recyclable yogurt pots we use, we always aim to work with Nature and not against it.
As part of my 're-training' after my husband died, I contacted the Royal Association of British Dairy Farmers and eventually served on its council. In 2014, I was the recipient of The Princess Royal Award. I first met The Princess when she attended one of the conferences. She has always been so supportive of the dairy industry. In 2007, The Queen and The Duke of Edinburgh came to our farm after we won, for the third time, The Queen's Award for our commitment to sustainable development. It was one of the highlights of my 60 years in farming.
The conservation benefactor
Edward Whitley, 59 Champion credentials Founder of the Whitley Fund for Nature (WFN) and chairman of trustees (www. whitleyaward.org)
I was first struck by the unexpected wisdom of The Princess Royal's advice: 'Never try to eat a sandwich when reading a Gerald Durrell book, especially on a train,' she warned. 'You'll be caught out by having to laugh explosively, with disastrous consequences!' This underlined both her pragmatism and wonderful sense of humour. We shared a friendship with Gerry Durrell and, when I established the WFN in 1993, The Princess graciously became our patron. She is a defining presence for our loyal donors and our amazing prize-winners and, for more than 20 years, she's never missed an annual awards ceremony.
In the beginning, we shared a vision— to redefine how money was spent on promoting Nature conservation by sending funds directly to leaders in their own countries. For me, the idea had been sparked in part by the birth of my first child, Ella. During those precious minutes when I first held her, I felt one of those blinding moments of responsibility to help preserve our fragile planet in whatever way I could for the next generation.
I started to run the fund from my garden shed, with £15,000 raised in that first year. Today, annual fundraising totals £1.5 million.
Over 27 years, WFN, the conduit between donors and prize-winners, has supported projects across 80 countries. It's estimated our work has benefited 50,000 species and more than 222 million acres of land. In excess of 1.1 million people have received conservation training and livelihood support. Now run by a brilliant team headed by Danni Parks, the offices are in London, four doors down from Whitley Asset Management, my day job.
The fund has seen many success stories, including Purnima Barman from Assam, who launched a campaign to save the greater adjutant stork (hargila). She has gone on to become a national Indian celebrity and icon, appearing regularly on TV, radio and social media. Some of our projects really do soar.
You can read up to 3 premium stories before you subscribe to Magzter GOLD
Log in, if you are already a subscriber
Get unlimited access to thousands of curated premium stories, newspapers and 5,000+ magazines
READ THE ENTIRE ISSUE
July 29, 2020