Gardens For All Seasons
Country Life UK|February 19, 2020
Winter Gardens have had a difficult late 20th century. What lies ahead for these extraordinary architectural creations, asks Marcus Binney, and might they be about to enjoy a revival?
Winter Gardens live dangerously. Inspired by the splendour and popularity of Joseph Paxton's Crystal Palace, completed for the Great Exhibition of 1851, architects aspired to create People's Palaces and, from the first, they have been uncertain investments. The earliest were built by entrepreneurial Victorians, who saw soaring iron and glass roofs as the architecture of a new age, appropriate for conservatories, exhibition halls, covered markets and railway termini.
Winter Gardens were usually erected in seaside resorts and spas with the intention of extending the summer season into spring and autumn and even winter itself. In addition, they might provide indoor attractions on cloudy and rainy summer days. They began simply as glasshouses, luxuriant with plants and foliage, but quickly acquired further spaces for promenading, eating, drinking and entertainment.
To add to their appeal, their architecture was deliberately spectacular. Take the Winter Gardens at Cheltenham in Gloucestershire, designed by local architect J. T. Darby in 1876–78, with a balloon roof to rival that of the Petit Palais in Paris. It was conceived with a skating rink, for a sport then briefly enjoying great popularity. In 1895, the town corporation invested a further £10,000 in the building, but it was demolished in 1942.
Where these buildings have survived, the race is now on not merely to return them to their former glory, but to allow them to earn their keep. The most famous recent campaign of this kind perhaps concerns the Blackpool Winter Gardens. They opened in 1878 and grew by stages to include the Empress Ballroom of 1896, the Olympia exhibition hall of 1930 and the Opera House of 1939.
All these have been saved by Blackpool Council, which purchased the complex in 2010. Restoration of the ornate ceiling of the Empress Ballroom after a plaster fall was followed by a spectacular £1.9 million rescue of the Spanish Hall with an Art Deco interior by Andrew Mezzei in the manner of a 1930s atmospheric cinema. The original glass-roofed Winter Garden, which began in 1878 as a glazed concert hall, was designed by a local architect, Thomas Mitchell of Oldham.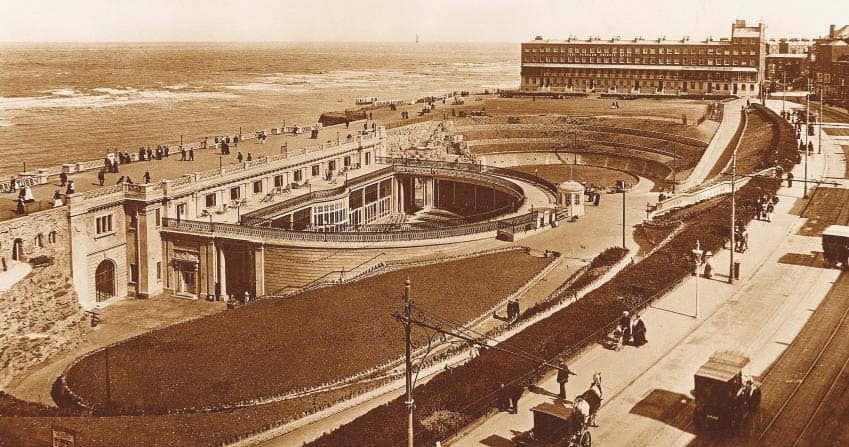 The fortunes of nearby Morecambe Winter Gardens, which also opened in 1878, have been more chequered. In its golden days, Morecambe aspired to be more stylish than Blackpool, as Oliver Hill's chic 1933 Midland Hotel underlines. The seawater baths, bars and ballrooms added here in 1896 were demolished in 1982, but one spectacular building from this expansion survives the theatre built in 1897 by Mangnall and Littlewood, designers of many festive structures that enlivened northern cities.
The interior of the theatre, which had capacity for 2,500 people, had plasterwork as rich and frothy as a Continental opera house. In the early 1900s, it hosted the leading music festival in the country, which was supported by Elgar. He wrote five original pieces for the festival and judged largescale choral competitions here. When I first saw it in 1986, however, water lay in pools on the floor and dripped through the ceiling.
Enterprising city architect of Lancaster Charles Wilson and local MP Sir Mark Lennox Boyd determined to attempt a rescue. Demolition was averted, but progress was slow for lack of funds and looked even worse when a Heritage Lottery Fund bid was rebuffed.
You can read up to 3 premium stories before you subscribe to Magzter GOLD
Log in, if you are already a subscriber
Get unlimited access to thousands of curated premium stories and 5,000+ magazines
READ THE ENTIRE ISSUE
February 19, 2020