As clear as mud
Country Life UK
|
September 16, 2020
From Neolithic pottery to a child's tiny Tudor shoe, the foreshore of the Thames offers all sorts of fascinating finds for intrepid mudlarkers
FOR centuries, people have combed the banks of the Thames, picking through the stony foreshore whenever the tide permits it, searching for treasure. Once, mudlarks were among London's poorest inhabitants, sifting through piles of washed-up waste in the hope of finding something to sell. Today, London still has a thriving community of mudlarks, but those who roam the riverside are more likely to be archaeologists, history-lovers or people seeking a respite from the bustle of the capital.
One of the river's more frequent visitors is Lara Maiklem, who has been mud larking for nearly 20 years, exploring the length of the tidal Thames from Teddington right out to the mouth of the estuary. Having grown up on a Surrey dairy farm, Miss Maiklem found herself missing the countryside after she moved to London to begin her career in publishing and started searching for an urban substitute. 'I was desperately looking for peace and quiet; that's how I found my way down to the river,' she explains. 'It was my own little streak of wilderness running through the heart of the city. In London, you can't really feel the weather, everything seems blocked and muffled in a funny way. But the river is so wild—it's another world altogether.'
To begin with, she viewed the foreshore purely as a place of escape, yet, over time, developed an interest in the treasures it harboured. The Thames has been described as England's longest archaeological site and all manner of objects can be found on its banks at low tide, from prehistoric fossils to modern religious offerings. As London has been populated by humans for millennia, all manner of rare items are lurking in the mud—Roman pottery, gold coins, even human remains, have been thrown, dropped or washed into the Thames.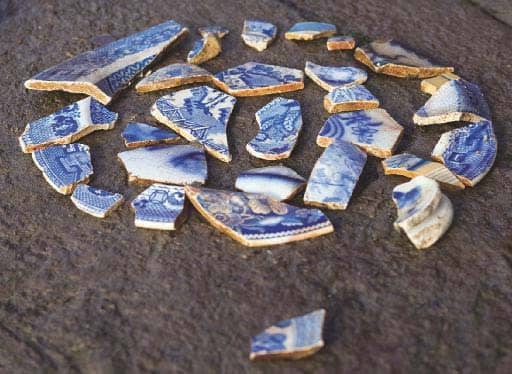 Up until the mid 20th century, the Thames was a hive of trade and industry, filled with boats bringing goods to and from the capital. To enable flat-bottomed barges to unload at the riverside, the banks were built up in the 18th and 19th centuries with wooden revetments and infilled with rubble from the city's builders and potteries, together with tons of domestic waste.
You can read up to 3 premium stories before you subscribe to Magzter GOLD
Log in, if you are already a subscriber
Get unlimited access to thousands of curated premium stories, newspapers and 5,000+ magazines
READ THE ENTIRE ISSUE
September 16, 2020