A magical touch
Country Life UK
|
September 09, 2020
COUNTRY LIFE played a formative role in the development of Edwardian architectural taste, championing eclecticism and engaging with history, as Timothy Brittain-Catlin reveals
NOT only the country-house ideal as we know it, but the whole of Edwardian domestic architecture was shaped by COUNTRY LIFE. Some of the reasons why this came about are straightforward: the magazine had the best critics, the most educated social historians and the most comprehensive experts in gardening and house design of any regular publication, not to mention the campaign it maintained for more than a decade to raise standards. Other reasons, however, are more in the realm of magic.
COUNTRY LIFE's first number came out in January 1897 and, right from the start, there were illustrated scholarly articles on the historic homes of England. This was a novelty: there were then few places where readers could be regularly tempted into a properly researched, accurate account of an old house, however famous. In the early days, these were mostly Tudor buildings: the Edwardian neo-Classical revival had not yet happened. They were also, however, often in a mixture of styles: an Elizabethan core might have acquired a Carolean staircase, an 18thcentury ballroom or an early-Victorian service wing and the magazine clearly took pleasure in the variety. These combinations—which are hardly ever mentioned in architectural history, with its focus on the purity of a particular era—seem to have been precisely the thing that captivated the magazine's writers.
Week after week, the articles presented a different blend of historical decoration, increasingly so once Peter Graham got into his stride as Editor from 1900. Elizabethan or Jacobean carving—on screens or newel posts—was greatly admired and provided useful models for enthusiastic architects around the country. Houses that excelled in these combinations, such as South Wraxall Manor in Wiltshire, where late-Stuart Tuscan columns were inserted into 16thcentury fabric, were especially favoured.
This was architecture as an accumulation of beautiful fragments of the past. In 1971, COUNTRY LIFE's then Architectural Editor Mark Girouard went to visit George Devey's mid-Victorian cottages around Penshurst Place in Kent, where he observed that the magazine's foundation was 'the culmination of the Devey frame of mind'. He was referring to the fact that Devey was admired in the architectural profession long after his death in 1886 for his astonishing attention to detail and his fascination for very carefully composed combinations of materials, whether he was designing a big country house or a village shop.
In fact, in December 1899, COUNTRY LIFE had published a pair of illustrated articles on the already picturesque Penshurst cottages (Fig 1) and, soon afterwards, it similarly praised W. H. Romaine Walker's modern and well-equipped laundry and farm buildings, in Tudor guise, built for the dry-soap millionaire Robert Hudson at Medmenham in Berkshire. A large country house—and Hudson's Danesfield House, not far away in Buckinghamshire, was vast—required a suite of buildings to service it and the modular, flexible, organic Tudor style was ideal (Fig 7).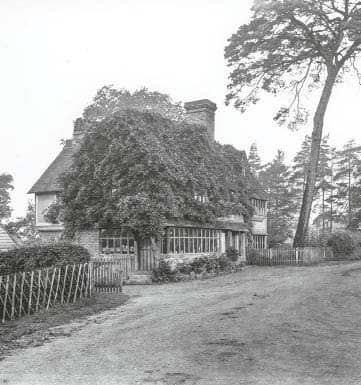 You can read up to 3 premium stories before you subscribe to Magzter GOLD
Log in, if you are already a subscriber
Get unlimited access to thousands of curated premium stories, newspapers and 5,000+ magazines
READ THE ENTIRE ISSUE
September 09, 2020