Garden of Carden
Cheshire Life|June 2020
In just a few years the gardens at Carden Hall have gone from a blank canvas to something breathtakingly beautiful, as Kate Houghton learned during a fascinating, if frustrating, video-chat
The Carden estate was bought by Steve Morgan in 1995 and the first thing the Redrow plc founder did was to build Carden Park Hotel and Golf Resort, setting aside land for a family home – Carden Hall.
"The only provision he made for the hall at that stage was to plant the lime avenue," says his wife Sally, "to ensure there was an established driveway for when he came to build the hall.
"There was no property there at all, the previous house had burnt down; just fields and a man-made lake, created in the late 19th century and seeded with oysters as a source of food for the household. Now you find huge oyster shells around the banks, left there by the resident otters.
"Steve had the hall designed by the architect Julian Bicknell, and obviously was deeply involved in the design detail and build. It's a real masterpiece. It's a completely new build, and the greatest compliment anyone can give Steve is when they ask how long it took to refurbish the hall – when it was actually built in 2004."
Starting new gardens for such a grand building is quite a challenge. Where did they begin?
"The hard landscaping – the walls and flagged areas, walkways and paths – were all designed by the architect and Steve, and laid out when they built the house, so the planting and the gardens were very much put in around the hard landscaping. There was literally no vegetation, so planting was done with a view to it being very fast-growing, filling lots of blank spaces very quickly. It's only really been since our head gardener Moi [Morion Jones] joined us four years ago that we have moved forward; the garden has moved on substantially. We have taken out a lot of the very quick-growing planting and we're now planting for the medium and long-term."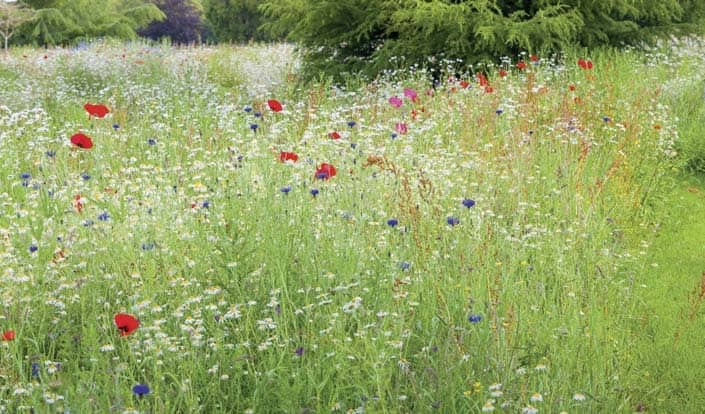 Listening as Sally and Moi talk about the garden, you can tell this is a labour of love for both parties, each bringing their skill and their vision to the table, driving forward the progress of this beautiful endeavour together.
"We all work very well as a team," says Sally. "Neither Moi nor I are professional landscape architects, but we work collaboratively. Moi will come up with really good ideas, I will throw things into the pot as well, and between us, we're actually really proud of what we have already achieved and what we hope to continue to achieve.
You can read up to 3 premium stories before you subscribe to Magzter GOLD
Log in, if you are already a subscriber
Get unlimited access to thousands of curated premium stories and 5,000+ magazines
READ THE ENTIRE ISSUE
June 2020