Crisis Planning
Charlotte Magazine|April 2020
This year, the city will present to the public a proposed plan—the first like it in Charlotte since the 1970s—to solve our runaway city's biggest and most complicated problem: Land is getting too expensive for many people to afford to live on it. Will the plan be enough, or will it require even more radical measures to work?
The Building a Charlotte for All Summit draws 250 people across age, ethnicity, and economic class, a remarkable feat on a rainy Saturday morning in January.
The summit is part of an ongoing series of events, hosted by Charlotte Center City Partners and the city, about Charlotte's dominant problem: economic and population growth intense enough to force poor and working-class people to live miles outside the city where they work. The slender, soft-spoken man who takes the stage in the auditorium at UNC Charlotte Center City frames the issue humbly.
"We don't want to lose our waiters," Taiwo Jaiyeoba says. "We don't want to lose the people who don't have as much money in our city."
The ability of "the people who don't have as much money" to live in Charlotte is determined mainly by the soaring value of the land they live on, whether they own or rent homes on it. Jaiyeoba, 51, has been the city's planning director for a little less than two years, and he's in charge of developing a plan to counteract the real estate market's surge toward escape velocity. He expects this year to unveil a draft of a comprehensive city plan—the first of its kind in Charlotte in 45 years— that reflects the desire of a population as varied as this audience for all Charlotteans, not just the rich, to be able to live affordably in the city. "We live in different geographies," Jaiyeoba says in the lyrical cadence of his native Nigeria, "but at the end of the day, we are all Charlotteans."
Another man in the auditorium this morning drove roads far more familiar to Charlotteans to get here. Peter Kelly is 62, white-haired and bespectacled, with an accent that echoes his Massachusetts origins and a fixation on numbers that reflects a career in the most Charlottean of professions—banking. He's a member of the city's Planning Commission and, in retirement, has founded a nonprofit called Equitable Communities CLT, which marries his career skills and his newfound passion for persuading his adopted city to find room for everyone. Equitable Communities' slogan: "History. Data. Action."
Kelly has a talk to deliver this morning at UNCC Center City, and its cumbersome title, "Why Charlotte Needs an Affordable Housing and Economic Equity COMMUNITY PLAN," does not exactly sing. But an odd thing happens: He's supposed to make his presentation in a ninth-floor classroom, and so many attendees ascend to the ninth floor that it quickly becomes clear he's going to need a bigger space. Back down the throng rides to the 300-seat auditorium, where Kelly, in a nasal and dispassionate voice, presents a series of slides with hard numbers and an equally blunt message: Whatever Charlotte may be doing to achieve "equitable development"—a catchphrase uttered often during the summit—it's nowhere near enough.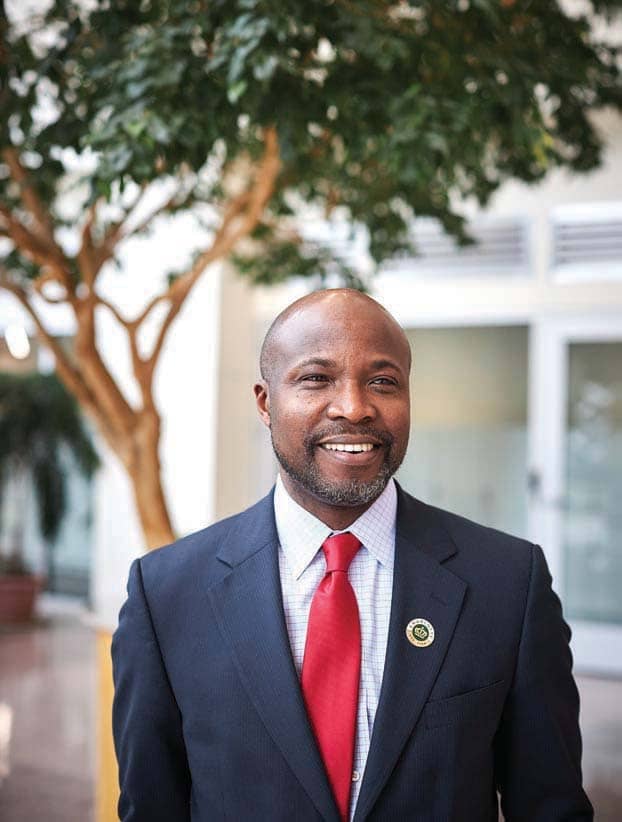 You can read up to 3 premium stories before you subscribe to Magzter GOLD
Log in, if you are already a subscriber
Get unlimited access to thousands of curated premium stories and 5,000+ magazines
READ THE ENTIRE ISSUE
April 2020