Timelessly Tasha
COWGIRL
|
January/February 2018
Within Two Short Decades, the Tasha Polizzi Brand Has Risen to the Forefront of Classic Western Design, Thanks to Its Late Visionary Namesake Designer.

It's a quintessentially Tasha moment: Having just been fêted with a spectacular runway show of her latest collection as Guest Designer at the 2017 March Western Market at the Dallas Market Center, Tasha Polizzi—at 72 still as lithe as a leopard, her tawny mane spilling down around her shoulders—steps to the center of the stage to a thunderous standing ovation, briefly acknowledges the accolades, then throws open both arms as if to embrace her staff flanking her on her left and right.
Her message could not have been more clear: "I didn't do this alone," her expansive gesture says. "We earned this all together as a team."
The recognition of this brand was well-deserved, long overdue, and just in the nick of time. Tasha Polizzi's timeless-yet-modern fashions, crafted of natural textiles such as silk, cotton, wool, and leathers with embellishments of lace, beading, and embroidery that conjure up native American and classic Western motifs, have endeared themselves to women from 18 to 80.
"Of course, we had no way of knowing then that this would be her last market," her son John Polizzi tells me. "But still, it was such a nice coda to her career. I wish she could be here with us for another 30 years."
Tasha was diagnosed with cancer several weeks after that market, and after a fierce and valiant fight, succumbed to its assault on August 9, 2017. She is survived by her husband of 39 years, Jack Polizzi; her son John and his wife Ashley; her son Chris, a collegiate football coach, and his wife Kelli; her 95-year-old mother Ginger Bauer; and her siblings Lois, Ray, Bill, and their families.
Her passing sent rippling shock waves throughout the Western fashion industry, and in the fashion world at large. Kim Moncure, founder of Cowgirl Kim, one of the Western industry's first online only retailers, says "I felt as though I was in the presence of a queen when I was around her; she was one of the most honorable people I have ever met. When I first started Cowgirl Kim, many manufacturers were reluctant to do business with me, making me feel that instead of being an online pioneer, I was sub-par to the brick-and-mortar stores. Tasha endeared herself to me by treating me the same as she would any other retailer; that is, like royalty."
"She was always so complimentary to other designers," says iconic Western fashion designer Pat Dahkne. "She would come into my showroom before the market opened, and tell me how fabulous everything looked. I am so thankful that she was recognized as Guest Designer at the Dallas Market before she died, and that she could feel all of the great love and admiration that her peers felt for her."
And although her family was left heartbroken at the loss of their matriarch, the structure of her eponymous company had been created in such a collaborative, interlocking way that the brand was able to not only survive, but thrive through its close teamwork—with husband Jack as chief financial officer from the very beginning, son John as president, and daughter-in-law Ashley as merchandise manager, along with a dozen or so other longtime staff.
How that came to be is a remarkable story, one I learned firsthand while spending a few glorious spring days with the Tasha Polizzi team—and with Tasha herself—several years ago at their headquarters in Great Barrington, Massachusetts.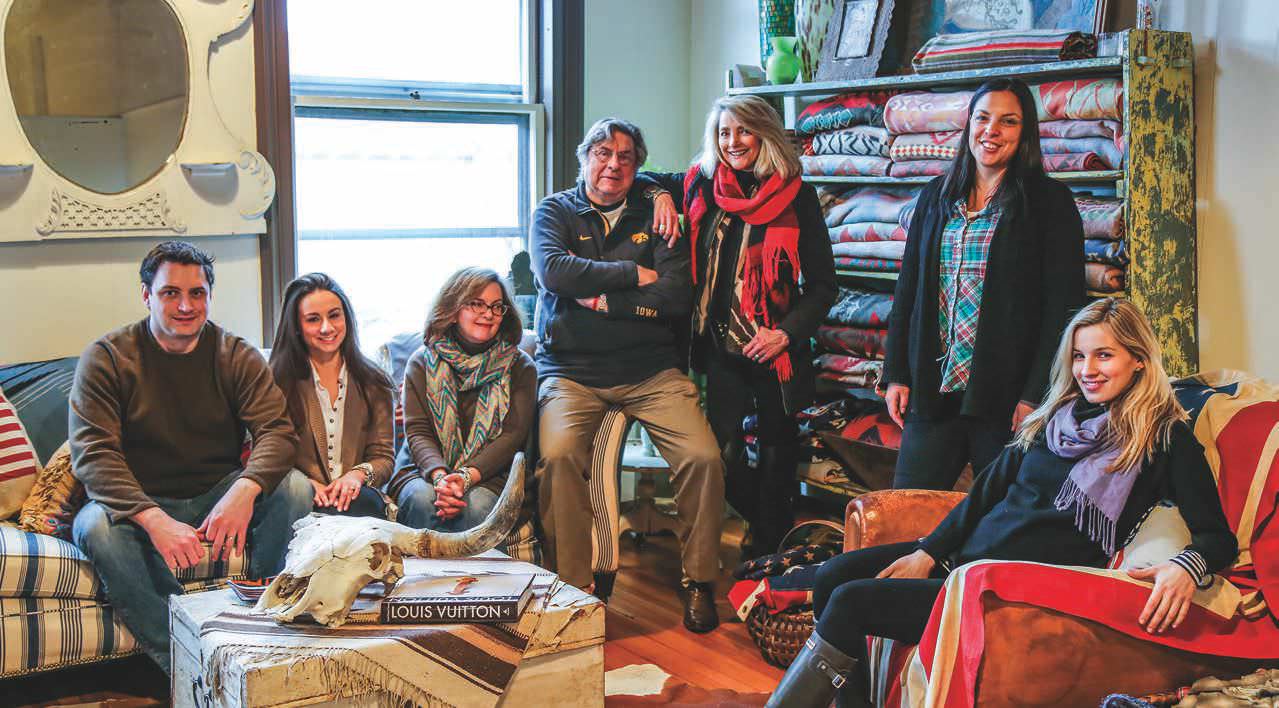 From Model to Designer
You can read up to 3 premium stories before you subscribe to Magzter GOLD
Log in, if you are already a subscriber
Get unlimited access to thousands of curated premium stories, newspapers and 5,000+ magazines
READ THE ENTIRE ISSUE
January/February 2018