BREAKING DOWN THE BREAKAWAY
COWGIRL
|
September - October 2020
ONE OF THE BRIGHTEST ADVANCES FOR WOMEN IN THE SPORT OF RODEO IS BREAKAWAY ROPING. WITH CAREERS BEING MADE AND RECORDS BEING BROKEN, COWGIRLS NOW HAVE AN OPPORTUNITY LIKE NEVER BEFORE TO PLAY A MAJOR ROLE IN THE FUTURE OF MAJOR LEAGUE COMPETITION.
You have a calf, you have a girl, you have a horse, and you have a rope," says veteran roper and trainer Jordan Jo Fabrizio. "You tie your rope onto your saddle horn. You back into the box and nod for the release of your calf. You chase and rope your calf and the fastest time wins. It's as simple as that!"
Right!
Wanda Bush was the first woman to win a professional roping title and she accomplished that feat in tie-down roping in 1951. Breakaway roping evolved from those early days, so in a sense, breakaway roping is half the tie-down; that is, instead of roping and leaving your mount for the "tiedown" portion, in breakaway roping you remain in your saddle after your catch and get your time when the rope literally breaks away from your saddle horn.
Jordan Jo Fabrizio evolved into breakaway roping naturally. A rider since age 4 and part of a rodeo family, she really didn't have a choice. "That's what we did," she states.
She started team roping early on and by the time she entered college at West Texas A&M University, where she earned her M.B.A. in Business Administration Management, Jordan Jo was all about the breakaway.
"Raymond Hollabaugh was the coach at West Texas A&M," says Jordan. "He helped me evolve and master the sport. That's where I really started homing in on it."
She now serves as the school's assistant rodeo coach.
Jordan Jo is an important player in the world of rodeo, winning the first-ever Cheyenne Frontier Days Breakaway Championship in 2019 and qualifying for the WCRA Days of 47 and RFD-TV's The American and Rodeo New York.
Breakaway roping has been around for some time, but in the past couple of years, it has taken on a new meaning.
The first big event offering serious money took place at the Lazy E in Guthrie, Oklahoma, when the WCRA put on their $1 million payout, making breakaway roping a household phrase on the rodeo circuit. It wasn't long before high profile events like RFD-TV's The American made it a part of the program, giving women an opportunity to make real money and garner major sponsors and media exposure.
These intended consequences have made a tremendous impact for women in rodeo who quickly realized there weren't a lot of professional rodeo events to do after college. Now with the big jackpots and added money, women who love to rodeo have a reason to dive all in and many are making a career out of it.
COWGIRL asked Jordan Jo to open the gate for a look at what it takes to get into the sport and what you need to make a serious go.
WHO CAN DO IT?
Assuming you are a reasonably proficient and somewhat athletic horsewoman, you can do this. There is no age limit and opportunities to learn and compete exist across the country—all the way from junior high and high school rodeo to college, local amateur associations, as well as the Women's Professional Rodeo Association (WPRA).
You will need a trained—or be willing to train—a performance horse capable of the necessary speed and agility to engage a running calf as well as the temperament to handle the stress and distraction of a typical rodeo arena.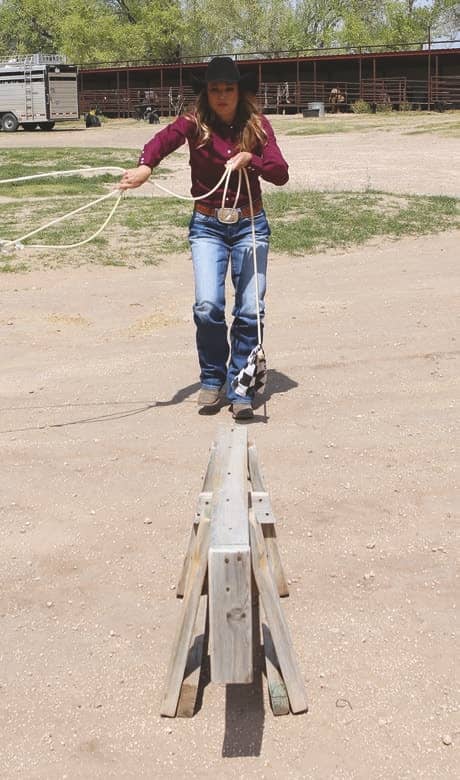 HOW DOES IT WORK?
You can read up to 3 premium stories before you subscribe to Magzter GOLD
Log in, if you are already a subscriber
Get unlimited access to thousands of curated premium stories, newspapers and 5,000+ magazines
READ THE ENTIRE ISSUE
September - October 2020