Alessia Cara On Growing And Knowing It All
CLEO Singapore
|
September - October 2019
Imagine living the dream: being discovered on YouTube, shooting to stardom, then becoming a worldwide sensation with millions of streams on Spotify.
We may see the end result , but the journey and that human experience towards that dream is rarely visible: the hard work, dedication and talent that was tapped into at a tender age, and just knowing that it was always meant to be that path. At just 23, Alessia Cara has already been on the airwaves, performed around the globe (we caught her in between a showcase in the region), and is constantly on the up-rise — all because she began experimenting with music when she was 10 and started her own YouTube channel at 13 singing covers with her mum's encouragement.
Having grown up singing, Alessia's writing has been evolving through it all , loving and owning loneliness, all while staying completely grounded and the girl next door (aptly, a song title that appears on her new album!). She has just released a brand new track 'Ready', the first single from her EP This Summer which will be out 6 September. She spoke to #TeamCLEO about her journey of growing from YouTube to performing on stage, from doing covers to winning a Grammy Award, how the know-it-all may just still be naïve, and taking it "one day at a time". Her fans and the world are totally ready for more!
Who or what gave you the courage to create your YouTube channel when you were 13 and started making covers?
Actually, it was my mum. My mum is the one who pushed me to do that because she knew that I wanted to be a singer. And she also knew that I was very shy so she was like, "Oh you know, instead of you performing in front of people, since you're scared of doing that, why don't you just post videos on YouTube, you know? Since you've thought about doing it , just do it." And she really really pushed me, like you know you're good and even if you're not or even if nothing happens, who cares? Just put yourself out there. So yeah, it was her who gave me the courage.
What was the turning point that made you realise that you wanted to be a professional singer?
I think once I realised that I wasn't really good at much else, and that I really didn't want to do anything else. I was trying to find things to do in university and college cause it was time to sign up. I was looking at all the options and I was just thinking that there was nothing in here that I like more than music so I just realised that I really want to try and pursue this first.
At such a young age, you're producing songs that are quite meaningful to your listeners. What is your creative thought process like?
I think it comes from different places. A lot of my songs, like 90% of them come from an experience of mine or something that I feel I need to talk about. But they also come from observation and things I see in the world and around me. I just always like to take in different experiences and try to use them in a positive way.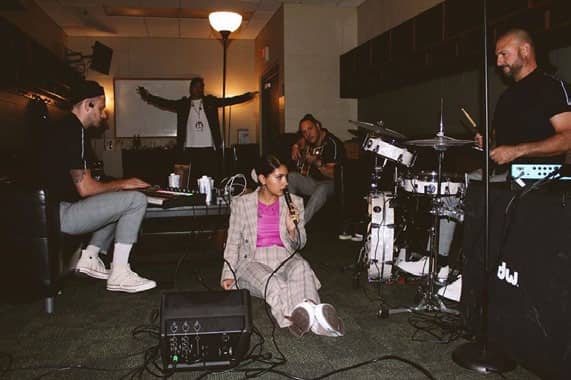 Tell us about your new album. Which song means the most to you and why?
It 's hard to pick a favourite one cause they're all very different. I like "A Little More" a lot, it 's a meaningful one to me. But yeah, I don't know, it 's tough. But it 's a really honest album and I 'm really proud of it. I never thought I would be able to write a whole album by myself. It 's cool to be able to say that I have.
You can read up to 3 premium stories before you subscribe to Magzter GOLD
Log in, if you are already a subscriber
Get unlimited access to thousands of curated premium stories, newspapers and 5,000+ magazines
READ THE ENTIRE ISSUE
September - October 2019