Under Lockdown Photos From Home
Better Photography|May 2020
We're offering this story for free to read so that you can stay updated on the COVID-19 outbreak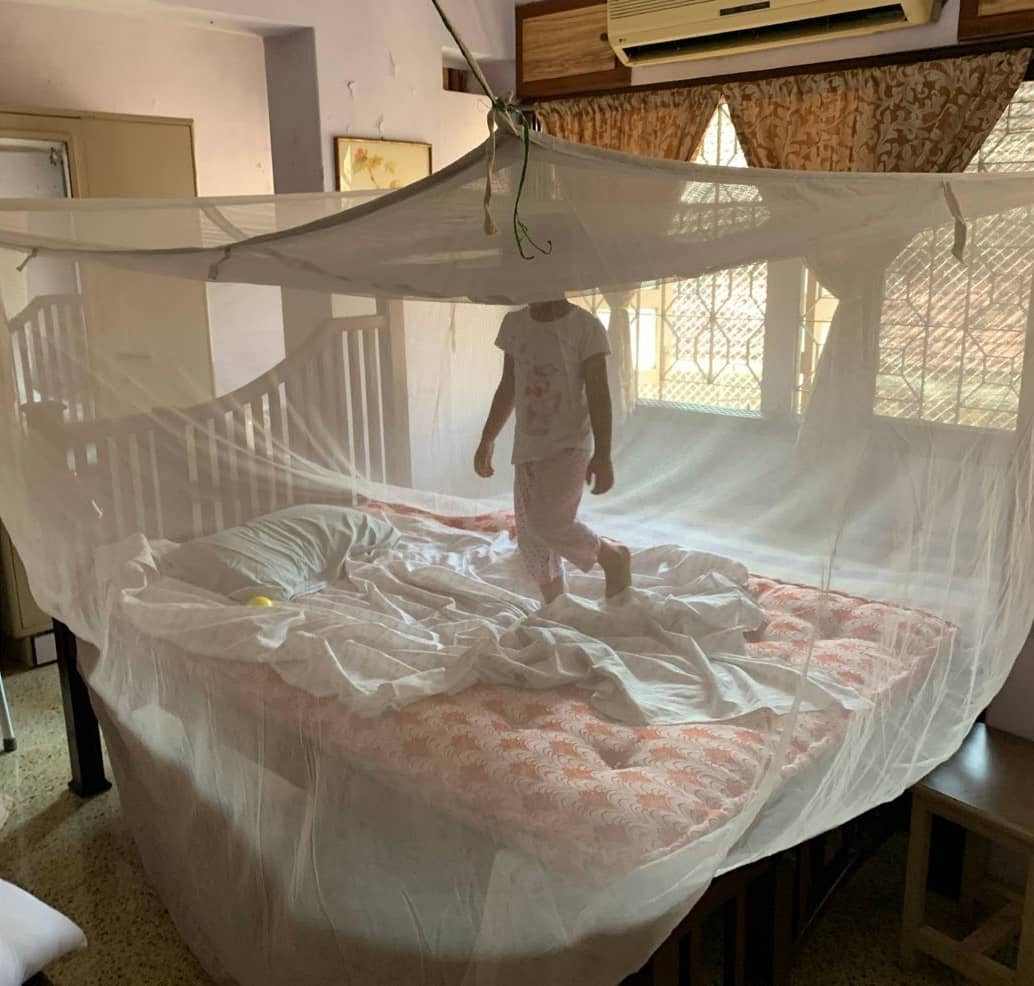 Until very recently, social distancing, self-quarantine and isolation were terms that prevailed in the pages of books and in the imagined storylines of movies. But to see it take root and unfold at the rapid pace that it has, globally, has left us with many questions and scant answers. There has never been a time, at least in the recent history of the world, where we have collectively experienced what it means to remain confined and detached. For some of us, it has given us time to mull over and reassess our priorities. Some have taken this opportunity to polish up on their culinary skills, or catch up on pending, abandoned or long forgotten projects. Some of us pass the hours with words; reading and writing. And then there are some who have taken to creating a visual diary of this exceptional moment. Nasar Husami, Chenthil Mohan, Jaisingh Nageswaran, Vinita Barretto, Menty Jamir and Sakshi Parikh present you with their versions of what life has been like during the lockdown.
Nasar Husami, Chenthil Mohan, Jaisingh Nageswaran, Vinita Barretto, Menty Jamir and Sakshi Parikh
Antics of a Little Girl
Nasar Husami documents the adventures of his four-year-old daughter, Maryam, as she scuttles through her whimsical imagination.
Any new parent will attest to the excitement and joy of welcoming their firstborn. In that moment, all you want to do is keep your child as close to you as you possibly can. Because kids grow up fast, and absorb so much in the process.
Maryam is a very perceptive and inquisitive four-year-old. Like any child her age, she's always cooking up stories and scenarios. And when they reach fruition, I get to photograph her lost in this reverie.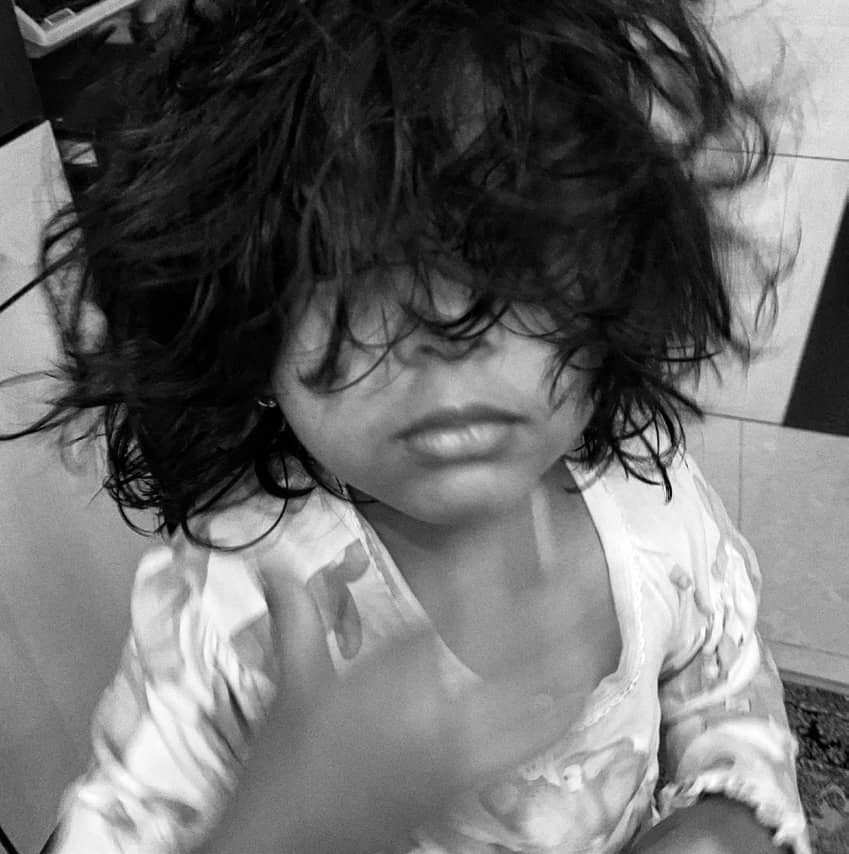 She wants to be many things… an astronaut, a cat, and more recently, an air hostess. She's usually blabbering away all day, gibberish that only she understands, with Anna (her doll) by her side. Maryam is also enamoured by the reflective surfaces in the house, and spends hours talking to her reflection, instructing this "other person" the way my wife and I instruct her.
I never had as many opportunities (because of my day job) as I do now to photograph her, and so, I am, in a way, not as perturbed by the lockdown. But I've always been a homebody, and having this time with my family has been very enriching. The way I photograph has never been tinged by any sense of urgency.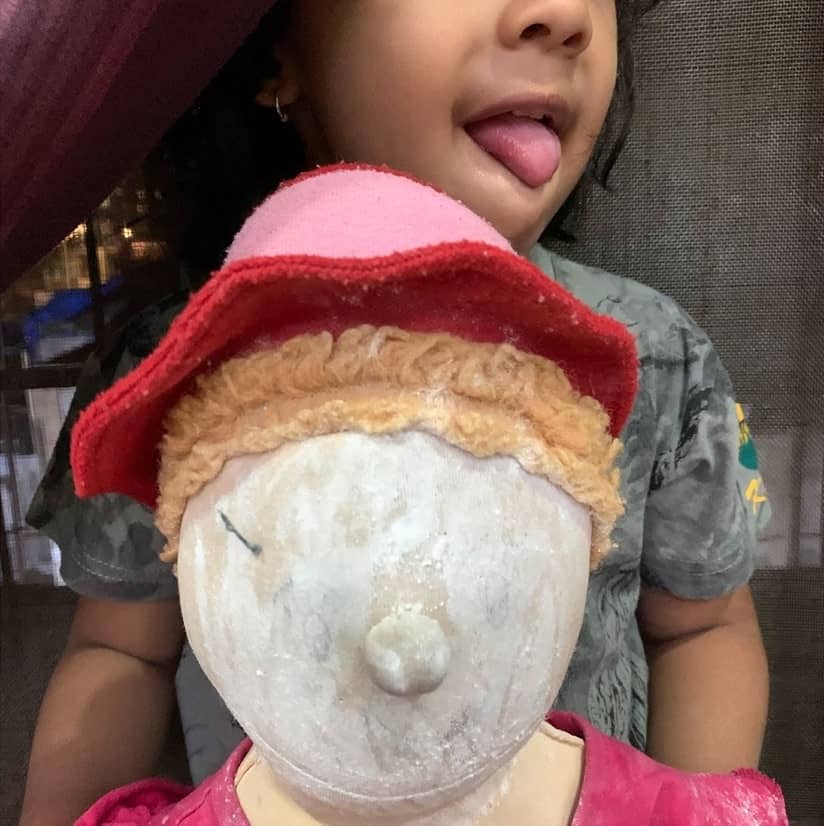 I observe, and sometimes, am even startled into making photographs. There has never been an agenda; I photograph so that I have something to look back at. I simply go on and live life in the various phases that it presents me.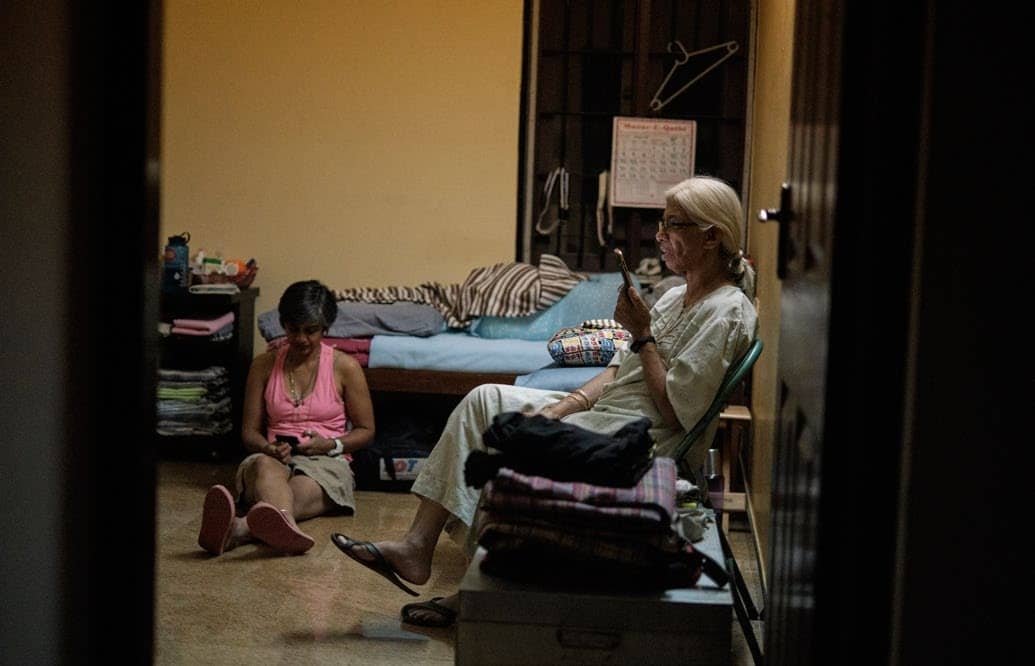 A New World at 96
For Chenthil Mohan, life during the lockdown flits between three generations of women in the house, and the duties that come with it.
For the longest time that I've known myself, I have been dealing with panic attacks, and photography has always been my coping mechanism to deal with the situation and fit into the best of my ability. On 8 March, my wife, Freya's, 96-year-old grandmother, Nani Sahib, as we call her, injured her ankle in the loo and experienced her first fracture ever. In the week prior to this, Freya and I had to euthanise our 14-year old dog who was suffering from cancer. Fresh from the loss, Nani Saheb's injury scared the living daylights of us both. The COVID-19 pandemic had just started making its presence in mainstream media. My hyper paranoia went up a notch when the doctors insisted that she undergo surgery if she ever wanted to walk again. Surgery and hospitalisation was inevitable now. By then I had already shut down all my work commitments, and with a fair bit of WhatsApp parlaying with the family, in principle, agreed that we will go on a forced lockdown once Nani was discharged. No one would be permitted to visit her while she stayed with us, at least for a month. All of this transpired in the few days before the nationwide curfew was announced.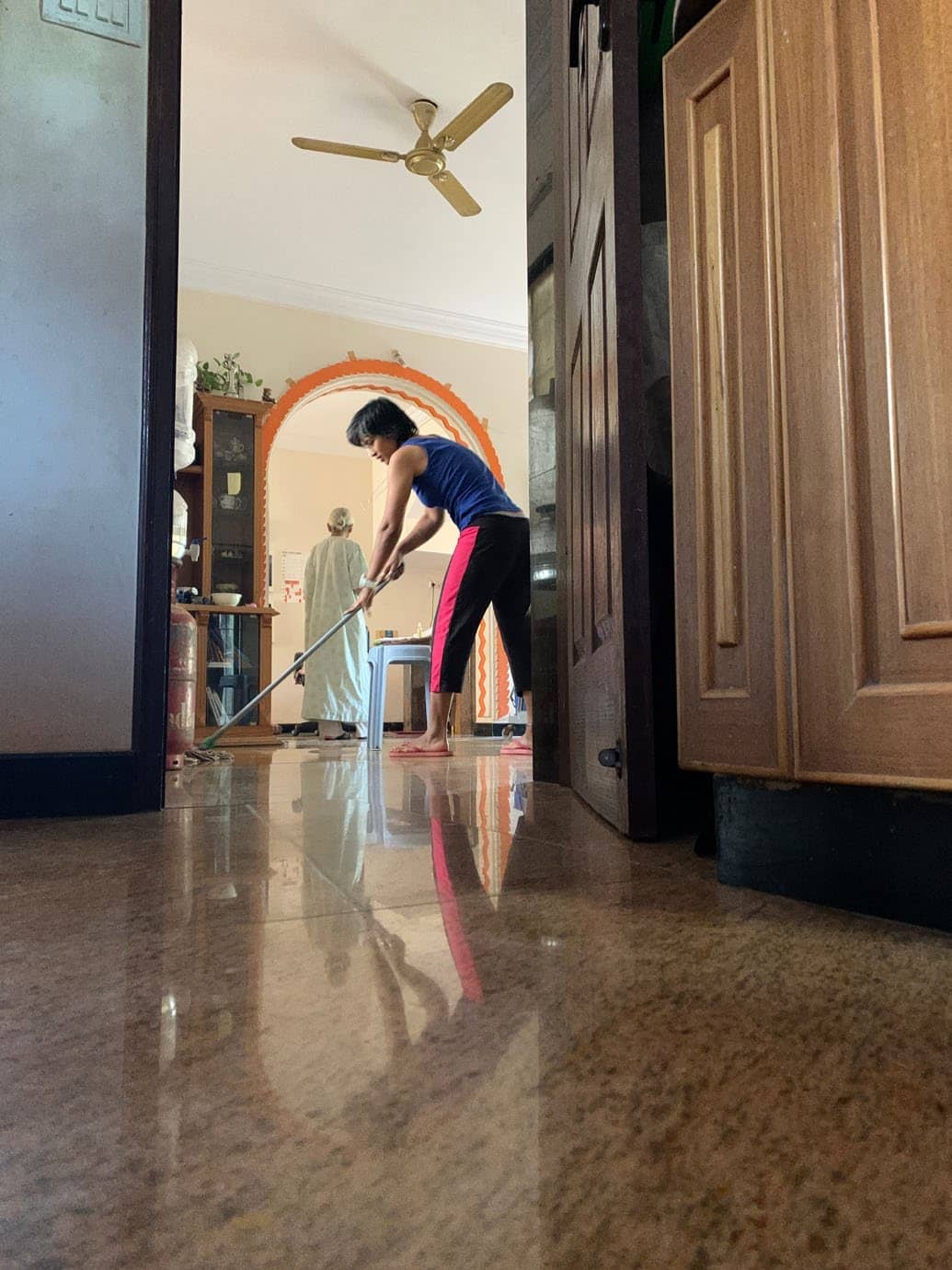 Much before this pandemic, our lives were socially isolated, regimented, and driven by routine while taking care of our ageing dogs. Now with Nani Sahib and Freya's mother living with us, there was a new routine that included humans and animals under one roof. With the hysteria of the lockdown picking up by the day, and with all the uncertainties floating around, I began finding solace and sanity in documenting the mundane processes in a house with three women trying to take care of each other.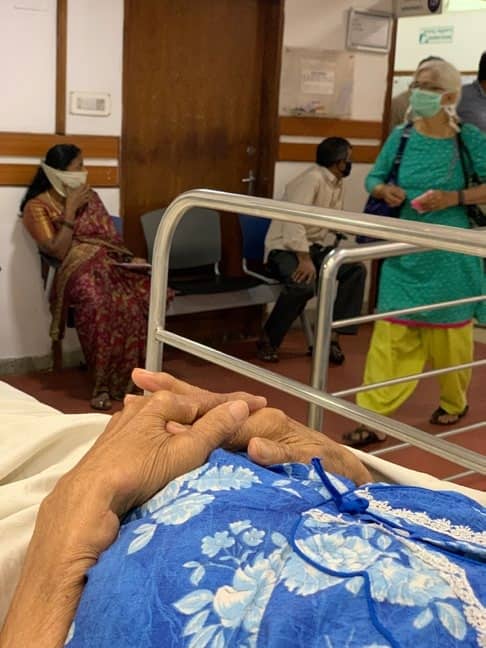 Nani Sahib has lived through World War II, India's partition and many other human tragedies. But with all the news she was consuming, I could see the worry on her face. Engaging and keeping her in good spirits while she recovered, formed a big part of our daily lives. Physical activities, like forcing her to move around using her walker and around the house on the wheelchair to catch some sunlight, to playing online bingo with her extended family spread across the world— we came up with different ways to keep her and ourselves busy.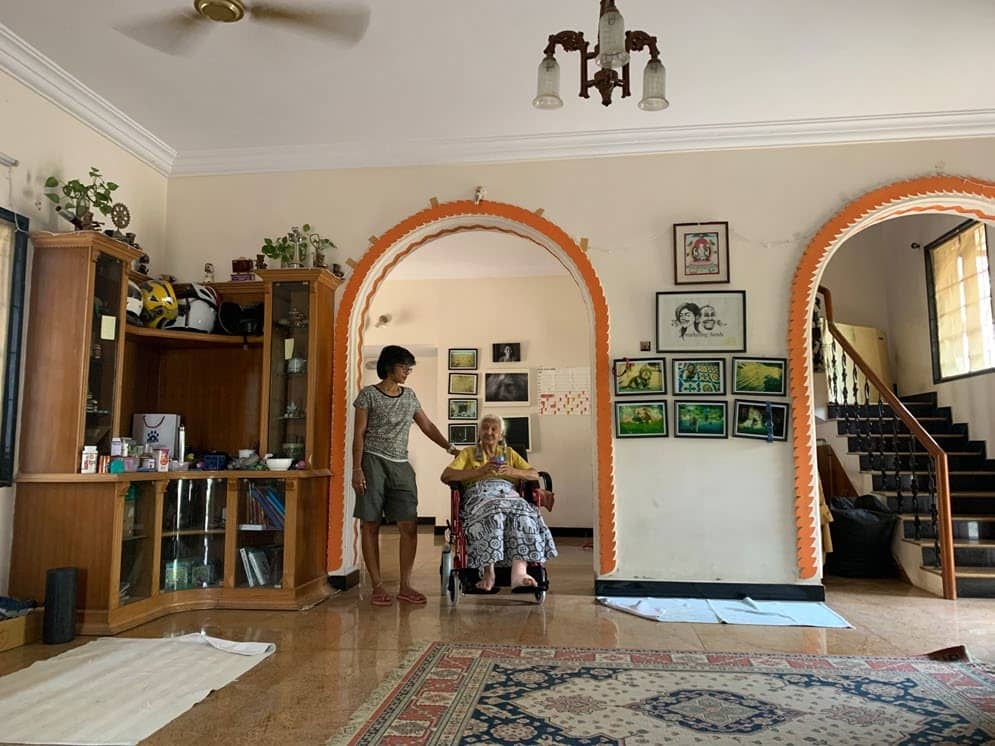 Over the years of making a living out of photography, I was heavily invested in narratives outside my life. Noticing home, and making images of the life within happened in fits and starts before. Now with the lockdown, the intent to shoot was a more conscious effort. With the risk that I might carry this deadly infection back home and put the ageing family members at grave peril, I had to keep the itch at bay to document the outside dystopian version of the world I knew once. And so, shooting at home was my only let.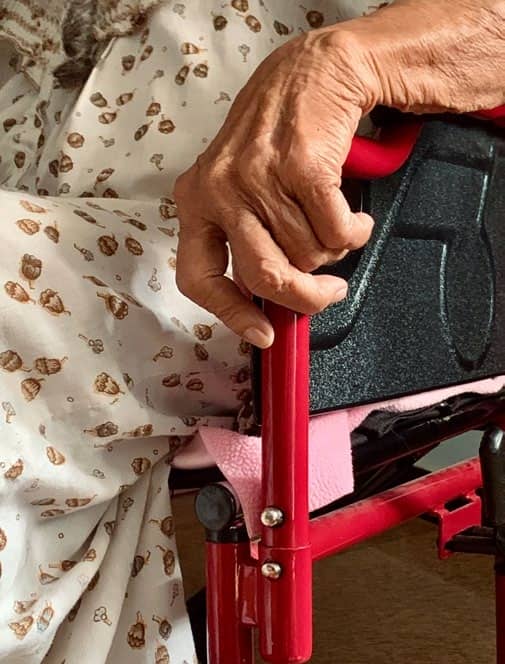 You can read up to 3 premium stories before you subscribe to Magzter GOLD
Log in, if you are already a subscriber
Get unlimited access to thousands of curated premium stories and 5,000+ magazines
READ THE ENTIRE ISSUE
May 2020