Writer D. Watkins, photographer Devin Allen, and poet Kondwani Fidel have each earned national praise for their personal, often Baltimore-inspired work. But rather than head for the bright lights elsewhere, the three close friends have remained here, at least in part, because of their shared commitment to the city's youth, which includes donating countless hours, as well as books, to local schools. To find out what makes them tick, we met them at R. House in Remington and asked about how they broke in as artists, their work in schools —and what Baltimore students need to succeed.
BMAG: D, can you go first and talk about starting out as a writer and the challenges coming from outside the traditional white publishing networks? Did you have a mentor?
D. WATKINS: There weren't people, writers in Baltimore, with whom I could connect, or directly learn from, until after I was already in it. You think about that because maybe your career could've started five years earlier if you knew somebody. In our industry, more people get published because of who they know, rather than their straight work. You know someone, boom. You don't, you can send the best s--- out to magazines for years and it will just sit at the bottom of a stack.
DEVIN ALLEN: That's how it was for me. I'd shoot stuff, shoot protests, send it out for free, just ask for a credit, and not even get a reply to an email. I did get a reply once from the City Paper, but nothing from The Sun. Not until I got the cover of Time, and then they wanted to interview me [for my Reginald F. Lewis Museum show]. At that point, I didn't want anything to do with them, but the museum wanted me to do the interview. I did it, but not until they apologized.
KONDWANI FIDEL: After I graduated [from Virginia State University] in 2015, I traveled around the city doing spoken word and got a good response. I dropped this poem called "The Baltimore Bullet Train" with a video and it got like 20,000 views on YouTube. Then, I finished my first collection of poetry and my first book, and teachers started asking me to come to their classes. Everything grew from there. I teach now, perform, do workshops.
BMAG: You each spend a lot of time in public schools, making hundreds of visits. What do you hope to accomplish?
WATKINS: I was struggling to get published, but then my first Salon article came out, my second Salon article, then a City Paper article …and Baltimore City school teachers started reaching out to me. While these articles were doing well on the internet, kids in schools had started reading them, too. I didn't think much about reading coming up. It wasn't really my thing and it wasn't until later that I realized how much I loved reading and that I wanted to be a writer. I had never met a person who looked like me who was a writer, and seen them come hang out in school when I was in school.
ALLEN: You got to go and think, "I'm going to change someone's life today."
FIDEL: At first, I didn't understand what [teachers] wanted from me. I didn't have a degree in education. But when I started visiting these schools, kids would say, "I didn't think I liked poetry until I heard your work" and "Yours is the first book I read cover to cover." I looked at the things that helped transform me and it was texts that were relatable. I fell in love with reading through a college professor's readings at Virginia State… so I started thinking about how I felt slighted in high school. I started thinking it's part of my obligation to get students excited about reading and get them engaged in literature at a younger age than I was exposed to it.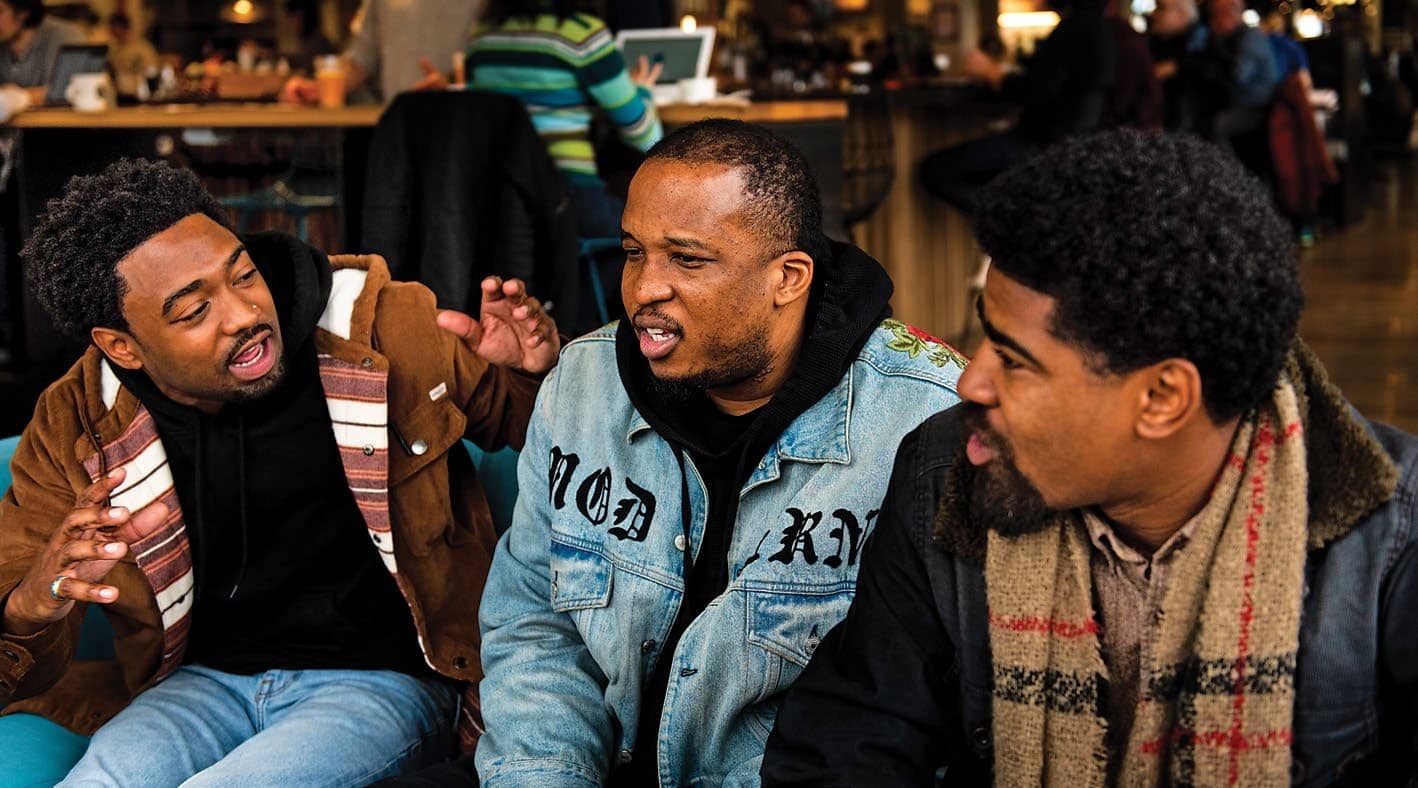 BMAG: What obstacles have you run into working with students?
WATKINS: One teacher, who worked on the curriculum, told me he was pretty sure they were going to put The Beast Side on the required reading list. Kids were already reading it and stealing copies from classrooms, which was crazy and great because, by that time, I already had a New York Times bestseller to my name and a presence in Baltimore City schools. Then, they denied it because of the profanity.
ALLEN: A lot of times, there's too much politics working with schools. Same with nonprofits. It takes too much time. So I'll go to a rec center and use my own money, or get my own grant. At the Kids Safe Zone, after the Baltimore Uprising, I got a grant from [music mogul] Russell Simmons, put the cameras in my trunk, and started working with the kids. Same with the St. Francis Center. MICA wanted to do a show with some of my work and I told them they could use my work, sure, but, "How about donating some point-and-shoot cameras" and I did a workshop. I've given away almost 500 cameras.
WATKINS: The bottom line is, I need to be in schools. They read one of my books, or one of Konnie's books, and they like it and meet us. That might turn them on to another book. And now, they're not only loving our Baltimore stories, which are their own stories, they're learning about other places from different stories and they are in the game.
BMAG: A common theme is Baltimore students need to be reached with material that will engage them. Maybe don't start with traditional English or world literature?
FIDEL: Things Fall Apart [a 1958 novel written by Nigerian author Chinua Achebe] is a good book, but it was hard for me to connect to that book in high school. I didn't know anything about Africa and the complicated issues he was dealing with. It was foreign. But imagine if you use the same themes that were in that book, but it was based in Baltimore, and the writing had Baltimore vernacular—I probably would've engaged in it. Not to say we didn't have artists and writers who shared the same skin complexion as me, but those Baltimore experiences, I didn't see them in anything we were being taught.
WATKINS: If they read [Fidel's book] Hummingbirds in the Trenches, it is going to hit them. It's an authentic story from a person that is here and accessible and loves them, and it just bleeds through all the work.
BMAG: Do you believe writing, poetry, and photography help students dealing with trauma?
FIDEL: When I speak about painful experiences, it lets students know they aren't alone. Teachers and adults say things like, "I don't know if they are ready for that conversation," whether it's about trauma or violence or people getting their brains spilled on the curb. How are they not ready for the conversation when they witness it firsthand? They read my work, and they're like, "Okay, it's normal for me to feel depressed and it's normal for me to cry. It's normal for me to be upset with what's going on in my community and in the world."
BMAG: You are all also active on social media. Why is that important?
FIDEL: We share a lot of things the students share, we share a lot of the same interests, but we still travel to Japan, to London, wherever, and we do all those things and come back to Baltimore.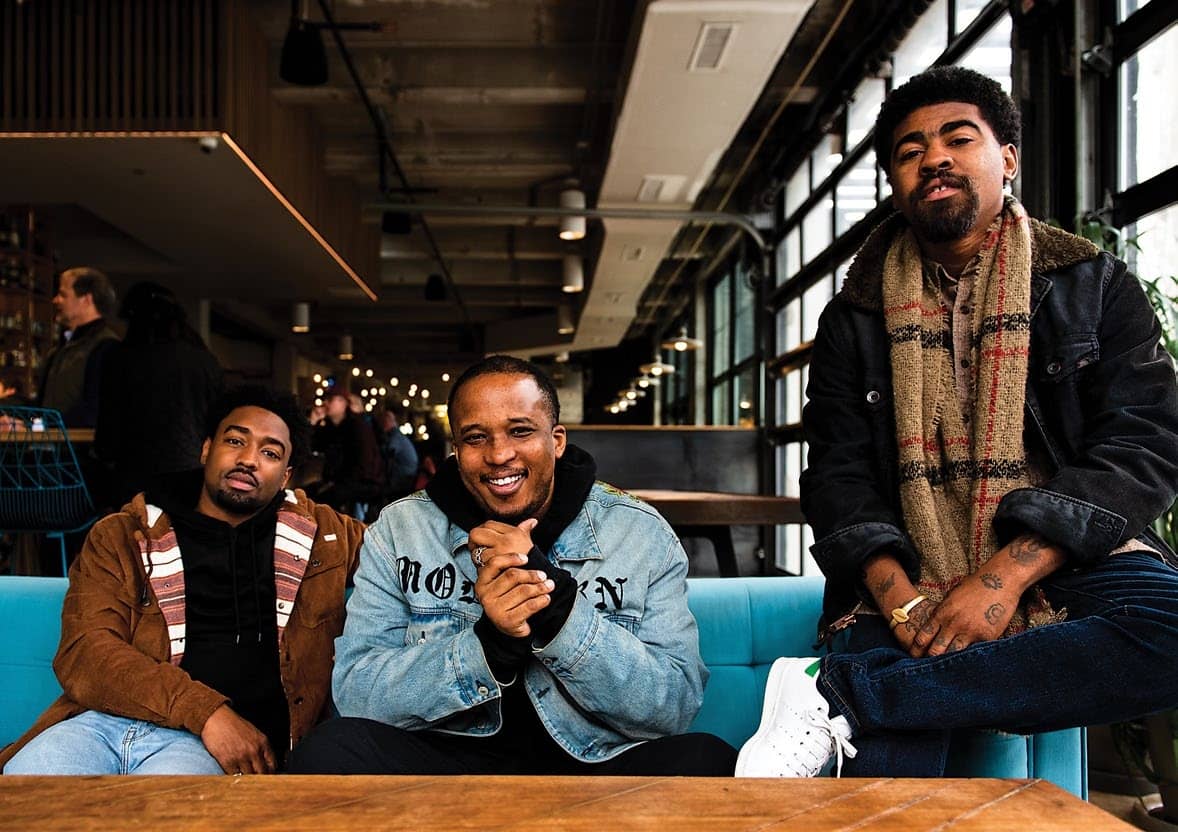 BMAG: Why do you think Baltimore students are attracted to your work? Or to writing, poetry, and photography in general?
Continue Reading with Magzter GOLD
Log-in, if you are already a subscriber
Get unlimited access to thousands of curated premium stories and 5,000+ magazines
READ THE ENTIRE ISSUE
Game Changers