Made In Maryland
Baltimore magazine
|
December 2019
MEET THE MAKERS WHO ARE KEEPING BALTIMORE'S INDUSTRIOUS SPIRIT ALIVE AND WELL.
Janelle Erlichman Diamond, John Farlow, Christine Jackson, Jane Marion, And Kaitlyn Pacheco
Ships, railroads, textiles, steel——Baltimore has long been a city of industry, priding itself on a bustling port, blue-collar work ethic, and small-town charm. Even today, as the city evolves and its harbor no longer brims with booming factories, that old industrious spirit lives on, thanks to both the big guys, like Under Armour and McCormick, and small-business craftspeople, like the folks who fill these pages. From leather workers and luthiers to bookbinders and bicycle manufacturers, these local makers are carrying the manufacturing torch, using their hands to create high-quality wares——and works of art.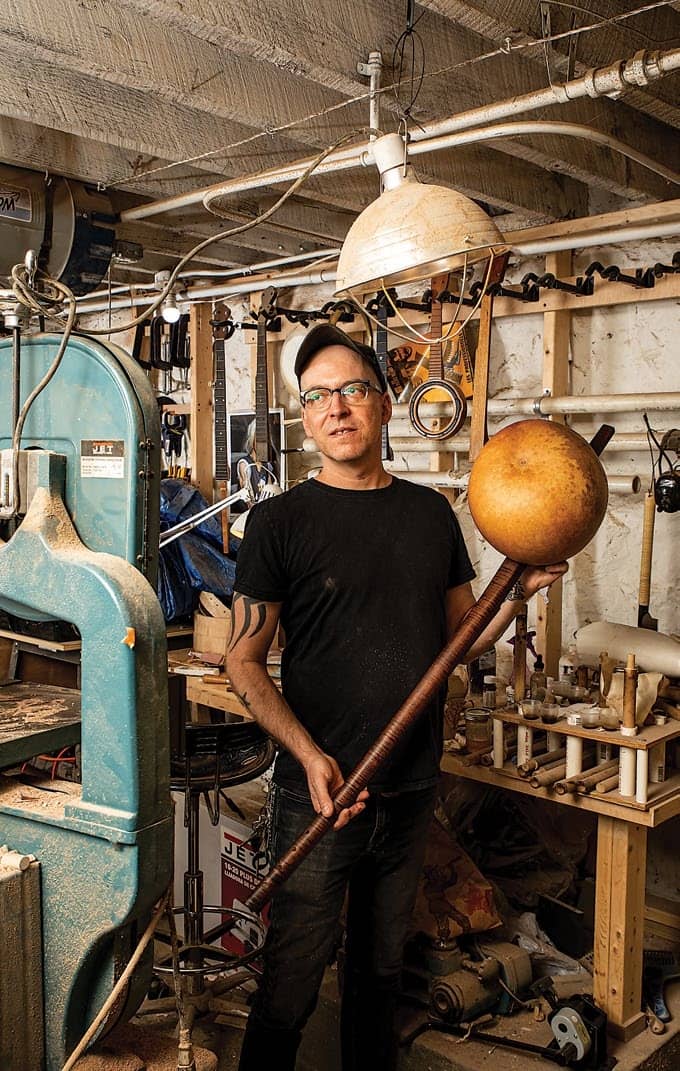 JUBILEE BANJOS
A PUNK ROCK GUITARIST MAKES MUSIC HISTORY.
Surrounded by sawdust, wood scraps, and a wall full of hollowed-out gourds in his basement workshop, Pete Ross is in the midst of making a custom instrument you'd never expect to find anywhere near the hands of this tattooed punk rock musician: a banjo. But during his younger years, Ross was working at an indie music store outside of Washington, D.C., when one record came over the stereo—an obscure African-American country string band from the 1940s. "Right place, right time," he says. "I'd never heard anything like it." It sent him down a rabbit hole of discovering not just the source of that haunting sound, but also the largely undocumented history of the instrument from which it came. In the years that followed, Ross would become an expert on the history of the instrument, from the early gourd banjos of African descent to the first commercial banjos born in Baltimore to the modern, metal-decked iterations. In turn, he learned about its connection to slavery, racism, and the evolution of American music, with the banjo first appropriated by blackface minstrel shows and later used by white country bluegrass musicians. The former art major would also become one of the world's great banjo luthiers, making replicas and his own renditions to be used in museum collections and by noted musicians, such as the late, great Mike Seeger of Baltimore bluegrass fame and Grammy-winning MacArthur Fellow Rhiannon Giddens. "This instrument was so essential to the formation of our American pop culture, I was disappointed to find there weren't any still around," says Ross. "So I started making them." Downstairs, he works alone, handcarving gourds and hardwood into working art forms with fine flourishes such as shell inlays and intricate hand-tied knots, considering historical context in every chord and peg. Upstairs, his partner, Kristina Gaddy, has also taken an interest in banjos and is even planning a potential book on the subject. These days, putting the electric guitar on the back burner, Ross has found that the true importance of this work is not as much about the music as it is about documenting and honoring lost history. "I make my living doing this," he says, "but the mission has always been to undo a cultural injustice."
ALMANAC INDUSTRIES
A SUPER MOM CRAFTS LEATHER GOODS WITH LOVE.
Whitney Cecil is an impressive multitasker. Not only is she constantly juggling the many moving parts that go into Almanac Industries, her largely one-woman handcrafted goods business, but she's also a full-time mom. "Who knows how we do it?" says Cecil from her Winston-Govans workshop space, which she often shares with her husband, Jacob, and their toddler and 5-year-old. "We taught ourselves almost everything." In 2009, the MICA grad started Almanac
as a small bindery that eventually evolved into a line of leather products after her tiny books continued to be confused for wallets. "From the start, we wanted to create something handmade in the old-fashioned way that would last a long time," says Cecil, who draws inspiration from menswear. Today, ethically sourced scraps of cowhide are piled beside her worn workbench, where she screenprints, paints, cuts, glues, hammers, brands, and stitches every card case, clutch, catch-all tray, and keychain, while toys are scattered across the cement floor. Last year, she also launched a kids' line, Curated Circus. "From the start, my goal has been 'keep it simple,'" says Cecil, who is now scheming desk accessories for Almanac, "but you just get all these ideas!"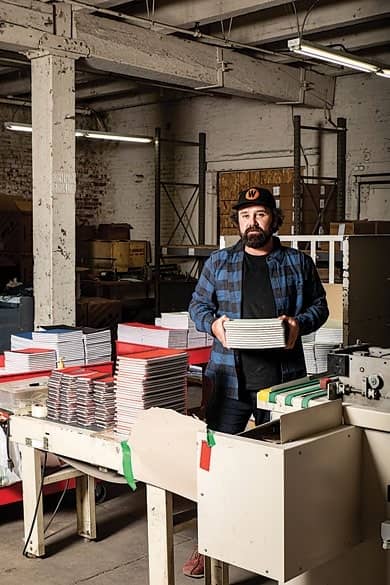 WRITE NOTEPADS
LONG LIVE PEN AND PAPER IN PIGTOWN.
You can read up to 3 premium stories before you subscribe to Magzter GOLD
Log in, if you are already a subscriber
Get unlimited access to thousands of curated premium stories, newspapers and 5,000+ magazines
READ THE ENTIRE ISSUE
December 2019