Crisis Manager
Baltimore magazine|June/July 2020
IN HIS SECOND TERM, GOVERNOR LARRY HOGAN FACES A CATASTROPHE LIKE NO OTHER.
Three months after his inauguration, Governor Larry Hogan sent Maryland National Guard troops to Baltimore to stem the tide of violence and property damage resulting from protests of Freddie Gray's death due to injuries he suffered while in city police custody. Two months later, he was diagnosed with stage three non-Hodgkins lymphoma. Neither of those two crises, the first public, the second personal, prepared him for the COVID-19 pandemic. Of his private ordeal, he said: "I got life-threatening cancer and I was worried about my own life and worried about my own family. This one [COVID-19], I'm worried about everyone's life in the whole state. Six million people."
First briefed about the novel virus by the nation's Coronavirus Task Force in early February at the National Governors Association's winter meeting, it wasn't until 66 infectious cases at a Washington state nursing home and three cases in Maryland were reported on February 29 that the contagious nature of the deadly virus became clear. Within a week, Hogan had issued a state of emergency. On March 16—following a similar timeline as other early wave states—Hogan closed schools, restricted the size of gatherings, and limited bars and restaurants to carry-out service. On March 19, California became the first state to issue a full stay-at-home order. Hogan followed suit 11 days later.
Partly because of his role as chairman of the governors association, and partly because of his hands-on response to the pandemic—in sharp contrast to fellow Republican, President Donald Trump—Hogan's approval rating in handling the crisis has been among the highest of any governor in the country. That said, with the death toll in the state surpassing 2,200 by Memorial Day weekend—and the end not yet in sight—declaring Maryland's response as a "success" doesn't feel fitting. We sat down with Hogan at the Governor's House after the first weekend of the state's partial reopening.
First, has your family and staff been okay? Knock on wood— we've been very lucky.
Like everyone, we imagine you've been a little anxious and stir crazy during the stay-at-home order. Like any father and grandfather, I'm worried about my kids and my family. I miss them. I'm doing Zoom with the grandkids. Talking more on the phone. I'm watching 10-year-old sports games. I was watching the Michael Jordan thing—The Last Dance. I've watched a little Korean baseball. Playing in front of an empty stadium, it's not that exciting.
Regarding reopening: Are you concerned about the crowds in Ocean City, or in Baltimore, where there were more than 100 calls to police to report large gatherings and other incidents the first weekend? Baltimore City is its own situation. The city is having some issues they are trying to deal with. Ocean City, I was a little concerned, with so many people being there, but I think the Mayor of Ocean City is trying hard to at least [stay on] message on social distancing and making sure everyone is paying attention. Ultimately, it really comes down to some personal responsibility. People have to be concerned about themselves and their neighbors.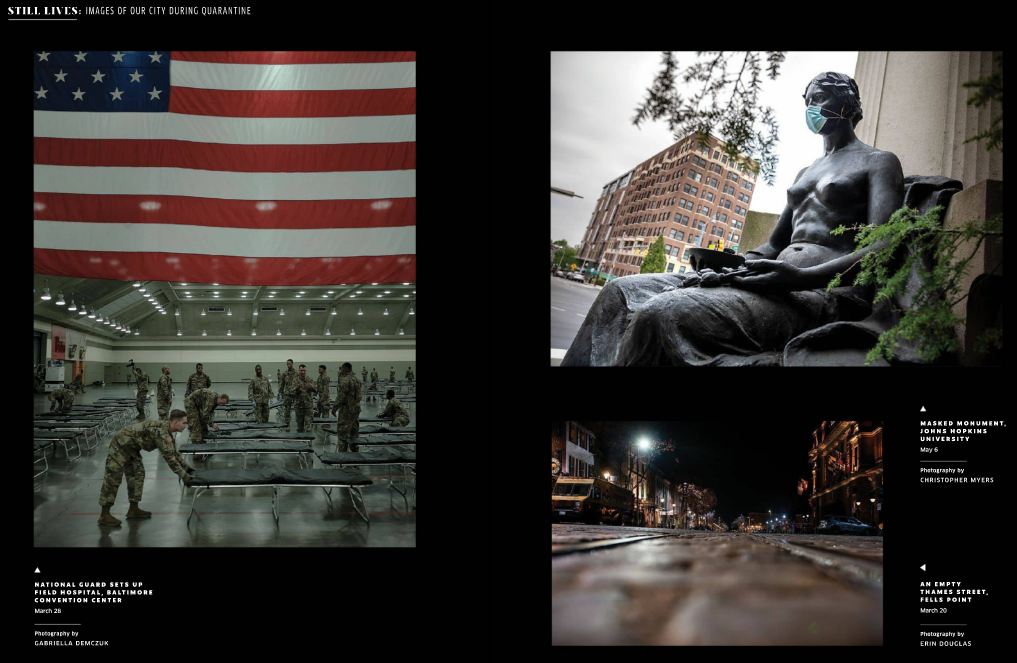 Did the Trump Administration abdicate responsibility in failing to help deliver PPE and COVID-19 tests? There is no question. Each governor, we had to build a procurement process from scratch, to find these things that were in short supply around the world. I remember calling the FEMA administrator back in March, telling him we are going to need more swabs. He said to me, "Governor, can I be honest with you? We don't have a single swab in the entire federal stockpile. And the only place they have them is in Italy." I mean, this is something that can't happen again.
You can read up to 3 premium stories before you subscribe to Magzter GOLD
Log in, if you are already a subscriber
Get unlimited access to thousands of curated premium stories and 5,000+ magazines
READ THE ENTIRE ISSUE
June/July 2020