A Man For All Seasons
Baltimore magazine|December 2019
THE RED SOX SOLD BABE RUTH TO THE YANKEES 100 YEARS AGO THIS MONTH—AND THE ONCE "HOPELESS INCORRIGIBLE" KID FROM BALTIMORE MADE BOTH THE NATIONAL PASTIME AND AMERICA BIGGER AND BETTER.
Baltimore outfielder Johnny Honig practically sat on the rightfield fence at Oriole Park each time the Boston Red Sox's Babe Ruth came to the plate, according to contemporary accounts. He might as well have been positioned in the front yards along Greenmount Avenue for all the good it did over the two-game exhibition series between the International League O's and defending champion Red Sox. Just months before, with a display of World Series pitching as great as the game had ever seen, Ruth led Boston to their third title in four years, and his homecoming to Baltimore was trumpeted across the city. Not only had he established himself as baseball's top left-handed pitcher, the rags-to-riches southpaw had begun playing the outfield between starts and socked 11 home runs the previous season, tying for the most in the Major Leagues.
After walking in his first at bat on the Friday afternoon of April 18, 1919, the 6-foot-2-inch Ruth blasted a white rocket in his second plate appearance—said to have cleared both Greenmount Avenue and a telegraph wire across the street—pleasing the huge Baltimore crowd, which had turned out to catch a glimpse of the local hero and suddenly budding slugger. He repeated the feat with another home run on his next turn. On his third at bat, still swinging from his heels, Ruth unloaded what witnesses believed was the longest home run ever seen at the Waverly ball yard. In the ninth inning, he smashed a fourth dinger for good measure. Later, the Baltimore News American ran a photo graphic illustrating where Ruth's bombs, three of which traveled more than 500 feet, departed from home plate and returned to Earth in the neighborhood behind the ballpark. "Babe did it so easily that the fence actually appeared to be just about where second base usually is found," The Baltimore Sun reported. "It must be nice to live in the 2000 block of Greenmount Avenue these days," The Sun added, "for the kiddies will have all the baseballs they need for the season after the Red Sox leave." The paper was right.
The following afternoon, Ruth started the game on the mound, and when he came to bat, Honig was back on his perch in right field, once again, to no avail: Ruth rocketed two more roundtrippers in his first two plate appearances—making it six home runs in six consecutive bats—the deepest of which on Saturday landed on a rowhouse rooftop.
The half-dozen consecutive blows were heralded in the national press as "a baseball record." They pushed Ruth's exhibition home run total that spring to 18 when the single-season American League record stood at 16. More than anything, Ruth's binge in Baltimore presaged a 29-home run eruption during the ensuing 1919 season. It was an individual performance completely out of proportion in baseball history: Ruth's personal home run total eclipsed that of 11 of the 16 Major League teams.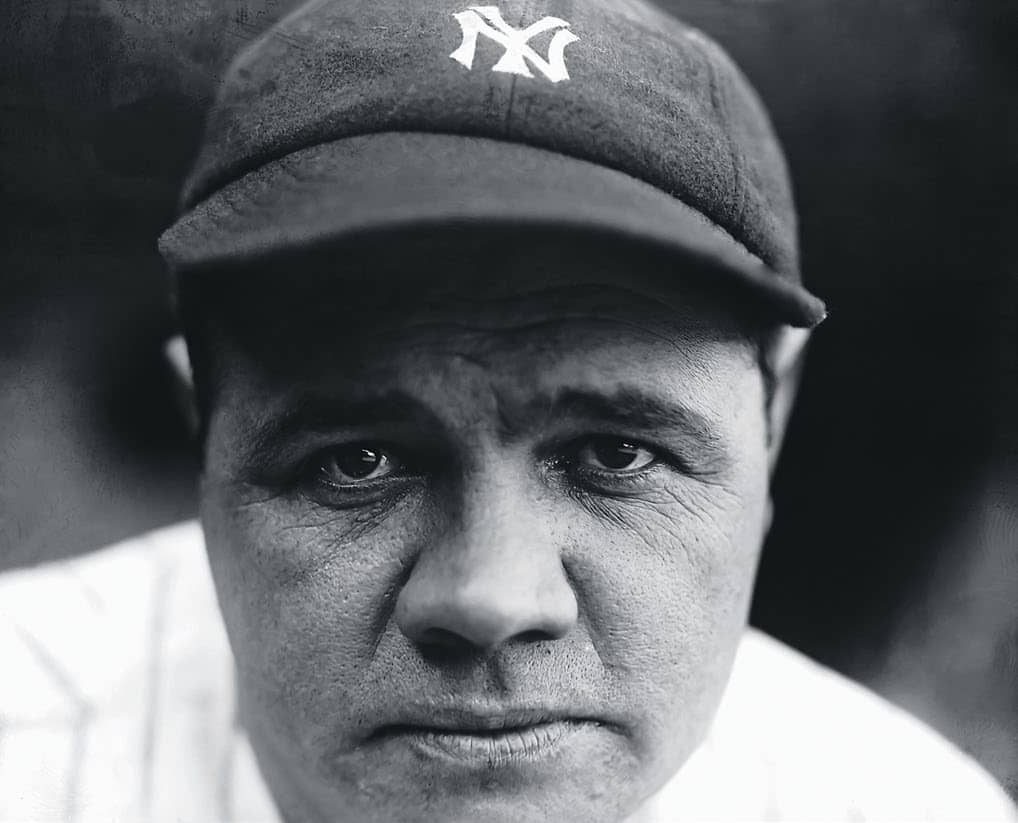 During that momentous 1919 campaign, Ruth led baseball not just in home runs, but runs batted in, runs scored, on-base percentage, slugging average, and total bases, while still going 9-5 in 15 starts and posting a sterling 2.97 ERA for the Red Sox. And then, the day after Christmas, exactly 100 years ago this month, Boston owner Harry Frazee sold his superstar to the New York Yankees—a gift, it would turn out, at $100,000—in order to invest in a Broadway play named My Lady Friends (later adapted into the musical No No, Nanette). Baseball, and the country, would never be the same.
"Fans [drove] miles in open wagons through the prairies of Oklahoma to see him in exhibition games," Yankee teammate and Hall of Famer Waite Hoyt recalled after Ruth died of cancer in 1948. "I've seen them—kids, men, women, worshippers all—hoping to get his name on a torn, dirty piece of paper, or hoping for a grunt of recognition when they said, 'Hi-ya, Babe.'
"He never let them down, not once."
The kid who had spent 12 years at St. Mary's Industrial School for Boys—who had been
officially labeled a "hopeless incorrigible," after he was sent away at 7 for drinking, stealing, chewing tobacco, and refusing to attend school—would make the national pastime, and America, bigger and better.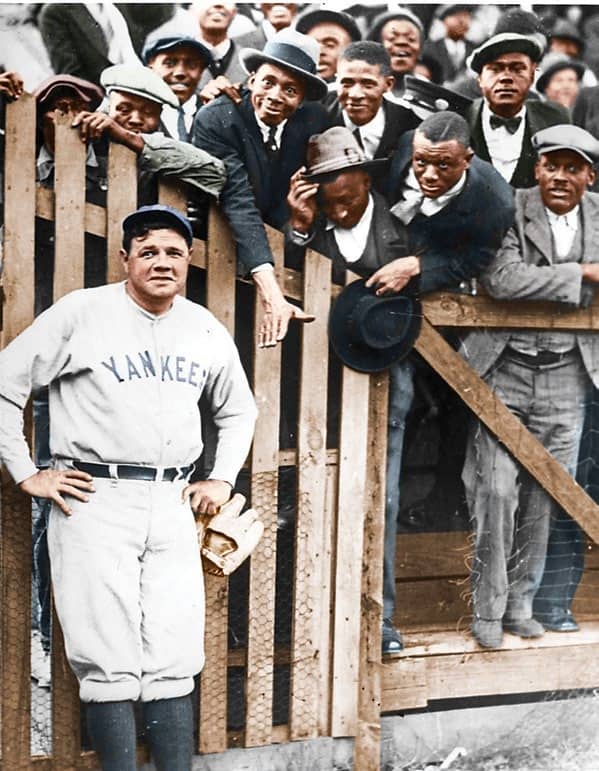 GEORGE HERMAN RUTH JR. was a few days past his 19th birthday when Baltimore Orioles owner and manager Jack Dunn visited St. Mary's, the Catholic-run institution for orphaned and delinquent children on Wilkens Avenue, seeking permission to sign their talented pitcher to a $600-a-year contract. Legally, because Ruth was not yet 21, he was paroled into the guardianship of Dunn, who knew the school's superintendent. By mid-summer, Ruth was already showing promise, and the Red Sox purchased his minor league contract from Dunn and the Orioles. Five years later, he was—all at once it seemed—the game's best, and far and away most colorful, player. In an era before professional football or basketball had gained popularity, when radio, newsreels, and daily newspapers dominated pop culture, it was Ruth who became America's first rock star. He was the first athlete to hire an agent and the first to endorse commercial products and first to have a candy bar named after him. He visited barrooms, sick kids in hospitals, whorehouses, hot dog stands, and orphanages with equal enthusiasm (his famous carousing settled down after his second marriage). He loved mugging for the cameras—in costumes, with animals, but mostly with dirty-faced kids who reminded him of himself—and eventually became the most photographed person on the planet. He is credited with saving baseball in the wake of the 1919 Black Sox scandal when members of the Chicago White Sox had conspired with gamblers to throw the World Series. Children everywhere adored him.
"I saw it all happen, from beginning to end," Harry Hooper, a Boston Red Sox teammate of Ruth's, recalled at his own induction into the Baseball Hall of Fame in 1971. "But sometimes, I still can't believe what I saw: This 19-year-old kid, crude, poorly educated, only lightly brushed by the social veneer we call civilization, gradually transformed into the idol of American youth and the symbol of baseball the world over—a man loved by more people and with an intensity of feeling that perhaps has never been equaled before or since.
You can read upto 3 premium stories before you subscribe to Magzter GOLD
Log-in, if you are already a subscriber
Get unlimited access to thousands of curated premium stories and 5,000+ magazines
READ THE ENTIRE ISSUE
December 2019