SOURCE SHELTER, FOOD AND FIRE UP NORTH
SURVIVAL TREES OF NORTHERN CLIMATES
As a world traveler, I've come to accept that every beautiful place has a certain degree of danger that coexists with its wonders. An ordinary camping trip or backcountry adventure in the Pacific Northwest could easily turn into a battle between life and death because of the simple act of picking and eating the wrong berry, mushroom or flower.
BAD INFORMATION
For years, I've been frustrated by bad or misleading references for identifying trees and plants. Photos of plants, berries, flowers and trees are sometimes inaccurate or of poor quality. Sketches from old books show the bark of a tree but not the leaves—or the leaves but not the bark, which is useless in fall and winter, when leaves are scarce. Some books and field guides have only one photo of the tree, plant or flower in full bloom during their showiest time of the year. However, as a person studying plant and tree identification to aid in foraging, this can go beyond frustrating and approach dangerous. My journey down this path has become—like anything else I aspire to master—a lifelong study, with no graduation day!
The information here is the smallest drop in the ocean of data on plant, tree and berry identification, but it's a good drop. It pertains to the most common, easy-to-identify, yet useful, items found in the Pacific Northwest, as well as many parts of the northern forests of Scandinavia and Russia. Most of this information will pertain to materials that can be used for fire, shelter and camp crafts because, for me, food is the lowest priority in a survival situation.
That said, there are many natural "snacks" on the vine that don't require hunting or trapping and can supplement your supplies and onboard reserves.
COTTONWOOD
Black cottonwood in the wild usually grows in groups and soars to 150 feet tall. These trees are most readily identified by their deeply scored bark and the cotton that emerges from their seed pods in the summer. Sometimes, enough of the cotton takes flight that the ground looks like it has been dusted with fresh snow. The bark of this particular tree gets so hard that it can cause sparks when cut with a chainsaw.
I first became familiar with this tree through one of my favorite bushcraft books by famed boreal forest guru, Mors Kochanski: Bushcraft: Outdoor Skills and Wilderness Survival. It is commonly known as black poplar, but it is very different from the tulip poplar, found on the U.S. East Coast.
I remember walking around Skagway, Alaska, when there was a certain white wispiness in the air. The trails and walkways were full of this white, cotton-like fluff.
Naturally, I gathered up a handful and put it in a dry place to test it later with a ferrocerium rod. Not surprisingly, it ignited with a spark. Cottonwood is not only soft enough to carve, it also has the ability to aid in fire-making. However, like most tinders in a wet environment, it is at its worst when wet. Much like cattail fluff, cottonwood fluff is a flash burn, so if used as the only tinder available, be prepared and have your fire lay set up beforehand.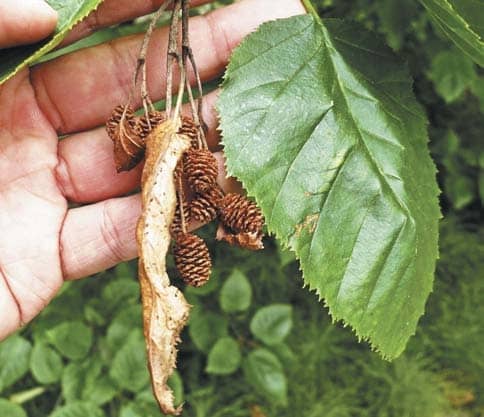 BIRCH
In my opinion, when it comes to a multi-use tree, birch takes the cake. From building canoes, knife sheaths, knife handles, bowls, cups, utensils to making birch oil, the birch's wood and bark have proven to be highly useful.
You can read upto 3 premium stories before you subscribe to Magzter GOLD
Log-in, if you are already a subscriber
Get unlimited access to thousands of curated premium stories and 5,000+ magazines
READ THE ENTIRE ISSUE
April 2020