PLANT: PREPPER PLANT ADVISOR
American Survival Guide
|
September 2020
MORE THAN JUST A DECORATION, WILD CHERRIES ARE TASTY AND VERSATILE
Name: Wild Cherries (Prunus spp.)
There are about 400 species of Prunus worldwide. Their common names generally include cherry, chokecherry, almond, apricot, plum and other fruits known as "stone fruits" because of their large seeds.
Description
These can be large bushes or trees. Some are evergreen, and some are deciduous (meaning that their leaves drop in the winter). Wild cherries can be found throughout North America and in diverse environments.
One way to identify this plant is to crush the leaves, wait a few seconds and then smell them. They'll have a distinct aroma of bitter almond extract—your clue that the leaf contains cyanide (hydrocyanic acid).
These fruits are very much like cultivated cherries, except the color is darker red—almost maroon—and sometimes even darker. The flesh layer can be very thin in dry years and thicker in seasons following good rains. As with domestic cherries, there's a thin shell and the meaty inside of the seed.
Some of the common species include chokecherry (P. virginiana), bitter cherry (P. emarginata) and western chokecherry (P. virginiana var. demissa).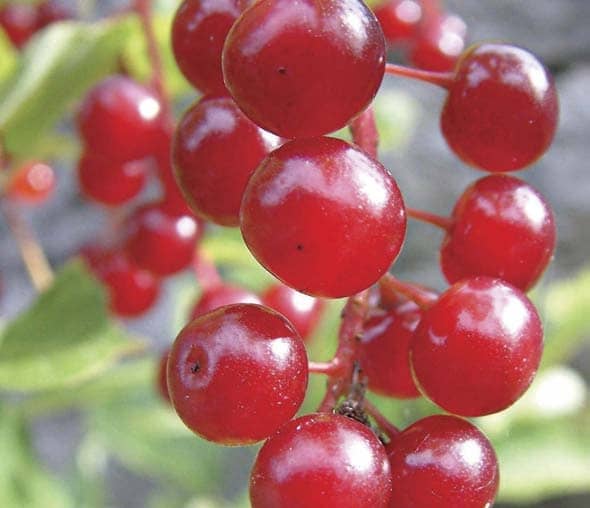 Where Found
Wild cherries are found in canyons, lowland forests, hillsides, farmland, urban areas and chaparral areas and are widespread throughout North America.
Uses
The fruit of wild cherries makes a great trail nibble. I usually see them in August,
You can read up to 3 premium stories before you subscribe to Magzter GOLD
Log in, if you are already a subscriber
Get unlimited access to thousands of curated premium stories, newspapers and 5,000+ magazines
READ THE ENTIRE ISSUE
September 2020