Celebrating Fin-To-Gill Eating
A Magazine
|
September 2020
With his restaurant Saint Peter, fish shop Fish Butchery and award-winning cookbook, Aussie chef Josh Niland is making the confrontational desirable and revolutionising the way the world eats fish.
Eye chips made using the eyeballs of mirror dorys, ground to a paste, spread over a large sheet pan, air dried and then baked until they puff up like prawn crackers. A macaroon filled with a Murray cod fat caramel butter cream. Panfried milt, fish liver foie gras, fish blood black pudding, fish sausages encased in fish stomachs, fish head terrine, a cassoulet made entirely out of fish products — these are just some of chef Josh Niland's innovative and eyebrow-raising repertoire of dishes that he serves up at his seafood restaurant Saint Peter.
Confrontational? Yes. Gimmicky? Not at all. Niland loves fish and for the 31-yearold Australian chef, working with what people normally deem the undesirable parts of a fish is a matter of simple mathematics and sustainability. Why buy a $400-fish only to throw more than half of it away? In a time when food waste is a pressing issue, using all parts of a fish not only makes more financial sense for restaurants but also creatively challenges a chef to realise the full potential of a fish.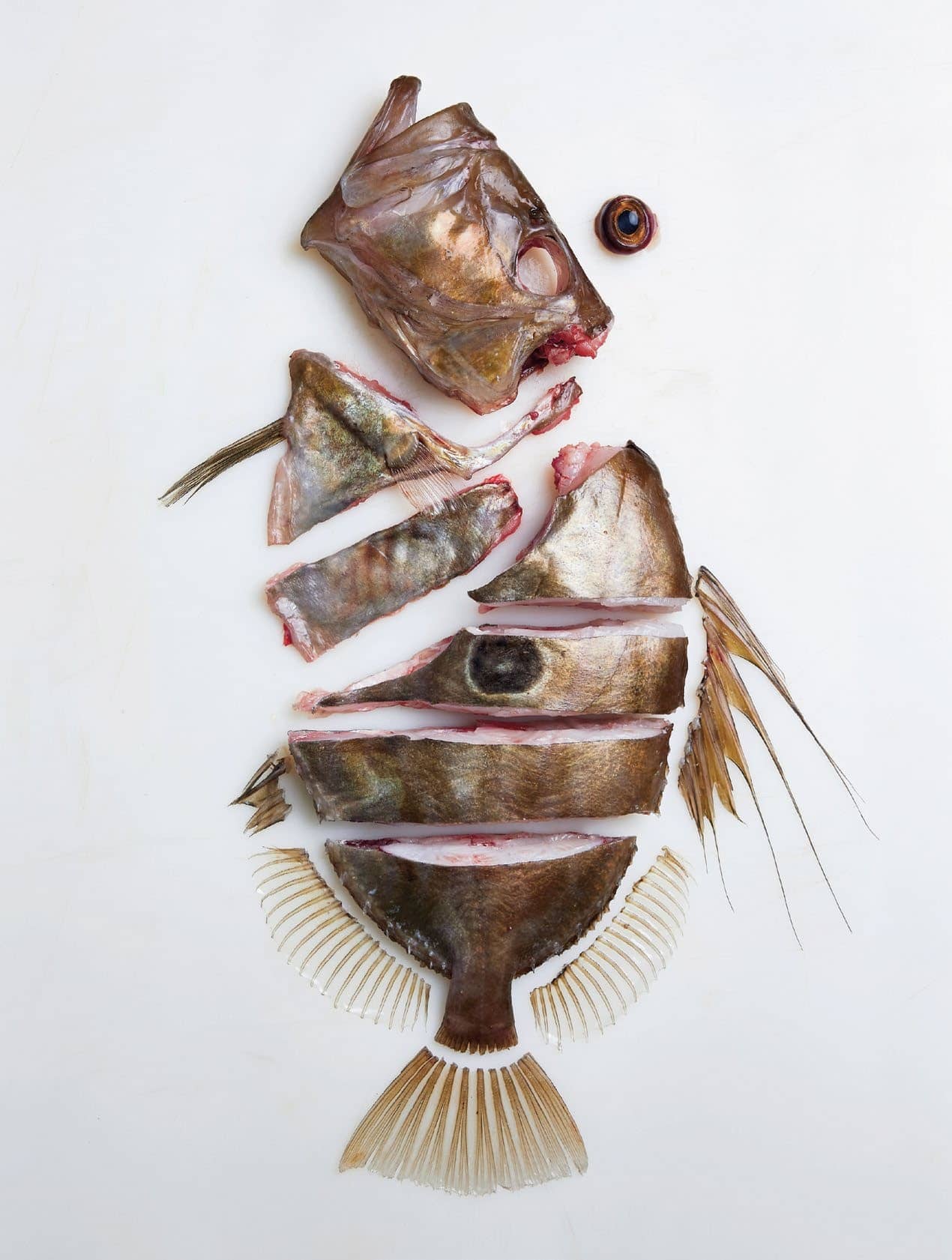 Just as Fergus Henderson convinced the world with the concept of nose-to-tail eating of meat, Niland is advocating the same for fish — respecting a fish means using as much of it as one can, minimising waste and maximising flavour possibilities. At his 34-seater Saint Peter in Sydney and fish shop Fish Butchery a few doors down, Niland aims to use 90 percent of any fish. With the release last September of The Whole Fish Cookbook: New Ways to Cook, Eat and Think, he hopes to "glamorise and articulate the other parts of fish that usually end up in the bin".
The 256-page tome is a comprehensive an exacting cookbook produced in a raw and hyper-stylistic aesthetic akin to Niland's Instragram account (@mrniland), complete with intimate, almost uncomfortable, close-ups of fish and their offals. In it, Niland expounds on how fish, as a complex source of protein, can — and should — be treated with the exact same nose-to-tail reverence as meat. A methodical guide to butchering a fish comes with a visual break down of a whole fish into its more than 30 different parts — this includes the scales, lip, heart, liver, bone marrow, roe sack and skin. He even uses terminology like rack, rib and loin to describe specific cuts of the fish.
You can read up to 3 premium stories before you subscribe to Magzter GOLD
Log in, if you are already a subscriber
Get unlimited access to thousands of curated premium stories, newspapers and 5,000+ magazines
READ THE ENTIRE ISSUE
September 2020