Core Strength And Gut Feelings
Yoga Journal
|
September - October 2019
Well-trained abdominal muscles are pliable, not chiseled or hard, and adapt quickly to change.
When we talk about core power, abdominal muscles come to mind. But our core is much more than that. It connects us to our feelings and moods via the nerves of our gastrointestinal system and our enteric nervous system, or "belly brain." We might feel off-kilter when our gut health is out of whack or disconnected from life when our bellies are hard and tight. We can also experience upset stomachs when we feel stressed, depressed, or sleep-deprived.
Here's a fuller view of your core, or the space between the diaphragm and pelvic floor, wrapping around the torso— also known as "the midsection" and "abdominopelvic cavity."
• IT INCLUDES numerous muscles, superficial and deep: rectus abdominis, internal and external obliques, transversus abdominis,multifidus, erector spinae, quadratuslumborum, and distal latissimus dorsi.
• IT IS HOME TO most of your viscera: stomach, spleen, small and large intestines, liver, gall bladder, kidneys, pancreas, bladder, and reproductive organs.
CORE MUSCLES
Your core muscles help control your posture and body position. For instance, the rectus abdominis works primarily to stabilize your rib cage in relation to your pelvis. The transversus abdominis and multifidus work with the pelvic floor and diaphragm to stabilize your lumbar spine. Your core muscles also produce and transfer force during dynamic movements such as vinyasa yoga or running, maintaining spinal stability in order to protect your nerves, disks, joints, and connective tissue. Try these asana to explore abdominal stabilization: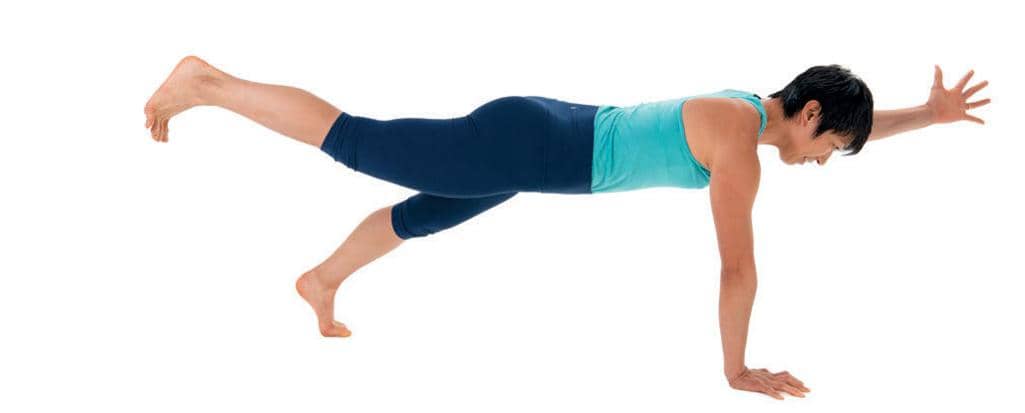 A TABLETOP AND PLANK POSE VARIATIONS:
Begin on your hands and knees, wrists under your shoulders, knees under your hips or back slightly, which makes your abs work harder to stabilize the lumbar and manage the weight of your pelvis. Lift one arm and the opposite leg. Notice the extent to which your core engages. Now lift only your arm. Resist the urge to rotate your pelvis or rib cage. Notice how lifting your arm without lifting the opposite leg makes your abs, especially your upper abs, work harder. Why? No glutes to help! For more intensity, start in PlankPose and perform the same movements. Both versions use nearly all of your core muscles.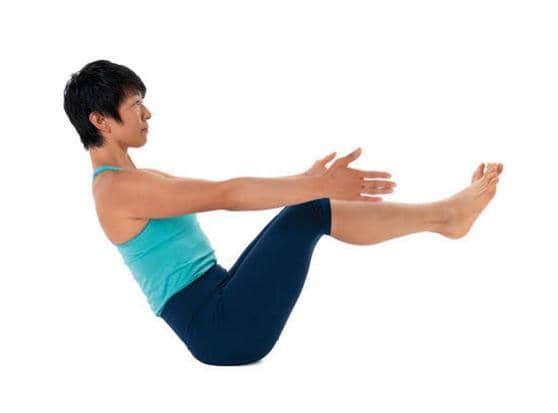 B NAVASANA (BOAT POSE):
You can read up to 3 premium stories before you subscribe to Magzter GOLD
Log in, if you are already a subscriber
Get unlimited access to thousands of curated premium stories, newspapers and 5,000+ magazines
READ THE ENTIRE ISSUE
September - October 2019