Unholy Divide
India Legal|October 14, 2019
A Supreme Court verdict of 2017 is finally implemented by the Kerala government but only after the High Court serves an ultimatum.
THE Kerala government, led by Chief Minister Pinarayi Vijayan, seems to be in the habit of taking orders from the courts rather lightly. The courts, in turn, have had to remind the government about who is the boss. Last month, the Supreme Court lashed out at the state government for not abiding by its order to demolish 343 waterfront apartments near Kochi built in violation of environmental norms. Last week, it was the turn of the Kerala High Court to force a seemingly reluctant government to comply with an apex court order of 2017 which so far remained unimplemented. The matter related to its order to take over the St Mary's Church in Pira vom in Ernakulam district, currently under the control of the Jacobite faction, and hand it over to the rival Orthodox faction.
On September 26, the state police broke open the gate of the sixth-century church which had been witnessing clashes between the two Christian factions.
Several priests and followers of the Jacobite faction, who refused to vacate the complex following the 2017 Supreme Court order, were arrested as the police broke open the church gate.
For close to two years, the Marxist-led coalition government was hand-in-glove with the powerful Jacobite faction to stall the order implementation. Finally, the Orthodox faction leaders moved the High Court, which in turn asked the district administration to comply with the apex court order and submit a report by noon on September 26.
The conflict between the two factions is more than a century old and the recent flashpoint came as hundreds of Jacobite Church supporters camped inside the church premises. The High Court directive to the district administration to evacuate those belonging to the Jacobite faction from the Church and hand over the key to the High Court put the government under pressure. The priests and the followers of the Jacobite Church, including a large number of women, took the stand that if they were forcefully evacuated, they would commit suicide inside the place of worship. Some of them even threatened to jump into the nearby Muvattupuzha river.
Priests and followers of this faction have been involved in a long-standing tussle with the Orthodox sect over the ownership of churches in the state. However, the Supreme Court in July 2017 passed the order granting the Orthodox faction the right over 1,100 churches, including the one in Piravom.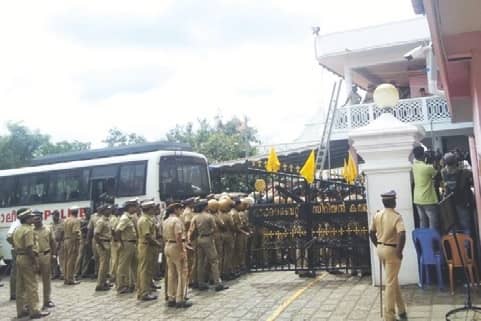 The Orthodox faction reached the church to take possession after the Kerala High Court asked the police to provide protection to their priests to conduct religious services there.
You can read upto 3 premium stories before you subscribe to Magzter GOLD
Log-in, if you are already a subscriber
Get unlimited access to thousands of curated premium stories and 5,000+ magazines
READ THE ENTIRE ISSUE
October 14, 2019