What it takes to be a winner
Money Magazine Australia
|
August 2020
Stick to the basics – and keep it simple – when you start playing the sharemarket game
Planning prevents piss-poor performance. I love this statement. It was the catchcry for my son's team during his school rowing seasons and it's good general advice. It applies to many things from sport to finance and everything in between.
Armed with the knowledge you can plan for your investment portfolio or how you'll adapt what you already have. It's never too late to weed and prune what you've got or to invest in some new shares.
Planning the "best" investment portfolio for you will require a little preparation but nothing too arduous. Here is a go-to list of points to consider when starting out.
First-time investor
Are you a student or a young professional saving for a holiday or housing deposit? You can start a portfolio with as little as $500. The less money you have the simpler and more risk-free the investment should be. It's just not feasible (from a cost standpoint) or reasonable to think that you should buy five to 10 separate shares at $100 each. For anything less than, let's say $2000, as a first-time investor, you should probably only consider buying one exchange-traded fund to start, such as an exchange-traded fund (ETF) that replicates the ASX 200 share index, for example. You can keep contributing to that until it reaches a critical mass of $5000. You could then consider adding some shares, but anything less than $1000 per share is just not worth it. Better to keep adding to the ETF and grow that.
For savings of $10,000-plus you can start to look at the model portfolios that suit your age, risk tolerance and commitment level.
Inheritance money
Inheriting shares or money is sometimes emotionally challenging, as you may put undue pressure on yourself not to make a mistake and lose any of it. Or you may feel conflicted about selling the shares you have inherited to change the portfolio. You may also be a new investor and then the task is more daunting. Depending on the size of the inheritance it may be wise to seek tax advice. Keep to the script, remember costs, don't invest in anything you don't understand and consider how the money can be best invested.
Can you add the money to your superannuation, perhaps a self-managed fund? If you're anxious about the risks, start with low-risk, low-maintenance portfolios (see tables). As your confidence grows and your knowledge base increases, you can select more shares.
Divorce settlement
Investing money from a divorce settlement can be emotionally fraught, particularly for women who may not have much financial experience. The wounds of the divorce are compounded by the fear of the unknown. Now I'm not a divorce counsellor, but I have been there with a young son, starting out in a new town (I relocated back to Sydney from London). I know it can be daunting, but gently, gently:
Be kind to yourself, step back, take a deep breath and don't rush any decisions.
Try to get some good advice about tax; you want a good family accountant if it's a reasonable amount.
Think about how much you need to live off and what needs to be invested. When it comes to the investment aspect, think about costs. It's more likely than not that your money will be better invested in a low-risk, low-maintenance portfolio than anything more costly with an adviser.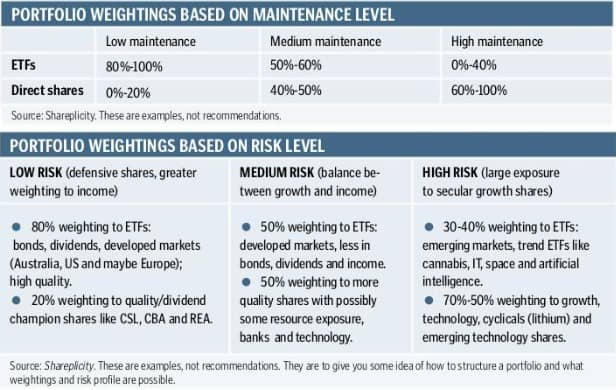 You can read up to 3 premium stories before you subscribe to Magzter GOLD
Log in, if you are already a subscriber
Get unlimited access to thousands of curated premium stories, newspapers and 5,000+ magazines
READ THE ENTIRE ISSUE
August 2020