KRISTALINA GEORGIEVA: 'Been There, Done It'
Bloomberg Markets
|
October - November 2020
Growing up in communist Bulgaria turned the IMF's managing director into a committed capitalist. Now she wants to help make capitalism better
When Kristalina Georgieva became managing director of the International Monetary Fund last year, she brought unique experiences to the role. The first IMF head from an emerging market, she grew up in Bulgaria when it was a Soviet satellite state. Unlike her predecessor, France's Christine Lagarde, who now leads the European Central Bank, and most of the 10 men who came before them, Georgieva didn't build her reputation at a finance ministry or central bank. Instead, the environmental economist spent her career in academia, at the World Bank, and at the European Commission. But she says that prepared her well for what the IMF calls the "Great Lockdown"—the biggest economic shock since the Great Depression. As the Covid-19 pandemic halted business activity around the world, the organization fielded emergency loan requests from more than half of its 189 members, the most in its history. Seeking inspiration, Georgieva spent her 67th birthday this summer at the Bretton Woods, N.H., hotel where the IMF and World Bank were born in 1944. She spoke with Bloomberg Markets on Sept. 11 about her background, the challenges the IMF is confronting, and her commitment to building a greener and fairer world economy.
STEPHANIE FLANDERS: Good to see you, it's been a while. You were in a triple act with [then-IMF Managing Director] Christine [Lagarde] and the outgoing head of the World Trade Organization [Roberto Azevêdo] in a panel I moderated in spring of 2019, which was great fun. I came away from that hoping that you would get another big job, and you did.
KRISTALINA GEORGIEVA: Actually, I was thinking—preparing for our conversation today—that so many of the things that I have been doing in my life were for this moment in our history. But we will talk about it.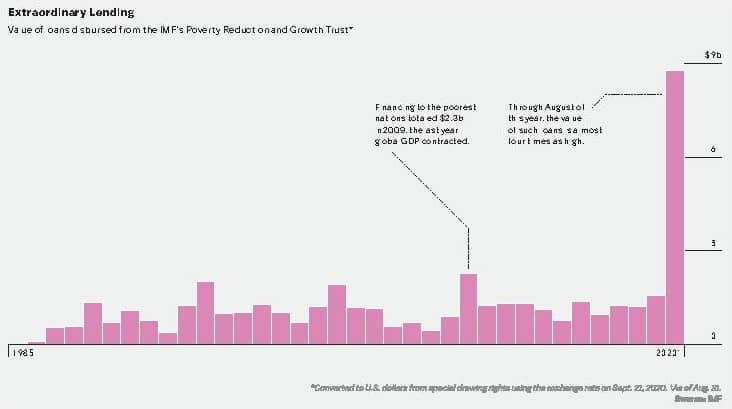 SF: We have a lot to talk about. As you have said yourself, you have an unusual background for a managing director. You're not the first woman, but you're certainly the first to lead the institution from a country that's an emerging market, a country that's had many IMF programs itself. How do you think your unusual personal experience has shaped your approach to this job?
KG: Well, I think that in my life story, there are three chapters that are very relevant for what I do today. One is living on the other side of the Iron Curtain and then going through a very painful transition when the IMF was really very relevant for my country. And what that taught me was the high cost of bad policies and the benefits of good policies. I had that built-in instinct: I see a queue, I line up. Doesn't matter what they're selling because we were in a scarcity economy, and that was so obviously wrong that we were depressing the entrepreneurial potential and underutilizing our capabilities, leading to people having less and less opportunities. So I was a very big proponent from those days of making a place for competition, relying on markets to help allocate resources.
But then comes the second chapter in my life when I went to the [World] Bank. I had this incredible privilege to be part of transforming how we think about development, that we cannot just narrowly focus, zero in on growth, GDP. We have to think about the sustainability of growth, the environmental and social impact of growth. We have to think about governance and corruption because they matter for how successful we are. And at that time, being at one point director for environment for the World Bank, I also could see that there are very significant risks in front of us, especially with the changing climate, for which we cannot rely single-handedly on markets. So there is a role for markets, there is a role for policies that correct the imperfections of markets.
It's not very well known, but I wrote my Ph.D. on environmental policy in the United States in the '80s, and what I specifically studied was using market forces and correcting market imperfections, specifically on dealing with the problem of sulfur. But what I would say, above all, is hugely relevant for what I deal with now with the Covid crisis is having been [the EC's] Commissioner for Crisis Response and Humanitarian Aid. And what that taught me was to brace for the unexpected—act decisively—and focus on the most vulnerable people.
So what is the philosophy that all that led to? One, macro decisions have micro consequences. They affect the lives of people, and we have to think about those consequences with an eye to doing things right, to be as fair and inclusive as possible. And two, that when you are in a crisis of this magnitude, you also have your unique chance to move the world forward and to make growth more sustainable, fairer, and actually smarter.
SF: Just to go back a little bit to your background, what you were saying about your experience in Bulgaria, and your Ph.D. thesis. Was it easier at that time to be studying U.S. environmental policy than Bulgarian environmental policy?
KG: So why did I choose this subject matter? It is an illustration of something that I'm very proud of: I'm resourceful. In my days, in a communist country, you were expected to justify the validity of your thesis by quoting Marx, Lenin, and the party congresses. I did not have a problem with Marx as a philosopher, as an economist. It doesn't mean I'm a Marxist, but at least he has, intellectually, a logical construct. I did have a big problem with Lenin, for obvious reasons, and an even bigger problem with the party congresses. So I said to myself, What is it that these guys have said nothing about?
Well, the environment. And the U.S. In the '80s there were lots of deficiencies in environmental policy, and I can criticize the U.S., right? I was the first environmental economics Ph.D.—there was nobody that would know more than me on that subject matter. I had an incredibly supportive professor, a very smart man with huge integrity, who really gave me a helping hand to put out my Ph.D., defend it, and publish a lot in those days on it.
You can read up to 3 premium stories before you subscribe to Magzter GOLD
Log in, if you are already a subscriber
Get unlimited access to thousands of curated premium stories, newspapers and 5,000+ magazines
READ THE ENTIRE ISSUE
October - November 2020