Tools & Techniques
Woodworker West
|
July - August, 2019
Reinforcing Butt Joints
+

Marc Spagnuolo is known as the Wood Whisperer. Since 2006, he has produced online woodworking content for his website www.thewoodwhisperer. com and popular YouTube channel, as well as contributing articles and videos to finewwoodworking.com, Popular Woodworking, Woodcraft, and Wood magazines. He has also authored the book, Hybrid Woodworking, founded The Wood Whisperer Guild, and taught at woodworking schools and clubs throughout the country.

In his new book, Essential Joinery: The Fundamental Techniques Every Woodworker Should Know, Marc explores a collection of essential joinery skills in an illustrated step-by-step manner. Rather than working solely by hand or machine, he teaches woodworkers how to choose the most sensible joinery method for the task at hand, while providing additional techniques and styles for each joint. He also provides insights not found in other books on this subject.

This essay, adapted from Essential Joinery with the publisher's permission, explores various options at the basic joinery level before the book addresses the more advanced techniques, including dadoes, mortise and tenons, half-laps and bridles, and dovetails.

Essential Joinery (213 pages, $27.95) is available at www.springhousepress.com and other retail and online distributors.

In its simplest form, joinery is nothing more than a method for attaching one piece of wood to another. There's no more fundamental example of that than the humble 90° butt joint, in which the end-grain of one piece is to be attached to the face or edge of another. Similarly, a miter joint is attaching the end grains of two pieces at a 45° angle.

It's important to note that a simply glued butt joint is inherently weak. The end grain will soak up most of the glue, rendering the joint ineffective. This is why we use reinforcement methods to strengthen these types of joints. Here are some reinforcing joinery alternatives, which are further described in step-by-step detail in Essential Joinery.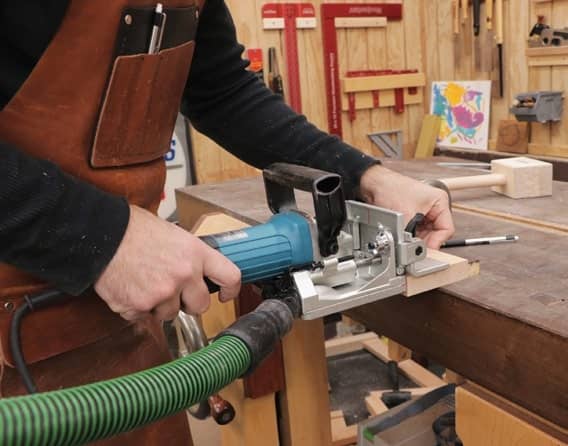 SCREWS
You can read up to 3 premium stories before you subscribe to Magzter GOLD
Log in, if you are already a subscriber
Get unlimited access to thousands of curated premium stories, newspapers and 5,000+ magazines
READ THE ENTIRE ISSUE
July - August, 2019