Ten Great Ideas For Your Workshop
The Home Handyman
|
September/October 2020
DIY'ers and woodworkers are always looking for ideas to solve problems or simply for better ways of doing things. Here are ten problem solving ideas that you may find useful.
1. Breaking the joint
Sometimes things just go wrong with a glue-up. Panels may end up out of square, wrong sides glued-up, etc. How can we break a joint and start over? Modern woodworking glues are extremely strong and fairly water resistant. Watertight glues such as Belcotan, Alcolin Ultra, etc. cannot be broken by the following method (toughies!). Ordinary cold glue joints, be it mortise and tenon, Dominoes, biscuits, etc. can be broken. Carefully pour boiling water onto the joint. Allow the water to creep into the joint, adding more hot water little by little. Try to find even the smallest opening and get some water in there. Carefully hammer and shake the items in the direction to open the joint and try to get a paint scraper or something else somewhere into an opening. By persisting you will find after a while the joint will start to give, more hot water and more prying and eventually the pieces will come apart.
Be careful with this method if the items are of chipboard or MDF board (medium density fibre board). Nonetheless, if the joint was made with 'biscuits' it can still be broken without much damage.
For cabinetry I prefer ordinary white glue. It gives more clamping time and joints are strong. Recently I cut about 20mm off a solid wood tabletop along the cross grain. To discard the strip, I tapped it on the rubbish bin to break it in to shorter lengths. None of the breaking points were at the glue joints!
2.Sponge holes and cylinders
If you need a cylindrical piece of foam sponge or want to cut a hole in a piece of sponge here is your solution. Holes or cylinders from say 6-40mm diameter or larger can be made, depending on your available hollow punches. The sponge may be fairly thick, say up to 50mm. I have not tested the limits of diameter or thickness of sponges.
Lay the sponge on a flat piece of plank which in turn is set down on a sturdy table. Put the hollow punch at the selected spot and push it straight down all the way. Hammer the punch hard down onto the wood. A cylinder comes out of the punch and in the sponge a similar diameter hole.
The picture shows a piece of 40mm thick sponge with holes/ cylinders of 8/40mm diameter. Note how smooth the holes and cylinders come out.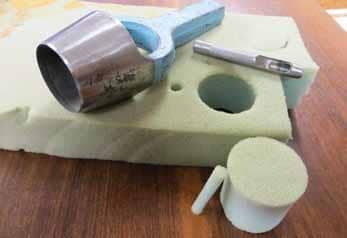 3.Avoiding veneer and melamine tear-out
When cutting veneer board on a regular table saw across the grain, or melamine covered board (in any direction), irrespective of whether it is chipboard or MDF, one finds tear out directly below the cut. Panel saws have pre-cutting blades to avoid tear out, but these saws are only found in industry.
Instead of using a saw with pre-cutting, blade tear out can be avoided by supporting the wood fibres directly below the point where the blade teeth exit the board. Someone may say that he uses a zero-clearance blade insert for this purpose and still finds tear out, though to a lesser extent. The reason is that use of the insert starts leaving a slight gap.
Use a piece of 3mm thick MDF or Masonite as a sacrificial zero blade clearance. Because the 3mm thin board will be cut together with the board above it, zero clearance is obtained.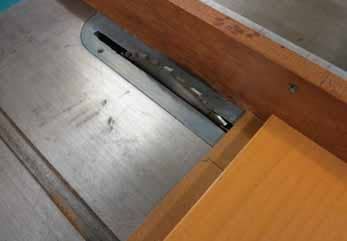 Cutting along the fence: The 3mm MDF should lie the length of the cut underneath the board where the cut is going to be made. I make use of strips of sacrificial MDF and often find it necessary to add balancing strips on one or both sides of the cut. Press firmly down during the cut.
You can read up to 3 premium stories before you subscribe to Magzter GOLD
Log in, if you are already a subscriber
Get unlimited access to thousands of curated premium stories, newspapers and 5,000+ magazines
READ THE ENTIRE ISSUE
September/October 2020