Ladybirds Industrial Aphid Munchers
The Gardener
|
October 2018
It's a well-known fact that one of the most beneficial insects that can be used in integrated pest management is the ladybird.
It's always nice to see these colourful little beetles milling about in the flowerbed, because you know they are having a banquet on the many pests that are harmful to our plants. Of course, there are always exceptions to the rule, and a couple of ladybird species are definitely not the gardeners' friends.
In most English-speaking countries these little beetles are known as 'ladybirds', with the exception of North America where they are called 'ladybugs'. This can be a bit confusing as they are not true bugs, but beetles belonging to the family Coccinellidae. (Bugs have needle-like mouth parts, whereas beetles have chewing mouth parts.) Another area of confusion I need to clarify is that despite their name, not all ladybirds are females. There is a proportional ratio of both sexes.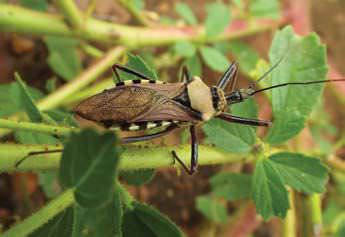 This begs the question, where did the name ladybird originate from? There seems to be a bit of a debate surrounding this, but one theory has its roots set in the Middle Ages. During this period Europe suffered an epidemic of aphids that were decimating crops. The farmers prayed to the Virgin Mary for help, which appeared in the form of small red-and-black beetles. These began to devour the aphids and saved the crops. Grateful for their saviours, the farmers named them 'Our Lady's Beetles'. The 'bird' presumably arose on account of the beetles' ability to fly?
Few natural predators
You can read up to 3 premium stories before you subscribe to Magzter GOLD
Log in, if you are already a subscriber
Get unlimited access to thousands of curated premium stories, newspapers and 5,000+ magazines
READ THE ENTIRE ISSUE
October 2018