Going With The Flow
Volcanic Activity Has Revealed New Potential On The Big Island.
A light main falls on the emerald flank of Mauna Kea, the distant, cloud-crowned mountain that dominates the Island of Hawaii, the Big Island. Last year's otherworldly Kilauea volcano eruption recedes into memory; it's quiet, now, the grass tall and impossibly green, the far-off trees gauzy in the mist. This feels like a land born of water, not fire.
It reminds me of home, at least of one of them. When I was 10, my family relocated to Papua New Guinea. And that's largely why we're here in Hawaii. I wanted to introduce my young family to a landscape that resembles my old stomping grounds: trails winding through vine-strangled jungles, markets bursting with ripe mangoes and papayas, glassy coves with aquamarine water.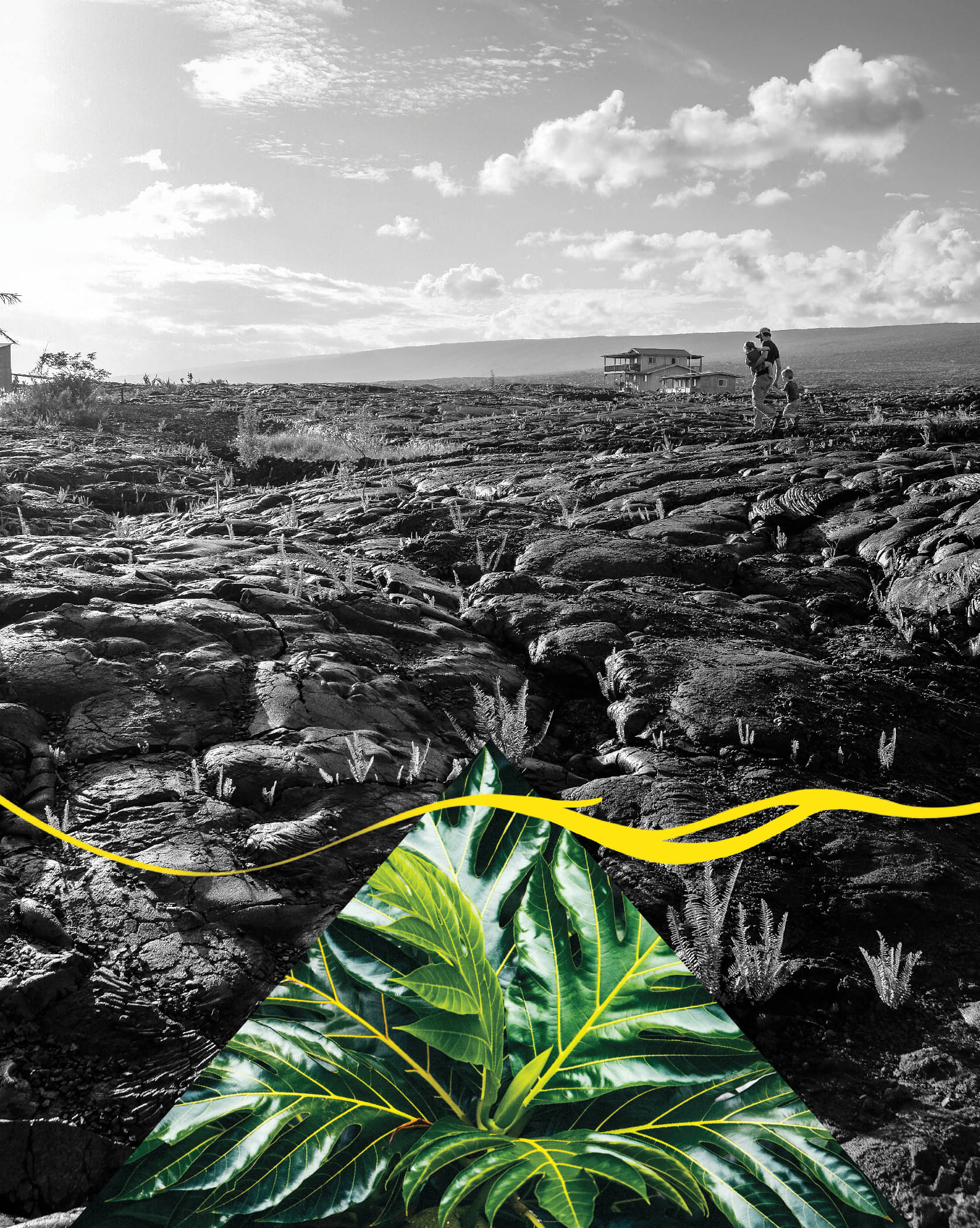 Leo, our 4-year-old, had his own ideas. A teary stand against active volcanoes meant we would start with something much less threatening: a farm tour at Kulaniapia Falls. If you want to make your kids fall in love with a place, we figure, it doesn't hurt to start with animals.
Here on the rainy eastern side around Hilo, the scene is in sharp contrast to the sunnier, resort-studded western coast. Before the trip, my wife, Kristin, and I had downplayed last summer's cataclysm, which leveled entire neighborhoods in the southeast corner of the island and quelled lei-seeking tourists en masse.
Mary Chapman, who manages the property's farm with her partner, Galen Alpine, hasn't been here long, but she's already laying the groundwork for a full-on farm-to-table concept for the Inn at Kulaniapia Falls. As she walks us through a nascent herb garden, Leo chases a stray chicken. His little sister Maxine, all of 18 months, naps on her mom's chest. Leo pulls carrots from the ground to feed to the shaggy Icelandic horses lazing in a pasture. The mist comes and goes, and our shoes soak in moisture from the grass, but no one seems to mind. We're starting to accommodate to the Big Island's version of calm.
You can read up to 3 premium stories before you subscribe to Magzter GOLD
Log in, if you are already a subscriber
Get unlimited access to thousands of curated premium stories, newspapers and 5,000+ magazines
READ THE ENTIRE ISSUE
April 2019