Decor
SquareRooms|Mid Year Special 2020
HOME ADORNMENTS AND INTERIOR DESIGN INSPIRATIONS THAT ARE STYLISHLY FUNCTIONAL
Vase down
Four stylish vessels that both highlight blooms and make chic house ornaments
Ceramic
There are no two pieces alike in terms of texture, form, and colour with ceramic vases. Each clay vessel is also carefully moulded by hand, so you essentially take home a physical manifestation of a potter's labour of love whenever you buy one. Feeling creative? Paint over a ceramic vase with different acrylics to put a personal spin to it.
Glass
If you're going for the classic route with your home's decor, then a glass vase would make an excellent choice. And because they're see-through vessels, you can fill them with pretty oddments such as artificial gemstones and coloured stones to bring out your flower arrangement's beauty more. Or choose a flute glass vase, pop a long-stem rose, and call it a day.
Crystal
To add some razzle-dazzle into your home, get a crystal vase and position it on a sunlit area. This type of elegant vessel typically comes in elaborate cut crystal form, so they sparkle splendidly when sun rays hit them. Crystal vases also make classy dining table centrepieces with or without flowers and could function as a container for fragrant potpourri.
Curve it out
PSA: archways are back in fashion. Here's why they still make alluring architectural flourishes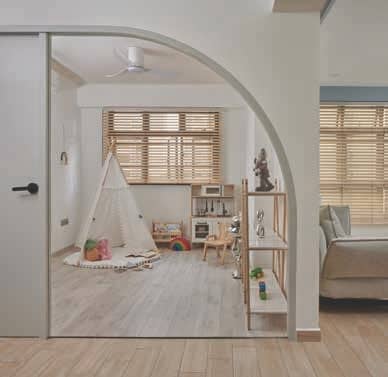 Doorways with straight lines are typical in Singapore homes. They are timeless, they look good, and they are purposeful. Some may argue, however, that square entrances can appear predictable and stiff. Enter: archways.
Updating your existing sharp-edge doorway may not seem like a significant change, but trust us when we say that curved openings positively impact the overall appearance and vibe in a home. In fact, one of the many things that homeowners love about domed gateways is that they immediately evoke softness and interest. Archways are widely used in older houses in the Little Red Dot, and now they're slowly making a comeback in local dwellings.
You can read up to 3 premium stories before you subscribe to Magzter GOLD
Log in, if you are already a subscriber
Get unlimited access to thousands of curated premium stories and 5,000+ magazines
READ THE ENTIRE ISSUE
Mid Year Special 2020