LITTLE CROP OF horrors
South African Garden and Home
|
June 2020
Carnivorous plants are as fascinating as they are beautiful. Fortunately, most are easy to grow
The notion that some plants eat flesh has intrigued humans since scientists discovered this fact some 200 years ago. Charles Darwin was fascinated with the Venus flytrap and science fiction writers have exploited these abilities over the years. In reality, carnivorous plants are unique, beautiful and bizarre, making excellent pets – or should that be house plants? While they won't exactly rid your home of flies and cockroaches, they'll reward you with hours of entertainment.
Carnivorous plants have a bad and generally undeserved reputation of being difficult to keep alive. "Just remember that these plants have gone to great lengths to evolve specific survival techniques," explains breeder Renee Mendelow of Jozi Carnivores. "All you need to do is to mimic these conditions as best you can and your plants will thrive; take short cuts and they won't."
VENUS FLYTRAP (DIONAEA MUSCIPULA)
The Venus flytrap is probably the most widely known and recognised carnivorous plant in the world. It has a very unusual trap, a leaf with two lobes edged with interlocking 'teeth' and each lobe has a small number of trigger hairs. When disturbed, the lobes snap together, trapping the insect inside. Digestive enzymes assimilate the insect, and the fluids are absorbed into the leaf's surface. The skeleton does not decompose, and when the trap opens several days later, this is all that remains.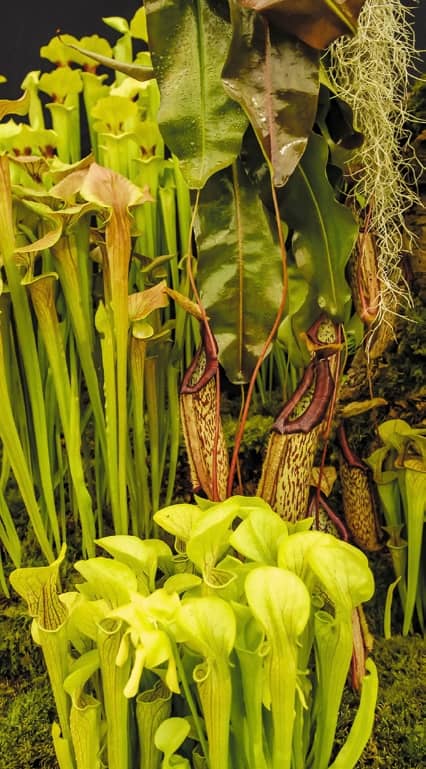 PITCHER PLANTS
You can read up to 3 premium stories before you subscribe to Magzter GOLD
Log in, if you are already a subscriber
Get unlimited access to thousands of curated premium stories, newspapers and 5,000+ magazines
READ THE ENTIRE ISSUE
June 2020